Back
Essex Welcomes Indian Cricketer to the County Ground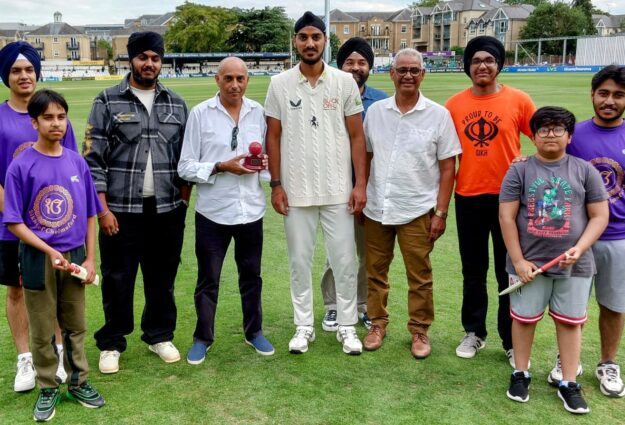 During the Essex v Kent LV County Championship match at the County Ground, the Sikhs of Chelmsford Group welcomed Indian Cricket Player Arshdeep Singh to Chelmsford.
Essex Cultural Diversity Project has been working in partnership with Essex Cricket over the last 12 years through various initiatives including providing cultural activities, engagement with diverse communities and promoting community cohesion at the County Ground. This year groups from the Bangladeshi and Pakistani communities attended the Bangladesh v Ireland match in May, and EID Celebrations with the Chelmsford Muslim Association at the County Ground.
The Sikh community were also welcomed as part of the community engagement initiatives by Essex Cricket for the day two of play for the Essex v Kent match featuring Arshdeep Singh, left arm swing bowler, who is currently playing for Kent in the County Championship. Ring Bearer Ascharj Singh rang the bell to signify the imminent start of play which was followed by the Guard of Honour to welcome the players onto the pitch with young people from the Sikhs of Chelmsford Group. Key prominent people from the Sikh community in Essex also attended the match.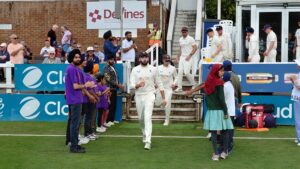 Tanveer Singh Bajaj from Essex said 'it was great to see an International Cricket start like Arshdeep Singh play at the County Ground in Chelmsford. Arshdeep is a great inspiration and role model to young Sikhs who want to take up playing cricket'.
Throughout the day Arshdeep signed autographs and spoke to the young Sikh fans and attended the Match Ball presentation with ECDP Creative Director Indi Sandhu.
Other community engagement events planned at the County Ground include 'Diwali at the Ground' celebrations in November 2023, and cultural activities themed around the International Women's England v Sri Lanka match in September 2023.