Back
Meet our Patrons, The Singh Twins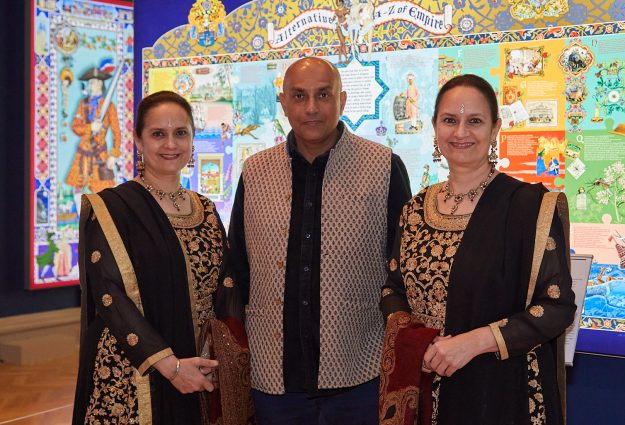 Essex Cultural Diversity Project has the honour of introducing our patrons, The Singh Twins.
The Singh Twins are internationally renowned, contemporary British artists whose award-winning work explores important issues of social political and cultural debate, and re-defines narrow Eurocentric perceptions of art, heritage and identity.
The Twins collaborate on their art, describing their creative practice as 'Past-Modern' as opposed to 'Post Modern'. Their highly decorative, narrative and symbolic work has been recognised as pioneering a modern revival of Indian miniature painting within contemporary art practice. But their distinctive style is much more eclectic. In addition to the Indian miniature tradition of painting, they also draw on the artistic language and conventions of other traditions, east and west, old and new – including ancient Greek and Roman, Persian and Medieval European manuscripts, European Renaissance art, 18th Century British Satirists, the Victorian illustrators, Pre-Raphaelites, Art Nouveau, and photography.
The Singh Twins have received many awards and official recognition for their work. Most notably, they were made Honorary Citizens of their home city of Liverpool in 2009; received an MBE from the Queen for 'Services to the Indian miniature tradition of painting within Contemporary Art' in 2011; were awarded Honorary Doctorates (Doctor of Fine Arts) by the University of Chester for their 'outstanding contribution to British art' in 2015; were recipients of the UK Asian Achievers Awards for Media, Arts and Culture 2016; in 2019 were each awarded an Honorary Doctor of Letters from the University of Liverpool; and were also awarded an Honorary Doctor of Arts from the University of Wolverhampton in 2021.
The Singh Twins' art is in private and public collections worldwide. Amongst some of their most well-known public commissions are two works celebrating Liverpool's 800th birthday and status as European Capital of Culture in 2008; A symbolic portrait of Maharajah Duleep Singh – deposed Ruler of the Sikh Kingdom of Punjab and first resident Sikh in the UK – created for the National Museums Scotland and EnTWINed, commissioned by the Museum of London.
Essex Cultural Diversity Project have worked with The Singh Twins as part of the Festival of Thetford & Punjab in 2018 bringing their painting Casuality of War: A Portrait of Maharaja Duleep Singh to East Anglia, loaned from National Museum of Scotland, Edinburgh in partnership with Norfolk Museum Services. We were also key in supporting the recent Slaves of Fashion exhibition at Firstsite in Colchester.
ECDP Creative Director and CEO Indi Sandhu said, ''It is a great pleasure that the Singh Twins have agreed to be patrons for Essex Cultural Diversity Project, I have had the opportunity to work with them over the last few years. Their artwork focuses on key issues facing our world today and highlights the need for change''.

"Having experienced first hand and also benefitted from the invaluable work that Essex Cultural Diversity Project does in cultivating racial equality and intercultural understanding through arts, heritage and culture, we are delighted and honoured to have been invited to be Patrons. In our own practise as artists, we share many of the ECDP's values and aims and are very much looking forward to lending our support as member of the team."