Essex Cultural Diversity Project energises cultural diversity in arts and heritage. Our mission is to create opportunities, stimulate participation and provide a focal point for the development, celebration and co-ordination of cultural diversity through arts and heritage activity.
We achieve this through an exciting programme of projects, festivals and events; commissioning artists to explore community, diversity and place; and supporting artists, arts organisations and communities working in diversity through training and networking events, signposting opportunities and providing important platforms for their work.
We work strategically with creative practitioners, culture and heritage sectors, diverse communities and the voluntary sector to help develop skills, build sustainable networks and infrastructures, alongside creating new opportunities to enhance diverse artists' work. 
Essex Cultural Diversity Project is an Arts Council England National Portfolio Organisation
---
Annual Reviews (click on the covers to read more)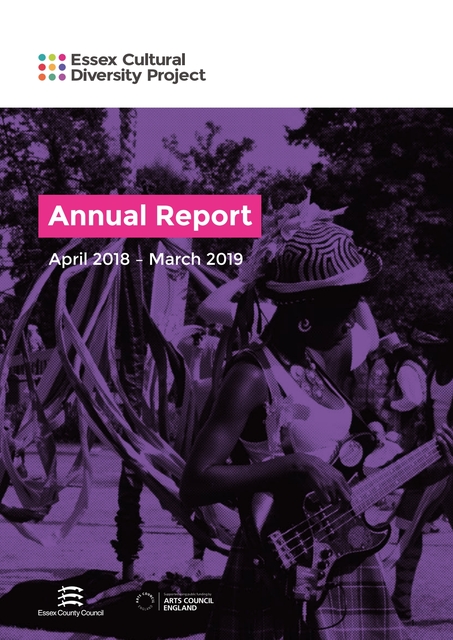 ---
A potted history

Essex Cultural Diversity Project was established in 2008 following a feasibility study commissioned by Arts Council England and Essex County Council to investigate the need for an arts programme focused on cultural diversity in Essex. The study found that work was urgently needed to support diverse artists and arts organisations, as well as strategic organisations to address cultural diversity in the arts and heritage sectors.
We are now a registered charity working across cultural sectors, building partnerships with artists, arts organisations, museums and libraries to promote culturally diverse work. Our scope is broad, commissioning and showcasing work from visual and performing arts as well as literature and heritage. Our work has ranged from outdoor theatre and festivals to world music and artist development opportunities, nurturing and supporting diverse talent and encouraging work from diverse artists. We are also working more closely with LGBT and disabled artists and arts organisations, extending our role as leading on artistic diversity.
Essex Cultural Diversity Project is proud to be included in Arts Council England's list of National Portfolio funded organisations for 2018-22 & 2023-26. This followed on from funding by ACE's Elevate programme in 2016, which invested in 40 diverse organisations that, at the time, didn't receive regular Arts Council funding, to help them better meet their artistic ambitions and support organisational development. This programme has had a significant positive impact in shaping our work – 30 Elevate recipients, including Essex Cultural Diversity Project, applied for the portfolio and 20 were recommended for funding. As a result of Elevate and being a strong advocate for the Creative Case for Diversity, we were awarded NPO status from the Arts Council England for the first time in 2018.