Back
The Maharajah's Walking Stick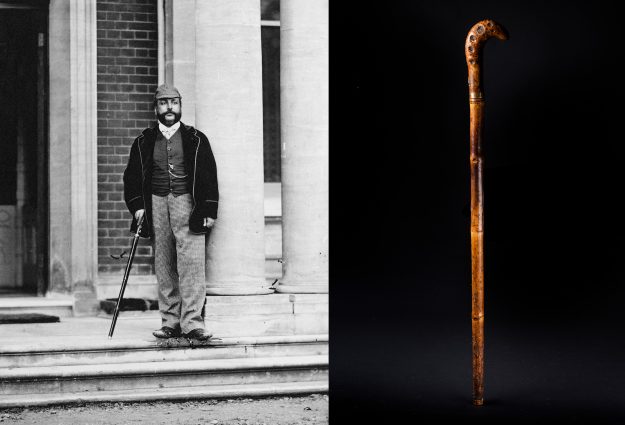 The Maharajah's Walking Stick
A Brand New Object on Display at Ancient House Theford

For the Festival of Thetford & Punjab 2023, which takes place in Norfolk on 7-9 July, Ancient House Museum of Thetford Life announces an exciting new object in their collection…
Ancient House Museum, Thetford has acquired an important new item for its collection: a walking stick owned by the Maharajah Duleep Singh and presented to him by Albert Edward, Prince of Wales, the future King Edward VII (1841-1910).
The Prince of Wales visited Duleep Singh at Elveden and attended lavish shooting parties there. There is a photograph in the Elveden Views album once owned by Prince Frederick in the library collections which show the Maharajah outside Elveden proudly holding this walking stick.
By enlarging the image it looks almost certain that this is the walking stick he was holding in the photograph. The photograph dates from about 1875, according to Duleep Singh historian Peter Bance. The Prince of Wales visited Elveden several times in 1875. The lion and shield with cross motif appears in the coat of arms designed for Duleep Singh by Prince Albert, a version carved in wood is in the museum collections.
The malacca cane walking stick has a bulbous, swollen handle and just under the handle is an attached gold insignia of a crowned lion supporting a shield with cross, 22mm high. Below the lion, there is a gold banded collar around the cane 13mm high. The collar is inscribed to say it was a gift to Duleep Singh from the Prince of Wales. A transcript goes as follows: FROM H.R.H THE PRINCE OF WALES TO THE MAHARAJAH DHULEEP SINGH. The main part of the cane is of 5 natural segments with dividing ridges (like bamboo) and the bulbous swollen handle is divided further with distinctive darker spots and larger natural depressions / pitting on either side of the handle.
[post images courtesy / copyright Picture Norfolk and Ancient House Museum]
---
Festival of Thetford & Punjab 2023
Friday 7 July – Sunday 9 July
The Festival of Thetford & Punjab 2023 takes place in venues across the town, and is a whole weekend of cultural celebrations inspired by the life and legacy of the Duleep Singh family, the last Royal Family of the Punjab who lived in Norfolk. There'll be talks, workshops and activities for all to enjoy, as well as the Thetford Mela on Sunday, with performances from Circus Raj and the Rajasthan Heritage Brass Band, bhangra dancing, Sikh martial arts, dhol drumming and more.
Read the full programme at http://thetfordpunjabfest.com