Back
Indian Princess in Essex: New Website, Film and Exhibition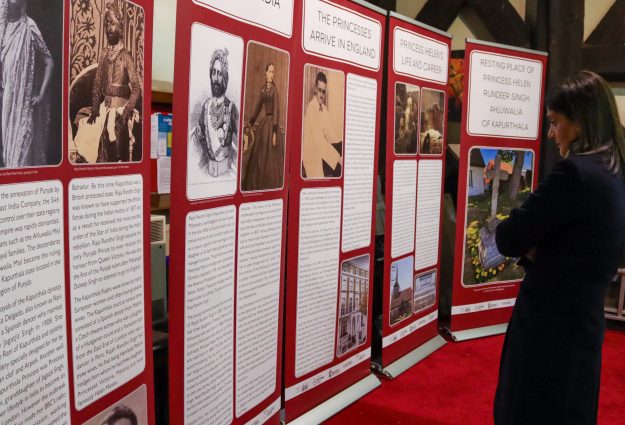 Princess Helen Rundeer Singh Ahluwalia
New website, film and exhibition
Over the last few months Sikh historian Peter Bance and Essex Cultural Diversity Project have been unearthing the fascinating story of Princess Helen Rundeer Singh Ahluwalia, who is buried in All Saints Church in Doddinghurst, near Brentwood.
Helen was the daughter of Randhir Singh, the ruling Maharajah in the state of Kapurthala in Punjab, and his third Rani Henrietta Melvina, and lived a short but interesting life.  Thanks to a Community Fund grant from Brentwood Borough Council and National Lottery Heritage Fund, we have now been able to bring you Helen's story on a new website, film and a touring exhibition.
Visit the new website at www.helenahluwalia.com
---
Launch of the Pop-Up Exhibition
In March 2023 we launched a pop-up exhibition curated by Simran Bance to share the story of Helen Rundeer Singh Alhuwalia of Karpurthla, the Indian Princess who is buried at All Saints Church in Doddinghurst, near Brentwood.
The church hosted a special event, inviting members of local and Sikh communities to come and see the exhibition, with a talk by Sikh Historian Peter Bance.
Peter bance joined BBC Essex radio show host Rob Jelly earlier this month, alongside Reverend Anne Coleman from All Saints Church, to share the Princess' fascinating life, her heritage as part of the Karpurthla Royal Family, and what bought her to Essex. Here's a clip from the show https://www.bbc.co.uk/programmes/p02dhg8r/clips
The exhibition will be going on tour in 2023, so if you are interested in hosting it in your venue, email us at [email protected]
---