Back
129th Anniversary of the Death of Maharajah Duleep Singh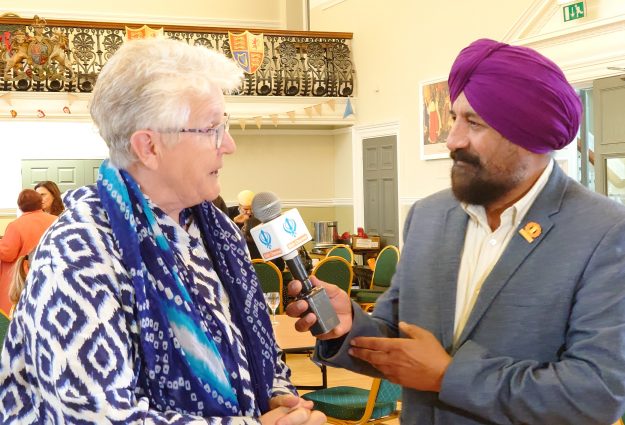 Marking the 129th Anniversary of
the Death of Maharajah Duleep Singh
This October we once again marked the anniversary of the death of Maharajah Duleep Singh by supporting a ceremony at St Patricks and St Andrews church at Eleveden in Norfolk, with a wreath laying ceremony and prayers from the Sikh Priest from Norwich Sikh Gurdwara. This was followed by a reception hosted by the Mayor of Thetford Jane James at the Guildhall, with speeches by invited guests from the Punjabi Community, the Sikh Defence Network UK and ECDP Chair Miriam Stead, pictured here being interviewed by the Sikh Channel.
Over the last five years Essex Cultural Diversity Project have worked closely with Sikh Historian Peter Bance and the Anglo Punjab Heritage Foundation, who organised the ceremony, on various projects including talks, heritage trails, anniversary events, festivals and exhibitions.
Peter has been a great supporter our work, including various festivals celebrating the links between East Anglia and Punjab, through the stories of the Duleep Singh family. He was an advisor working with Festival Director Indi Sandhu in curating the programme since the festival's inception in 2018, attended by Gurinder Chadha and the Singh Twins.
The most recent event was the Festival of East Anglia and Punjab in July 2022, which explored the legacy of Maharajah Duleep Singh and the last royal family of the Punjab who lived in Norfolk. As par fo the event Essex Cultural Diversity Project supported the Foundation's Maharajah Duleep Singh: Norfolk's Princely Family Exhibition at the Norfolk Archive Centre, which exhibits artefacts and objects loaned from the renowned collection of Sikh historian Peter Bance, who has spent 25 years amassing this largely unseen archive. The exhibition continues at Norfolk Archive Centre and is worth a visit along with the Singh Twins: Slaves of Fashion exhibition at Norwich Castle and East Gallery.
The East of England Maharaja Duleep Singh Heritage Trail is also not to be missed, which continues to develop in partnership with the Anglo Punjab Heritage Foundation with new partners, locations and discoveries, unearthing new stories linking Punjab and East Anglia. One recent addition is the discovery of the Indian Princess buried in Essex, Princess Helen Marion Rundheer Singh Ahluwalia from the Karpurthala Royal family. This year marked a celebration event at Doddinghurst church focusing on the life of the Indian Princess, and also a new exhibition is being curated by emerging new Sikh female historian Simran Bance which will tour around Essex Libraries in 2023.