The Maharajah Duleep Singh Family
East of England Heritage Trail
Follow in the footsteps of the Duleep Singh Family
The Maharajah Duleep Singh Family Heritage Trail for the East of England is inspired by the Festival of Norfolk & Punjab, and the fascinating stories unearthed about Duleep Singh and his family.
The last royal family of the Punjab settled in Norfolk in 1854 and left us important and valuable legacies, embedded in the people, buildings and landscape of the area. The trail takes you to museums, halls, houses and churches across Thetford, Norfolk and beyond, following in the footsteps of these significant historical figures, highlighting their influences and bringing their stories to life.
The project is supported by the Heritage Fund, working in partnership with Norfolk Museum Services and the Anglo Punjab Heritage Foundation.
---
How to Access the Duleep Singh Trail
issuu.com / Duleep Singh Trail (pdf) 

Pick up a booklet guide, available to collect from Ancient House Museum, Leaping Hare, Thetford Library and other outlets in Thetford. View and read the full booklet on issuu.com, on Yumpu.com or download and print your own booklet here: Duleep Singh Trail – link to pdf
---
Stay In and Play: Take a Virtual Tour from your living room!
Alternatively you can follow the virtual trail on googlemaps at http://bit.ly/duleepsinghtrail (embedded below)… perfect for those currently self-isolating, social distancing and in quarantine due to the Coronavirus!
Please note that the virtual trail may not work on iPads and iPhones, due to compatibility issues with Google.
---
Maharajah Duleep Singh: A brief history
Maharajah Duleep Singh was the youngest of the seven sons of Maharajah Ranjit Singh and his last wife Maharani Jind Kaur. Duleep Singh came to the throne at the age of five years old, following the deaths of his older brothers. After the First Anglo-Sikh War, at just nine years of age, the British separated him from his mother and removed her from the Punjab. The East India Company placed the Maharajah under the care of an Army Surgeon Dr John Login whose duty it would be to bring up the Maharajah as a young Englishman. In May 1854 at the age of 15 years and having converted to Christianity, Maharajah Duleep Singh arrived in Great Britain (becoming the first person of Sikh heritage in the UK) and settled at Elveden thus began the family connections in East Anglia.
A full history of the Maharajah and his family can be seen in the Duleep Singh Trail leaflet, as well as at Ancient House Museum in Thetford.
---
LOCATIONS ON THE TRAIL
NEW ADDITION FOR 2022
AN INDIAN PRINCESS IN ESSEX
ALL SAINTS CHURCH, DODDINGHURST

All Saints Church, Church Lane, Doddinghurst, Essex CM15 0NJ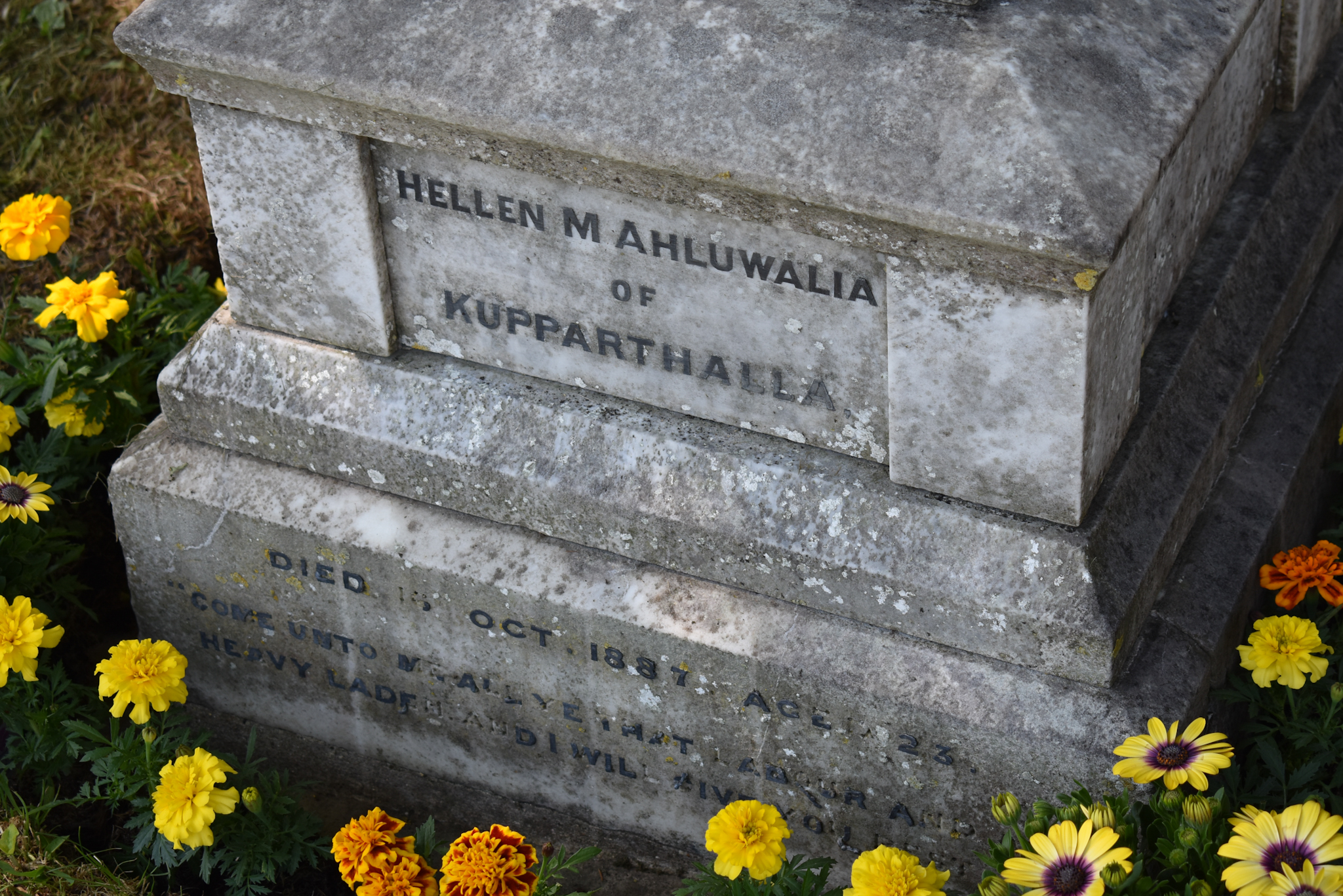 Sikh Historian and author Peter Bance has discovered the fascinating story of Princess Helen Rundeer Singh Ahluwalia of Kapurthala, an Indian Princess who is buried in All Saints Church, in Doddinghurst near Brentwood.
Peter Bance writes predominantly about the royal families of the Punjab, especially Maharajah Duleep Singh and his family who settled in East Anglia. There exists a strong Sikh heritage in East Anglia, in connection with the Duleep Singh family, but much of this history is in Norfolk, so when a new and important connection to Essex was discovered, it was paramount to find out more.
The story begins when Peter was curious about her name – Kapurthala is a kingdom in the Punjab. When he spoke to those in Doddinghurst, they affectionately referred to her as 'Our Indian Princess' but knew no details about her background. Peter decided to research further, contacting the current Maharajah of Kapurthala who invited him to the royal palace in India to learn more about Helen and her heritage.
He uncovered a fascinating story about this young woman, the daughter of Randhir Singh, the ruling Maharajah in the state of Kapurthala, and his third Rani Henrietta Melvina.When Rani Henrietta divorced the Raja in 1869 she and her daughter returned to London, where Helen entered London High Society. Often going out unchaperoned, she became quite a controversial figure, she was a model for artist Edwin Longsden Long, who, although now relatively obscure, was very well known at the time. Within his work, Helen could occasionally be seen in risqué poses, and some of her behaviour was seen as scandalous by the media of the time.
Helen died of Tuberculosis was she was only 23, after a retreat at her sister's house in Kelvedon Hatch, and was laid to rest in All Saints Church, in Doddinghurst near Brentwood.
---
THETFORD
Ancient House, Museum of Thetford Life
White Hart Street, Thetford, IP24 1AA
For an introduction to Duleep Singh and his family, Ancient House Museum is a great place to start on the trail.
Ancient House was a gift from Prince Frederick Duleep Singh to the people of Thetford. He purchased the building in 1921 and helped pay for its restoration for use as a public museum. The Ancient House Museum opened in 1924. On display there is a selection of Prince Frederick's local history collections including portraits of East Anglian gentry as well as a short film and permanent display about Maharajah Duleep Singh. Throughout the year special exhibitions, illustrated talks, themed events and trails add new dimensions to the story. Join us and find out more.
Thetford Grammar School
Bridge Street, Thetford IP24 3AF
Maharajah Duleep Singh is known to have funded the education of at least one boy linked to the Elveden Estate and Prince Frederick was a keen supporter of Thetford Grammar School, where Thomas Paine was educated. This ancient school lays claim to be one of the oldest schools in the country (The Head Master's recorded roll goes back to 1174). The beautiful WWI memorial to the lost boys of the school was designed, paid for and unveiled by Prince Frederick in 1921. He attended many events and presentations. Not ordinarily open to the public, however, viewing by appointment can be made Tel: 01842 752840.
Maharajah Duleep Singh Memorial Statue
Button Island, 20 Riverside Walk, Thetford IP24 2BG
This beautiful life-size bronze statue of Maharajah Duleep Singh honours the last King of the Punjab and his close links with Thetford and Elveden. It was commissioned by the Maharajah Duleep Singh Centenary Trust and was unveiled by the Prince of Wales in 1999. As the first major piece of Sikh public art outside India, the statue is seen to symbolise the bringing together of history and culture.
Thetford Library
Raymond Street, Thetford, IP24 2EA
The library houses the Duleep Singh Collection donated by Prince Frederick Duleep Singh. The collection consists of books about Norfolk, Suffolk and East Anglia, directories, poll books and sales catalogues of county estates from the early 20th century. One of the most important items is the Elveden Views, a photograph album of the Duleep Singh family. The collection can be viewed by appointment during staffed hours, Monday-Friday 10am – 7pm and Saturdays 10am – 4pm.01842 752048.
Warren Lodge
Brandon Road, Thetford, IP24 3NE
The Maharajah loved hunting and shooting – particularly rabbits. He purchased Warren Lodge on a 99 year lease with the condition that the ground must not be broken. When he had trees planted, which broke the terms of the agreement, action was taken against him. However, the Maharajah won his case and continued to shoot rabbits and game on a much larger scale.
The Guildhall
Market Place, Thetford, IP24 2DS
On his death, Prince Frederick gifted part of his collection of Norfolk and Suffolk portraits dating from the 16th century to the people of Thetford. Originally they were hung in the Guildhall at his suggestion, however, today the paintings can be found at various locations, the largest selection being on display at Ancient House Museum of Thetford Life.
---
ELVEDEN
Elveden Hall
Elveden is a seventeen-thousand acre estate located a few miles away from Thetford, bordering Suffolk and Norfolk. Duleep Singh purchased the estate in 1849 and had architect John Norton completely redesign the exterior and interior of Elveden Hall. The interior was reminiscent of an Indian Palace and the grounds were home to exotic animals and birds. The Maharajah entertained royalty and members of the gentry at his shooting parties on the estate including the Prince of Wales. He raised his six children here with wife Maharani Bamba. After his death in 1893 the Hall was purchased by the Guinness family and remains the property of the 4th Earl of Iveagh today. Private Property – not open to the public.
St Andrew's & St Patrick Church
London Road, Elveden, Thetford, 1P24 3TW
In 1869, Maharajah Duleep Singh, a patron of Elveden church, fully restored it at a cost of £1,100. The thatched roof was replaced with slate and the old pews were replaced by open benches. Duleep Singh also supported classes at the church which were attended by both children and adults. A stained glass window was installed in the church in memory of the Maharajah and a memorial to Prince Frederick can be seen nearby.
The graves of the Maharajah Duleep Singh, his wife the Maharani Bamba and their youngest son can be seen in Elveden churchyard. Maharani Bamba was the first to be buried in the churchyard in 1887. Then in 1893 at the age of 13, Edward Albert tragically passed away and was buried beside his mother. That same year, Maharajah Duleep Singh experienced an apoplectic fit whilst sleeping and died alone in a hotel room in Paris. Although he wished to be buried where he had died, the family brought him back to Elveden to be buried beside his wife and son. If driving please use the layby just alongside the Church to park. Alternatively, drive into the Elveden Courtyar www.elvedencourtyard.com The car park opposite the church is private.
BLO' NORTON
Blo' Norton Hall
The Street, Blo' Norton, Diss, IP22 2JD
Prince Frederick Duleep Singh rented the 16th century mansion Blo' Norton Hall from 1909. He planted beautiful gardens and created a delightful vista through the small wood adjoining the Hall to the main road with an avenue of lime trees, leading to the The Black Prince's Temple. He was very proud of his family history and paintings of his uncle Maharajah Sher Singh stood in his gallery, with a painting of his grandfather Maharajah Ranjit Singh hanging opposite. Not open to the public
The Black Prince's Temple
Remains located in the woods alongside Blo' Norton Hall
Situated at the end of the avenue of lime trees Prince Frederick Duleep Singh built a small white folly in 1923, which he dedicated to the 'Divine Winds of Heaven' as he could hear the winds of Norfolk when sitting out on the front of the Temple reading his books. It became known as the 'Black Prince's Temple' and is commonly believed that the Prince built it in respect to the Sikh religion of his father. Now only ruins remain.
St Andrew's Church
Church Lane, Blo' Norton, IP22 2JE
The grave of Prince Frederick Duleep Singh can been found in the churchyard to the far right of the main gates. A marble plaque dedicated to his memory has been installed inside the church by his sisters and there is also a photograph of the Prince as a child.
Blo' Norton War Memorial
In Front of St Andrew's Church
Prince Frederick served with Yeomanry regiments from 1893 – 1909. He rejoined in 1914 at the outbreak of the First World War and served in France from 1917-1919 working with horses behind the front line. On his return he designed and erected this war memorial in honour of the men who gave their lives during the war. He unveiled the memorial outside the churchyard in 1920. Plans for the design of the memorial and a roll of honour are housed within the church.
Hampton House
The Street, Blo' Norton, Diss, IP22 2JB
The Duleep Singh sisters (Bamba, Catherine and Sophia), moved into the four bedroom Hampton House in 1935. The house had a large plot of land for raising animals and a beautiful garden with fruit trees. Not open to the public.
---
SAVED BY PRINCE FREDERICK…
Prince Frederick expressed a great interest in East Anglian architecture and archaeology. He was a founding member of SPAB (The Society for the Protection of Ancient Buildings) and became president of the Norfolk & Norwich Archaeological Society. He would often write and speak on the importance of saving local historical buildings. He invested much of his time and money into saving Norfolk and Suffolk churches and was very proud of his East Anglian heritage.
St Martin's Church
Thompson, Thetford, IP24 1QD
Thompson church dates from 1300. Endowed as a Collegiate Church
in 1349 by the de Shardelowe brothers, its resulting importance led to some fine additions and alterations. In 1911, the church was at risk of closure before it was saved by Prince Frederick and Reverend Charles Kent. On 15th July 2018, a memorial stone was unveiled at the church honouring Prince Frederick's services to the church. Contact [email protected] arrange a guided tour. The church is open during daylight hours.
St Swithin's (now Norwich Arts Centre) 
51 St Benedict's St, Norwich NR2 4PG
Prince Frederick helped to save St Swithin's Church in Norwich. In 1881, the church lost its tower and would have been converted into a hall in the early 20th century had Prince Frederick not intervened. In 1980, the church became Norwich Arts Centre, a live music venue, theatre and art gallery.
Bury St Edmunds Town Hall
7 Angel Hill, Bury St Edmunds, IP33 1UZ
Prince Frederick helped to save the Adam-style Bury Town Hall from destruction.
St Peter Hungate
Princes Street, Norwich, NR3 IHN
Prince Frederick helped save St Peter Hungate church from demolition during the early 20th century. The church was declared redundant and became the first nationally to be repurposed as a museum of church furnishings in 1936. The museum closed in 1995 and after a period of private occupation, it passed to Norwich Historic Churches Trust and since 2009 has been the home of Hungate Medieval Art, an exhibition space celebrating Norwich's medieval heritage and art.
Wymondham Abbey
Church Street, Wymondham NR18 0PH
Prince Frederick showed a great interest in the restoration works at Wymondham Abbey and played a part in saving this church from further damage.
St Andrew's Church
8 Comber Cl, Scole, Diss, IP21 4DQ
Prince Frederick was instrumental in the preservation of Scole Church. He believed that the original structure and contents of historical buildings should be preserved.
---
POINTS OF INTEREST
The Chapel of St Lawrence
Eriswell, Brandon, IP27 9BH
Prince Frederick visited this chapel and wrote a small article about it in an East Anglian journal accompanied by a woodcut of the chapel. He writes of how it passed into private hands after the dissolution and hence fell into ruin until it was rebuilt as it is today.
Ipswich Museum
High Street, Ipswich, IP1 3QH
In 1919, Prince Frederick delivered a lecture at the museum at a meeting of members of the Suffolk Institute of Archaeology and Natural History. Frederick spoke on the topic of repairing and restoring old buildings and made special mention of several East Anglian manor houses such as Costessey Hall and Little Wenham Hall.
St Mary's Church
Polstead, Colchester, CO6 5BS
In 1924, Prince Frederick presented a mazer bowl made from the root of the Gospel oak to Polstead church.
---
HALLS AND HOUSES
Hockwold Hall
Station Road, Hockwold cum Wilton, Brandon, IP26 4HZ
Hockwold Hall became the residence of Prince Victor Duleep Singh in 1894 and he commissioned a significant extension in 1895. In 1898 Prince Victor married Lady Anne Coventry. They settled into married life and he followed his interest in country pursuits, securing shooting rights over 4500 acres. The Hall was decorated in the Louis XIV style, while wall panels and chairs were covered in embroidered silk that was said to have formed part of the great durbar tent of his grandfather, Maharajah Ranjit Singh. Prince Victor was a close friend of Lord Carnarvon and was a regular visitor to Highclere. Unfortunately Prince Victor enjoyed gambling and excessive spending and was declared bankrupt in 1902. The Prince then moved to France where he died in 1928 and is buried in Monte Carlo. Hockwold Hall currently offers a unique opportunity for accommodation, weddings and events throughout the year. Details of events are listed at: www.hockwoldhallnorfolk.com. Not open to the public.
Old Buckenham Hall
Old Buckenham, Attleborough, NR17 1PQ
Prince Frederick Duleep Singh purchased Old Buckenham Hall and its 340 acre estate in 1897. He later sold the property described as A Miniature Mansion in a Miniature Park and it became a private boarding school. However, after a fire destroyed much of the building in 1952, Old Buckenham Hall fell back into private hands. The visitor's book of Christmas 1900 includes Prince Victor, Maharani Ada and other family members. There is a plaque in the grounds of Old Buckenham Hall installed by Prince Frederick to commemorate Queen Victoria's Diamond Jubilee. There is an old oak tree at the junction of the village that was planted by Prince Frederick and is affectionately known as The Black Prince's Tree. Not open to the public.
Breckles House
Stow Bedon, Attleborough, NR17 1BY
Breckles House has evolved over the years, originally forming part of the Breckles Hall Estate. Prince Frederick resided at Breckles House between 1906 and 1909 after Old Buckenham Hall was sold. Breckles House was certainly a modest house by comparison to the Elveden Hall. Evidence of the former tennis court he installed during his stay can still be seen on the front lawn. Equestrian painter Alfred Munnings stayed with Prince Frederick whilst painting 'Cattle Grazing Before Hay Wagons.' The Cuthbert family have owned Breckles House since 1990. It remains a private residence but opens during the Festival of Norfolk & Punjab and by appointment only during June to September. Tel 01953 483128
Aspall Hall
Debenham, Suffolk IP14 6PD
Prince Albert Edward Duleep Singh received schooling at Aspall Hall during his childhood in 1890. Whilst at Aspall, the Prince began riding and took an interest in cricket. He would write home to his sisters, informing them of his day-to-day activities and sometimes even asked them to send him school supplies and other items. The Chevallier family who have lived and made cider at Aspall Hall since 1702 still own the estate and have continued to expand their cider business.
Not open to the public.
---
HALLS AND HOUSES POINTS OF INTEREST
Euston Hall
Euston, Suffolk, IP24 2QP
Prince Frederick was great friends with the Duke and Duchess of Grafton, having grown up on the neighbouring estate of Elveden and sharing a love of Stuart paintings. The Duchess of Grafton opened the Ancient House Museum of Thetford in 1924. Later the Duke of Grafton of was made honorary President of the Friends of Thetford Museum. Euston Hall boasts one of the finest Stuart art collections in the country and is open to the public seasonally. Prince Frederick bequeathed his collection to Inverness Museum and Art Gallery. www.eustonhall.co.uk
Oxburgh Hall
Oxborough, near Swaffham, PE33 9PS
Oxburgh Hall is a Tudor moated country house completed in 1482 for Sir Edmund Bedingfield and home to the Bedingfield family ever since. Prince Frederick Duleep Singh visited Oxburgh Hall to record portraits housed there for his two volume publication Portraits in Norfolk Houses. This includes portraits of the Bedingfield family of Oxburgh. The Hall is now the property of the National Trust where you can follow in the footsteps of Prince Frederick. www.nationaltrust.org.uk/ oxburgh-hall
West Stow Hall
Icklingham Road, West Stow, Bury St Edmunds, Suffolk, IP28 6EY
In 1901, Prince Frederick took a party on a tour of West Stow Hall. He had written a paper about the property so knew it well and was particularly interested in its architecture and history. He was also keen to know more about its reputed hauntings.
www.weststowhall.com
Oliver Cromwell's House
29 St Mary's Street, Ely, Cambridgeshire, CB7 4HF
Staunch Jacobite Prince Frederick was not a fan of Oliver Cromwell. Visitors recalled seeing an oil painting of Oliver Cromwell hanging upside down in the dining room at Breckles House and the drawing room at Blo' Norton Hall. www.olivercromwellshouse.co.uk
Moyses' Hall
Cornhill, Bury St Edmunds, IP33 1DX
Prince Frederick Duleep Singh donated an Eolian Harp made by renowned English poet Robert Bloomfield to Moyses' Hall Museum. The harp was previously owned by Capel Lofft and was given to the Prince by Lofft's son.
www.moyseshall.org
All Saints Church
Church Lane, Worlington, Bury St Edmunds, IP28 8SG
Lieutenant Colonel James Oliphant of Worlington Hall is buried in the churchyard of All Saints Church. Oliphant was the Equerry to Maharajah Duleep Singh.
Grave of Sir John Login
St Peter and Paul Church, Felixstowe, IP11 9NF
Sir John Login was a Scottish surgeon in India and guardian of Maharajah Duleep Singh when he was a young boy. The two shared the strong, loving bond of a father and son. On 10th October, 1863, Sir John Login passed away. The Maharajah had preferred John Login to be buried at Elveden but Lady Login preferred her husband to be buried at Felixstowe. Therefore, Duleep Singh erected a granite and marble monument to Sir John Login in the churchyard at Felixstowe.
Magdalene College, Trinity College, University of Cambridge
Magdalene St, Cambridge CB3 0AG
Magdalene College was founded in 1428. Trinity College was founded in 1546 by King Henry VIII. Both Prince Victor and Prince Frederick first went to Eton College and then Prince Victor to Trinity College, with Prince Frederick following to Magdalene College. In 1890 Prince Frederick attained a BA and Masters degree in History. Prince Frederick's love of history, art and archaeology developed and he started collecting old paintings, books and objects. Prince Frederick was also very enthusiastic about acting and starred in many stage plays and pantomimes.
Plaque to Christopher Layer
Aylsham Barclays Bank, Market Place, Aylsham
This plaque in memory of Christopher Layer, an 18th century Jacobite, was erected at Layer's home by Prince Frederick Duleep Singh. Layer was executed for treason against the King in London on May 17th 1723. Prince Frederick himself was a staunch Jacobite and had a deep attachment to the Stuart royal family. He installed this plaque after discovering that Layer was a Norfolk countryman like himself. The building is now a bank.
The South Asia Collection Museum  
The South Asia Collection, 34-36 Bethel St, Norwich NR2 1NR
The South Asia Collection museum, located in the heart of Norwich has joined the Maharaja Duleep Singh Family East of England  Heritage Trail. The museum houses collections from the the north of India, Punjab region the land of Maharaja Ranjit Singh farther of  Duleep Singh. 
The South Asia Collection began with the journeys of Philip and Jeannie Millward through South Asia in the 1970s. The first objects were shipped back from the Swat Valley and stored in a repository on Waterworks Road in Norwich.

Today, The South Asia Collection is an internationally significant museum collection of the everyday arts and crafts of the region. It includes embroidered, woven and printed textiles; paintings and prints from the 18th century to the present day; vernacular furniture; carved arches, doors and columns; votive figures; plus a wonderful collection of religious and domestic objects in metal, stone, wood, cloth and ceramic from the different communities and cultures of South Asia. 
The South Asia Collection contains objects that have been collected from the 1970s to the present. This gallery presents some of the larger-in-size highlights of the Collection. It includes an array of vernacular furniture, carved doorways, architectural sculpture, reliefs of deities, a wedding litter, and paintings from across South Asia. A number of costumes from Central Asia are also on display.