Back
We are an Arts Council of England National Portfolio Organisation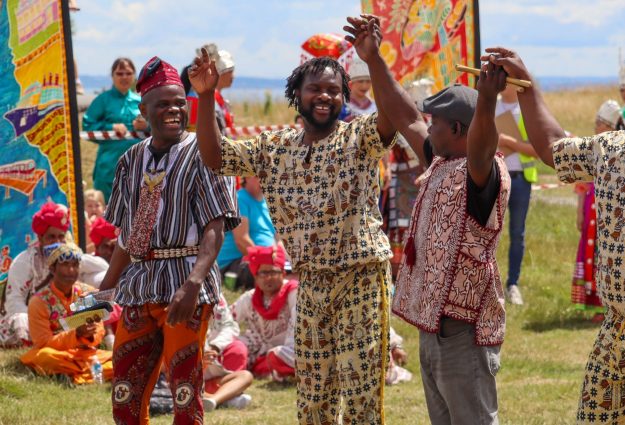 2023-26 Investment Programmes for National Portfolio Organisations (NPO)
We are delighted to announce that Essex Cultural Diversity Project has been offered investment from the 2023-26 Investment Programmes for National Portfolio Organisations (NPO) from Arts Council England over the next 3 years.
Over the next 3 years we'll be continuing our work to energise cultural diversity in arts and heritage, in support of ACE's Let's Create Strategy. Our work contributes strongly to the Outcome and Investment Principles working across the East Region, and providing support for diverse arts practitioners, creatives, freelancers and arts organisations in Essex and beyond.
The funding allows us to develop our work,  through our Salon events and talent development of diverse artists and creatives; public creative commissions often led by local authority or national partners such as the National Trust; international engagement and promotion supported by British Council and linking back to diverse arts experiences;  Global Village festivals that showcase diverse culture and local talent from around the world; and heritage and museum engagement projects which bring diverse and cultural history into new settings.
Over the years ECDP has specialised in hard to reach, underserved groups and locations, and we plan to work in ten of the Levelling up and ACE priority places, such as Basildon, Luton and some deprived wards such as Jaywick. ECDP's work is a natural fit for ACE's outcomes, and will contribute significantly to the Let's Create Strategy.
ECDP Creative Director and CEO Indi Sandhu said, "The investment from Arts Council England for the 2023-26 Investment Programmes for National Portfolio Organisations (NPO) will allow the organisation to expand its reach in the region and deliver high quality diverse work, building on the previous NPO funding which cemented the strong foundations to continue and develop the organisation"

Miriam Stead, ECDP Chair said "We are delighted to receive confirmation of funding from Arts Council England as part of the 2023-2026 funding round as a National Portfolio Organisation. We are even more pleased to have been granted an increase which will help us develop new skills and projects for and with both creatives and creative organisations. During this three year programme we aim to consolidate our position as a key supporter, facilitator and commissioner of diverse cultural and heritage practice in the Eastern Region"
With the additional investment increase for 2023-26, ECDP will further support creative and cultural work, by connecting with creatives to provide a valuable opportunity to upskill,  create new commission opportunities, develop  our international profile, ensuring the development of artists and communities with key partners.