Back
ECDP at The Downtown Contemporary Arts Festival, Cairo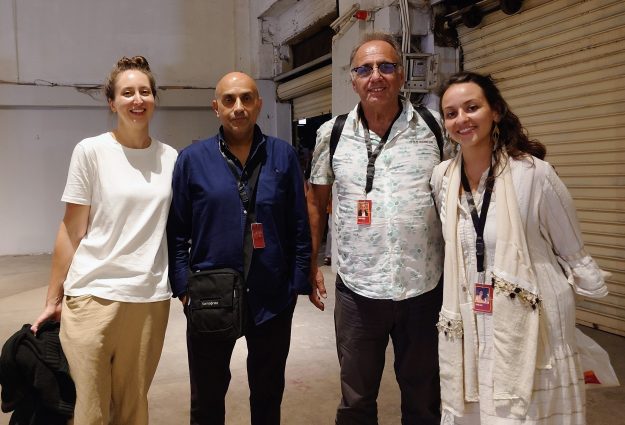 ECDP attends D-CAF in Cairo
The Downtown Contemporary Arts Festival
Essex Cultural Diversity Project was part of a delegation of 28 UK creatives, arts practitioners and arts organisations who attended D-CAF, The Downtown Contemporary Arts Festival in Cairo in October 2022.
Our Creative Director & CEO Indi Sandhu joined Farnham Maltings' Gavin Stride and Sophie Victoria, and Essex based artist Lora Aziz, with other delegates and representatives from British Council Egypt. The aim of the trip was to explore future opportunities for cultural exchanges, partnerships and collaborations between UK and Egypt.
The Downtown Contemporary Arts Festival (D-CAF) is Egypt's largest international multi-disciplinary contemporary arts festival and takes place each year over three weeks in October, at multiple sites across Downtown Cairo. D-CAF showcases groundbreaking work in the fields of theatre, music, dance, visual arts, literature and film by cutting-edge artists from Egypt, the Arab world and beyond. In addition to working with established Downtown cultural spaces and theatres, D-CAF breaks new ground by using non-traditional sites such as historical buildings, storefronts, alleyways, and rooftops for performances, events, and arts installations, with the aim of bringing both audiences and performers to engage with the city in new ways.
One of the key events was a round table discussion: an introduction to touring in Egypt and the UK. Artists, producers and communities were curious to hear how others around the world are responding to similar challenges, how we make sense of the world and our place in it, and how we might collaborate better. This event coincided with the launch of the Arabic edition of  the Introduction to Touring in the UK guide, produced by Farnham Maltings in partnership with Orient Productions and the British Council, for international performing artists, companies, and producers looking to present theatre, dance and live art in the UK. The roundtable offered insight into planning a tour, from tips for research, networking and promotion, options to show without traveling, ways to tour sustainably, common routes into touring in the UK, and what to consider once you have a performance confirmed.
Whilst in Cairo…
We caught up with Lora Aziz, whose project Motanafas is progressing well, with guided research being undertaken alongside several Egypt creatives, involving nature walks, and artist and ecologist led workshops to gather plant images, samples and stories. This will form part of an interactive digital ethnobotanical collection of similar plant species found in the Al'tarfa, St Catherine and Colchester, and an exhibition in Cairo, Eygpt.
Motanafas is one of the Creative Commissions, a collaboration between the UK and Egypt taking place in the lead up to the United Nations Climate Change Conference of the Parties (COP27), and is supported in-kind by Essex Cultural Diversity Project.
Read more about Motanafas at https://essexcdp.com/motanafas/