Back
A Joyous Conversation about Race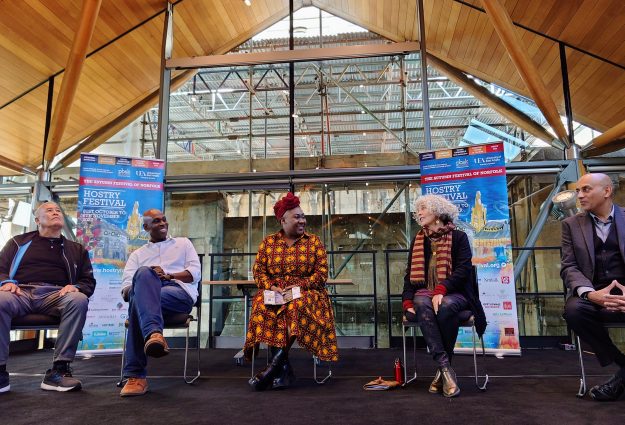 A Joyous Conversation about Race
Hosted by Tonia Daley-Campbell
Introduced by Anna Mudeka
Thank you to the Hostry Festival for inviting our CEO and Creative Director Indi Sandhu to be on the panel for A Joyous Conversation Around Race, as part of the festival and Black History Month in Norfolk.
Hosted by Tonia Daley-Campbell, the panel discussed everything about race – what does the word race mean? Are we different races or one human race? What are the joys and misunderstandings carried by the word race? How can we bring a brighter understanding to the wider public about the meaning of race?
Tonia is an actress, award-winning writer, published author, director casting director, and has been working in the creative industries for over 21 years. She is the annual host for Tedx Wolverhampton and is currently the new Audience Development Consultant for The Grand Theatre Wolverhampton.
The diverse panel included Jan Wade, Business Consultant; Danny Keen from Artists Jamaica; Michael Gyapong, DJ Ghana; Dr Miche Fibre Lewin, France/Zimbabwe and Indi Sandhu from Essex Cultural Diversity Project.
The event was part of Hostry Festival and Norfolk Black History Month, and was held at the Hostry Building at Norwich Cathedral.
https://www.norfolkblackhistorymonth.org/