Back
Festival of Thetford & Punjab 2023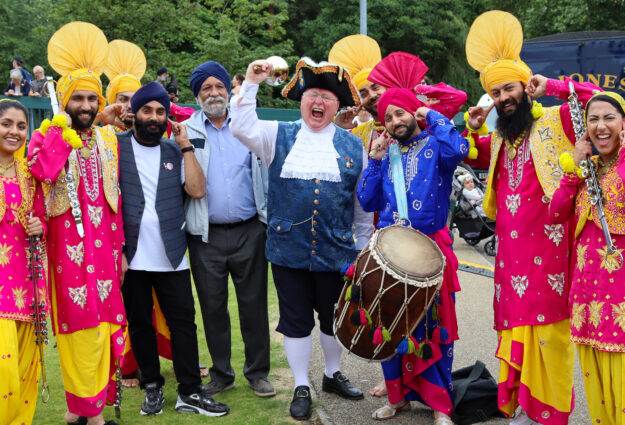 Festival of Thetford & Punjab 2023
The Festival of Thetford & Punjab 2023 took place in venues across Thetford in Norfolk in July 2023, and was a whole weekend of cultural celebrations inspired by the life and legacy of the Duleep Singh family, the last Royal Family of the Punjab who lived in Elveden near Thetford.
There were talks, workshops and activities for all to enjoy, as well as the Thetford Mela on Sunday, with performances from Circus Raj and the Rajasthan Heritage Brass Band, bhangra dancing, Sikh martial arts, dhol drumming and more.
Festival highlights included cultural activities and free entry at Ancient House Museum of Thetford Life; talks by Sikh historians Peter Bance, Rav Singh and Gurinder Singh Mann; zine-making workshops at Thetford Library; tours at Thetford Cemetary by the Commonwealth War Graves Commission; the Sikh Museum Initiative's interactive Anglo Sikh Virtual Museum at Ancient House; a curry night at the Thomas Paine Hotel; a launch event with a performance by Chakardar; and the big finale Thetford Mela on Sunday to celebrate the end of the three-day festival.
The Festival of Thetford & Punjab 2023 commemorated the 130th Anniversary of the death of Maharajah Duleep Singh. Dr Satinder Sartaaj was our Honourable Festival Patron. A special thanks to all our partners, festival collaborators and audiences this year, who helped make the festival happen and make it another big success!
Read the full programme for the Festival of Thetford and Punjab 2023 here:
Festival of Thetford and Punjab Programme
---