Back
Celebrating World Music in Rural Norfolk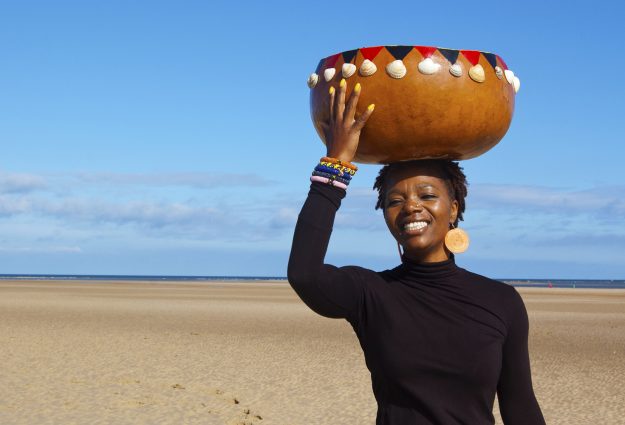 Essex Cultural Diversity Project is working in partnership with Anna Mudeka from Tambai Promotions on a series of mini-commissions, events and an Artist Salon, supporting diverse musicians, artists and DJs from the East of England, and bringing world music to the coastal area of Waxham in North Norfolk.
The project aims to support diverse creative practitioners and help develop the arts infrastructure in rural areas of Norfolk, as well as create opportunities for those visiting and living in remote areas to enjoy music and performance from all over the world. It also seeks to encourage more people from ethnic minorities to visit Areas of Natural Beauty in and around the Norfolk Broads.
Focal points for the project include two celebratory events in August 2023 at Waxham Summer Camp.
Waxham World Music Day took place on 26 August, bringing world music to the campsite over the August Bank Holiday weekend. It comprised nine hours of live music, featuring artists such as Cuban musician Jose Ferrera, and Kasai Masai whose music is a mix of traditional Congolese folkloric music and their own contemporary style, alongside artists from the west of England Murphy's Lore, Mog and Me, The Moochers, and Dove and Boweevil.
Dance and Regenerate on 12 August was a day of music from all over the world played by well-established DJ's from the UK as well as the music scene in the East of England. They played Latin, Reggae, Afro beat, R&B and more. DJ Offspring headlined the event, daughter of Norfolk legend Vinyl Vera. Joining her on stage was a spectacular laser show by Essex-based artist Scotty C. The lineup also included Rebel Lion, who has been building up a thriving roots community in Norfolk through regular community events, radio shows, and music nights. Other featured artists included DJ Michael pumping up some Latin and Afro beats, DJ contagious with some Rave and jungle, and Tribe of SSenkrad.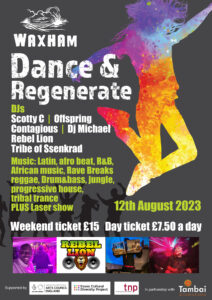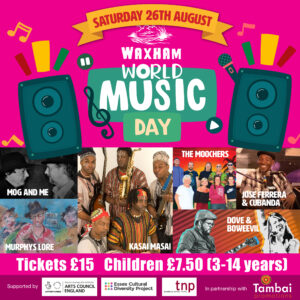 "I am delighted to be working with Essex Cultural Diversity Project, having worked with them for the past few years I value their commitment to ensure culture and diversity reaches all those in the margins who would otherwise not have the opportunity to experience these types of events due to lack of diversity in their area. As a passionate artist and event organiser I am grateful for the help and knowledge they share. These projects and partnerships we are forming are very exciting and Ia am very much looking forward to the future as we find ways of bringing more arts to rural Norfolk." Anna Mudeka, Tambai Promotions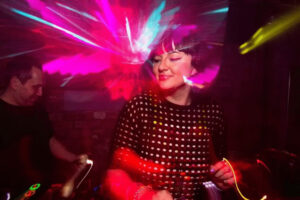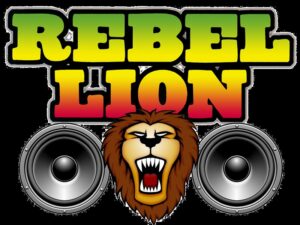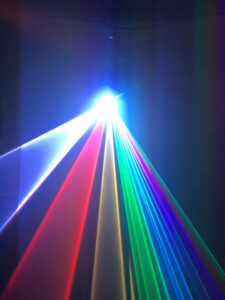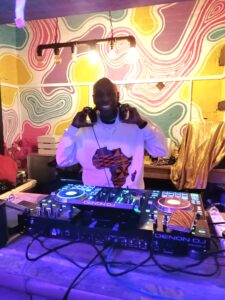 ---
About Anna Mudeka and Tambai Promotions
Anna's creative practice is focused on storytelling, singing, music and dance, and is driven by a passion to celebrate and share the traditions of Sub-Saharan African cultures. Born and raised in Zimbabwe, Anna draws from a wealth of African dance and music traditions, but is particularly inspired by her Shona roots, which has a rich cultural history and identity and is part of the Bantu ethnic group that forms the majority of the population in Sub-Sahara.
Anna is the Creative Director of Tambai Promotions, which specialised in Music and Dance rooted in Sub-Saharan Africa through workshops and performances. Tambai are an African Dance troupe made up of some of the most innovative performers and dancers working in African music in the East of England today. It features a talented cast from Zimbabwe, South Africa, Cuba and Kenya.
Essex Cultural Diversity Project has supported the work of Anna Mudeka, including the World Music Festival in 2022 when we brought Circus Raj and the Heritage Brass Band of Rajasthan to Norfolk last year. Anna also worked with schools in Tendring through The Tendring Junior Ambassador Project run by Tendring District Council (TDC), which saw Year 5 & 6 pupils from a number of schools take part in various workshops exploring cultural awareness throughout the Summer and Autumn terms. It encouraged young people to learn more about the communities around them, and championed inclusiveness and diversity. The celebration event, funded by TDC and Essex Cultural Diversity Project, saw ambassadors demonstrate activities from Bollywood dancing to African singing, with members of the invited audience of dignitaries and parents joining in.