Back
Dance and Regenerate | Waxham World Music Day
Saturday 12 Aug 2023 - Saturday 26 Aug 2023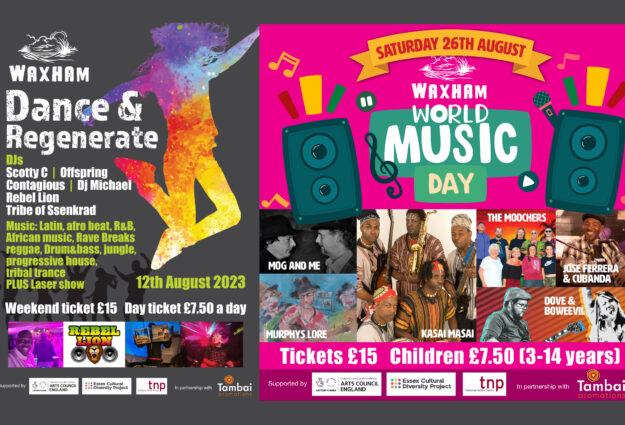 Essex Cultural Diversity Project is working in partnership with Anna Mudeka from Tambai Promotions on a series of mini-commissions and events, supporting diverse musicians, artists and DJs from the East of England, and bringing world music to the coastal area of Waxham in North Norfolk. The project aims to support diverse creative practitioners and help develop the arts infrastructure in rural areas of Norfolk, as well as create opportunities for those visiting and living in remote areas to enjoy music and performance from all over the world.
Focal points for the project include two celebratory events this August at Waxham Summer Camp:
Dance and Regenerate on 12 August is a day of music from all over the world played by well-established DJ's from the UK as well as the music scene in the East of England. They will be playing Latin, Reggae, Afro beat, R&B and more. DJ Offspring will headline the event, daughter of Norfolk legend Vinyl Vera. Joining her on stage will be a spectacular laser show by Essex-based artist Scotty C. The lineup also includes Rebel Lion, who has been building up a thriving roots community in Norfolk through regular community events, radio shows, and music nights. Other featured artists include DJ Michael pumping up some Latin and Afro beats, DJ contagious with some Rave and jungle, and Tribe of SSenkrad.
Waxham World Music Day takes place on 26 August, bringing more world music to the campsite over the Bank Holiday weekend. It promises nine hours of live music, featuring artists such as Cuban musician Jose Ferrera, and Kasai Masai whose music is a mix of traditional Congolese folkloric music and their own contemporary style, alongside artists from the west of England Murphy's Lore, Mog and Me, The Moochers, and Dove and Boweevil.
Venue: Waxham Summer Camp, Poplar Farm, Coastal Road, Waxham, Norfolk IP25 7SU
Tickets: No booking required, pay on the door
Facebook: Search for Waxham Summer Camp (Polar Farm)