Back
Global Village Presents… Circus Raj
Friday 1 Sep 2023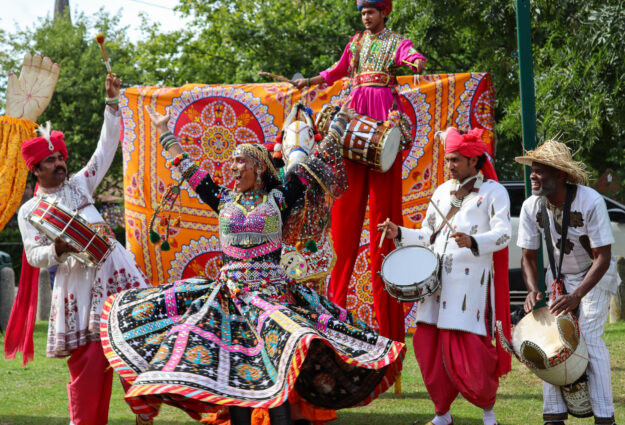 Global Village Presents…
Circus Raj
Hadleigh Country Park
Following on from their performance at the Global Village at the Sziget Festival in Budapest, Hungary, Circus Raj returned to Hadleigh Country Park in Essex on Friday 1 September.
The cast of aerialists, acrobats, musicians, slack-rope walkers, giant puppets characters and eye-watering displays presented a colourful, vibrant, fast-moving extravaganza of intrigue, drama, feats of daring, music, laughter, and surprise.
Rajasthan is home to the elite street circus performers from this fascinating region's legendary entertainment community, who combine their amazing skills in performing breathtaking acts of courage and bravery.
This event was part of Essex Cultural Diversity Project's Global Village series, with festival events across the region bringing together music, dance and performance from all over the world.
In July this year Circus Raj performed at Doddinghurst near Brentwood to audiences of all ages as part of Global Village funded by Brentwood Borough Council. In Summer 2022, Essex Cultural Diversity Project presented a programme of festival events to bring communities together and connect with local green spaces. This programme culminated in a free finale event at Hadleigh Park that showcased performance, interactive workshops and demos, featuring a range of artists from near and afar. Highlights included The Maharajah Brass Band and Circus Raj from Rajasthan India, Usifu Jalloh from Sierra Leone, Bollywood dancing with ABC Bollywood, performances by BrazilArte, Colchester Chinese Cultural Society, and colourful Kinetika flags.