Back
Black History Month Chelmsford
Monday 2 Oct 2023 - Tuesday 31 Oct 2023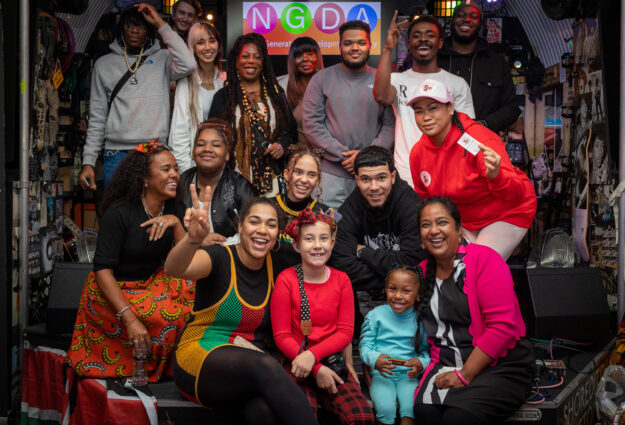 The New Generation Development Agency (NDGA) are delighted to announce that they are hosting a variety of events in celebration of Chelmsford Black History Month 2023.

The international theme for this year is Resistance. Events will be based at 32 The Meadows in Chelmsford City Centre, providing a safe and contained place for 30 days, with a variety of cultural activities to reach city residents and serve NGDA's aim of Connecting Communities Together.
The programme is supported by Essex Cultural Diversity Project.
Image courtesy NGDA: BHM Chelmsford 2022
For more information visit
www.ngda-ltd.com/black-history-month-2023
---
Events listing

WEEK 1
Mon 02 Oct Resistance Gallery – Walk Through Time, 10am-4pm (Drop in)
Tue 03 Oct Interview with Papa D from Essex First Reggae Band (Booking required)
Wed 04 Oct Chattie n Pattie – Social Gathering with Music, Dominoes and Cards, 10am-4pm (Drop in)
Thu 05 Oct Resistance Gallery – Walk Through Time, 10am-4pm (Drop in)
Fri 06 Oct Mindset over Everything – business market stall vibe
Sat 07 Oct Closed (Team at BHM Basildon)
Sun 08 Oct Resistance Gallery – Walk Through Time, 10am-4pm (Drop in)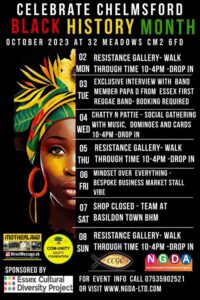 WEEK 2
Mon 09 Oct Resistance Gallery – Walk Through Time, 10am-4pm (Drop in)
Tue 10 Oct Decades Apart Filming 1-3pm (Lock in)
Wed 11 Oct Chattie n Pattie – Social Gathering with Music, Dominoes and Cards, 10am-4pm (Drop in)
Thu 12 Oct Closed (Team at BHM Southend)
Fri 13 Oct Decades Apart Filming 1-3pm (Lock in)
Sat 14 Oct Mindset over Everything – business market stall vibe
Sun 15 Oct Subliminal Productions Music Workshop 1-4pm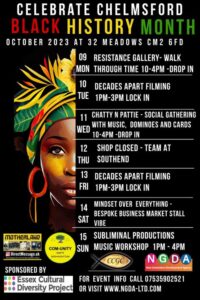 WEEKS 3, 4 & 5
Mon 16 Oct Walk in
Tue 17 Oct Arts and Crafts
Wed 18 Oct Chattie n Pattie – Snack Shack
Thu 19 Oct School Visit (Lock in)
Fri 20 Oct Walk in
Sat 21 Oct Jamaican Cafe hosted by CURO
Sun 22 Oct Children's Play
Mon 23 Oct Bag making
Tue 24 Oct Walk in
Wed 25 Oct Chattie n Pattie – Snack Shack
Thu 26 Oct Afro Beats Dance Sessions
Fri 27 Oct Nigerian Hair Braiding Day
Sat 28 Oct Bespoke Business Day
Mon 30 Oct Kaos Photography
Fri 27 Oct CALFE: Children & Authors' Literary Fanfare 2023, online
Sat 28 Oct CALFE: Children & Authors' Literary Fanfare 2023, Chelmsford Museum
Sun 29 Oct Chelmsford City Centre Event, Tindal Square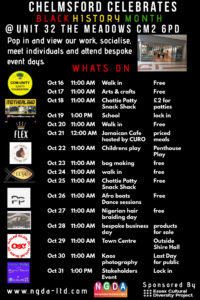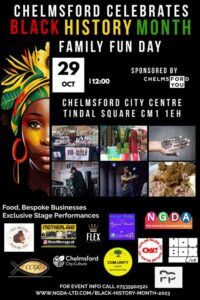 ---