Back
Black History Month in Colchester
Sunday 1 Oct 2023 - Tuesday 31 Oct 2023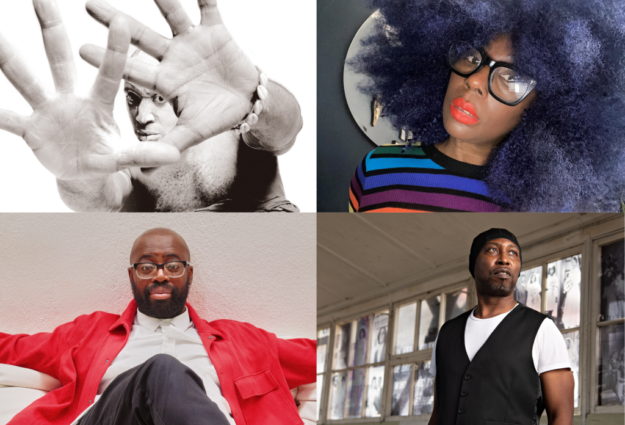 An overview of BHM events in Colchester
Organised by friends and partners in the city. Please get in touch if you have any events you would like promoted.
---

EVEWRIGHT: Libation
Exhibition runs until Sunday 29 October
24-28 October: EVEWRIGHT Artist-in-Residence
Firstsite
'Libation' marks EVEWRIGHT's first solo exhibition in a public gallery, showcasing a collection of new and seminal works spanning 20 years. The exhibition's title, 'Libation', refers to the ceremonial pouring of a liquid to pay homage to ancestors or relatives who have passed away. The ceremony is prominent in traditional Black Caribbean and African cultures not only for funerals but as a celebration of life for unions and weddings. Striking up conversations about what it means to be Black and British in the UK today, 'Libation' features drawing, sculptures, digital films, photography, and recent performance all of which explore themes of migration, identity, race, class and journeys.
Between 24-28th October EVEWRIGHT will be Artist-in-Residence at Firstsite in Colchester delivering tours, talks and performances throughout the week.
Image (c) EVEWRIGHT – Kissy Penny – Sovereign
---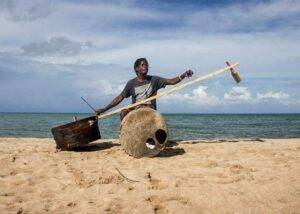 Gasper Nali + Michael Mountain
Sunday 8 October 2023 7pm (starts 7.30pm)
Colchester Arts Centre
Gasper Nali is a roots one-man-band from the small town of Nkhata Bay on the shores of Lake Malawi. He plays a one-string home-made 3-metre long Babatoni bass guitar with a stick and an empty beer bottle, and together with a cow skin kick drum and catchy melodies, he creates the most amazing and danceable original Afro Beats possible! His debut album, Abale Ndikuwuzeni, roughly translates to 'People, I want to tell you'. It is a fitting title as Gasper's songs, all sung in the Malawi national language of Chichewa, talk about life and strife in the country, often including social issues such as the rich and the poor, child marriages and more. Gasper is supported by Reggae singer songwriter and small-scale farmer Michael Mountain, from rural Malawi.
---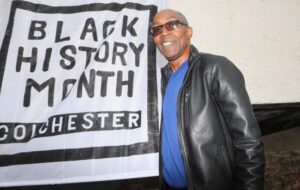 Lawrence Walker Awards and Cancer Awareness Event
Tuesday 17 October 10am-3pm
Firstsite
Africans Families in the UK invite you to the Lawrence Walker Awards and Cancer Awareness Event, a special gathering dedicated to honoring the achievements of individuals and for raising awareness of cancer. The Lawrence Walker Awards and Cancer Awareness Event will serve as a platform to raise awareness about cancer and its prevention. Various informative sessions, engaging activities, and interactive discussions will take place, providing valuable insights into cancer prevention, early detection, and available support systems. There will be talks from professionals about Cancer Awareness, and stalls showcasing different community groups to bring everyone together in the fight of cancer. AFiUK encourage everyone to attend this event as it will not only be an educational day, but a fun-filled day with food, activities and stalls to browse. Together, we can bring hope, raise awareness, and honor those who have dedicated their lives to combating cancer.
---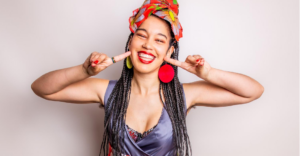 Rosy May: Finding Joy
Headgate Theatre
Thursday 19 Oct  7pm & Sunday 22 Oct  1.30pm
If you love dancing and you like to experience joy, then this is the perfect show for you. We'll go on an adventure through dance, videos and podcasts and hopefully find joy along the way. Explosive dance pieces with irresistible energy: the performance begins with a fiery jive routine followed by a snippet of a "Rosy May Uncut" podcast episode. From there, dancing & digital content will alternate scene by scene to take you on a joyful journey of laughter, honesty & grooviness.
You are encouraged to enter an accessible space where you're free to dance, move around and express joy in any way you choose from the moment you arrive. Flags will be available to all to wave throughout the performance and you are welcome to bring your own expressions of joy.
Disclaimer: you will not be forced to dance or feel joy, but there is a 103% chance that you will.
Duration: 60 mins | Age suitability: All Ages | Audience Warnings: None
Tickets £8
---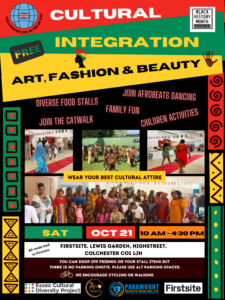 Cultural Integration: Art, Fashion and Beauty
Saturday 21 October 10am – 4.30pm
Firstsite
Colchester Life in the UK CIC invite you to a day of cultural integration, with food stalls, music, a fashion show and other family fun. Free entry.
---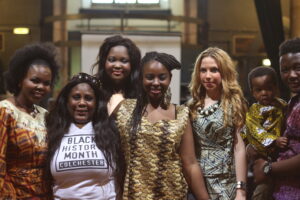 More Than History: Fashion Show in memory of Lawrence Walker
Saturday 21 October 4-11pm (fashion show starts at 5pm)
The Minories
For this year's Black History Month, we invite you to a fashion show! Come along for stalls, arts workshops and traditional food. Organised by the Colchester Caribbean Association, with support from Essex Cultural Diversity Project. This event is in memory of Lawrence Walker, late Chair of Colchester Black History Month.
Free entry – please note that food and drinks will be available to purchase on the day
---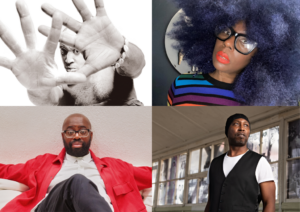 Libations & Conversations – A celebration of Black history, creativity and culture
Friday 27 October 2023 6-9pm
Firstsite
Join Firstsite and Friends for an evening celebrating Black history, art, and culture, featuring the artists and performers EVEWRIGHT, Elsa James, Harold Offeh and Dr 'H' Patten.
6pm – EVEWRIGHT: Libation – Artist Tour
Explore the history and inspirations of the current Firstsite exhibition, EVEWRIGHT: Libation, with an exclusive private tour by the artist EVEWRIGHT. Find out about the artist's thoughts and motivations behind the artworks and his wider practice.
7pm – Louisa Buck in conversation with Elsa James and Harold Offeh
Following the tour, join what is guaranteed to be an insightful debate between art critic Louisa Buck and artists Elsa James and Harold Offeh.The panel will explore the artists' practice and inspirations, particularly their shared interest in performance-based art. Louisa will also delve into the artists' shared use of humour and seriousness to challenge stereotypes and examine recent projects by both artists which have explored their personal encounters with museum objects and exhibitions. (Please note: This talk takes place at Firstsite, if you are unable to attend in person, you can join a livestream of the talk. Book the livestream here
8:15pm – Live Libation Performance by Dr 'H' Patten and Musician
Enjoy a live Libation Dance performance by Dr 'H' Patten, one of the UK's leading African dance practitioners. This unique performance will span the Firstsite building and follow the path of EVEWRIGHT's artwork 'Walking Drawing: Libation', creating an immersive and moving experience.
---
More listings to come!
Please get in touch if you have any events you would like promoted.