Back
One-to-One with Artist EVEWRIGHT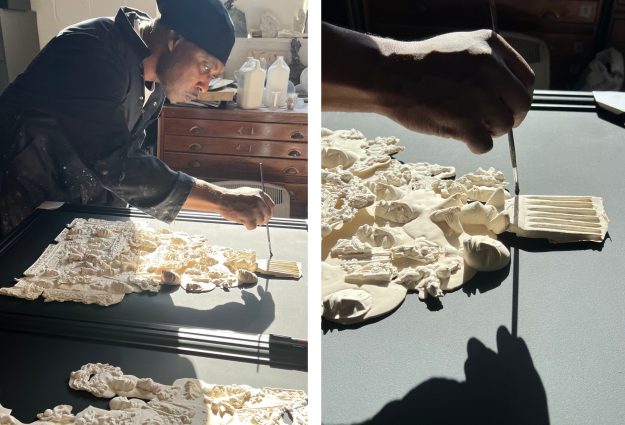 One-to-One with Artist EVEWRIGHT
evewright.com
@evewright.com @evewrightarts.org

In this monthly feature, we put a spotlight on an Essex-based creative practitioner working in diversity. We visit them in their studio, chat about their work, and share inspirations and themes around their practice.
This month we headed down to High House Artist Studios (run by ACME Studios) in Purfleet, to visit Artist EVEWRIGHT in his studio, pictured above sculpting Kissi Pennies.
There is no doubt that Artist EVEWRIGHT is a strong diverse voice in contemporary art, whose work creates spaces for, and amplifies, Black British Stories. His practice explores identity, cultural belonging and the ownership of place.
He often plays with scale, moving easily between the small and intimate and the large-scale. Much of his work is site-specific, and he often redefines and reinterprets place; he has an instinctive gift of responding to the locations in which he works, using the language connected to that place to sensitively but boldly draw out its history.
His current exhibition About Face at the Migration Museum, based in the heart of a busy Lewisham shopping centre, is a beautiful installation across the museum's windows. Using the visual language of advertising and shop window displays, the work conveys complicated themes through an accessible visual style. The artist explores his memories of and relationship to Lewisham as the town in which he grew up, and how key local events shaped him and his family. It pays homage to his parents, whilst also making reference to wider global concerns relating to migration, colonialism and slavery. The resulting work is a sophisticated piece with many layers, visually and in meaning.
---
Much of Artist EVEWRIGHT's current work is inspired by the stories of the Windrush Generation and their descendants. It comes from a desire to help communities articulate, reclaim and reconnect to their ancestral pasts, as well as an exploration of his own cultural roots as a child of Jamaican parents.
Caribbean Takeaway Takeover was based on the S&S Caribbean Café in Colchester, Essex, an important cultural hub for Colchester's Black community. The project was a joyful and immersive intervention, as he collected photos, artifacts and sound recordings from community elders, embedding their images and voices into the fabric of the café through wall and table collage, portraits, photo etchings and audio. Their stories and life experiences were animated and woven into the space in which they resonated and were originally shared.
"The art installation is an immersive experience which depicts present images but also fading thoughts, aspirations and memories created to document and reflect participants lives" Artist EVEWRIGHT on Caribbean Takeaway Takeover
---
This body of work naturally led on to Tilbury Bridge Walkway of Memories, a site-specific art and sound installation that brings the stories of the Windrush Generation "back home" to Tilbury Docks, where the passengers of the Windrush arrived 75 years ago. The artwork is installed in an original passenger walkway 55 metres long, with 432 panes of glass collaged with photographs, documents, original boat passenger tickets and memorabilia. The work is a moving and fitting memorial to those who travelled to the UK from the Caribbean, in an iconic location which has an historic significance to the Black community in Britain.
As part of the Windrush 75th anniversary celebrations this Summer, Evewright Arts Foundation has commissioned Artist EVEWRIGHT who will curate a whole weekend of Windrush heritage, with a 30-hour event comprising films, art installations, music, performances and food at Tilbury Docks. Belongings: Windrush 75 Weekender aims to captures the spirit and resilience of the Windrush Generation, as well as their hopes and dreams of starting life on a new shore, while at the same time sympathising with the passengers on the Empire Windrush, who had to wait on board for a delayed period overnight before disembarking at Tilbury in 1948.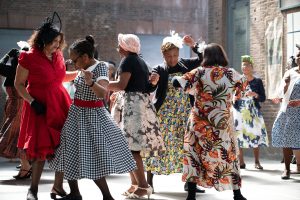 Migration and journeys are recurrent themes in Artist EVEWRIGHT's practice, and one of the first bodies of work he created when he fully focussed on his visual art practice over twenty years ago are his Walking Drawings. Epic in scale, the most recent incarnation of the large-scale landscape drawings took place in 2012 on Silecroft Beach near Millom Cumbria. Taking place over five hours, the live durational works involving the public, local communities and Cumbrian Shire horses happened between the tides, the ephemeral moment captured in film and photography. The Walking Drawings are another example of how the artist explores transitional spaces and people's movement through them.
Artist EVEWRIGHT is currently working towards a new exhibition at Firstsite in Colchester, entitled Libation, that will run from 7 July until 29 October 2023. As an artist who works mainly in site-specific locations, this will be EVEWRIGHT's first large solo show in a gallery. It is an opportunity to bring together work from across his whole practice, which will be shown alongside newly commissioned work by Firstsite, allowing us to enjoy the many interconnecting themes through his multi-disciplinary work.