Back
In the Frame: Lu Williams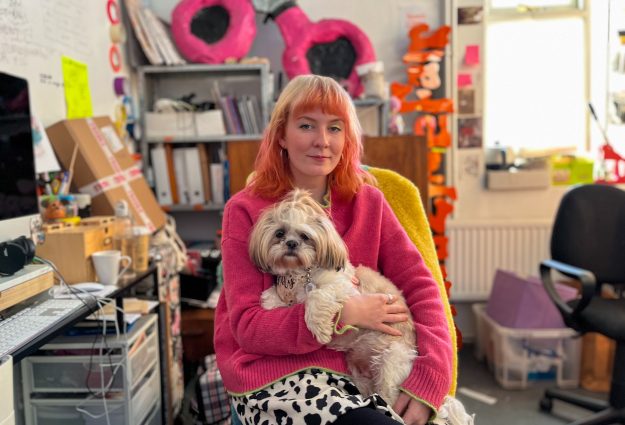 In the Frame: Lu Williams

December 2022
In this monthly feature, we put a spotlight on an Essex-based creative practitioner working in diversity. We visit them in their studio, chat about their work, and share inspirations and themes around their practice.
This month we headed down to the Old Waterworks in Southend to meet Lu Williams in their studio, an artist who makes work through the lens of queerness, neurodivergence and working classness.
Lu's practice is in itself diverse and wide-ranging; the artist produces sculpture, print, zines, drawing, writing, video, events and workshops. There are many recurring themes that thread neatly through their practice and draw all the work together into a cohesive whole, wrapped in a bright, bubblegum visual style that references pop and DIY culture.
Themes explored through their work include place and memory; community and collaboration; collecting; class and upbringing; accessibility; and platforming and uplifting marginalised voices.
Lu explores the notion of the 'disposable', elevating everyday paraphernalia, which is often ephemeral and nostalgic, into the valued but functional 'art object'. They are interested in notions of the souvenir, the relic, and the sculptural, and what happens when these intersect.
One of Lu's current projects is a large-scale public artwork for Southend High Street, commissioned by Creative Estuary and Focal Point Gallery, which will display oversized fridge magnets co-designed with Southend residents. As a collector of fridge magnets themselves, the artist realised that these objects can turn our refrigerators into mini-galleries, with tiny artworks that evoke personal mementos of holidays or day trips. Lu wants to transform the miniature, which represents home and memory on an intimate scale, into the gigantic. This will become something publicly shared that celebrates place, a symbol of civic pride to welcome visitors to the city.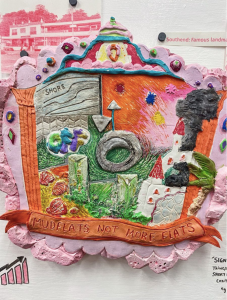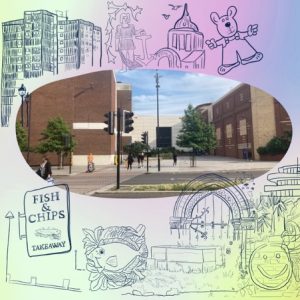 We first met Lu back in 2017 through our commissioning programme, when they delivered a brilliant project engaging residents of Basildon through the creation of a collaborative zine entitled 'The Tenants Handbook'. Lu hosted multiple zine workshops, which artistically activated participants through writing, collage and drawing. Each workshop focused on recalling participants' memories of the New Town, and on their own experiences and journeys. The resulting publication reframed the narrative of the town, creating ownership and empowering participants to tell their story in their own words. As Lu explains,
 "Zine making is an authentic way of representing culture and documenting the voices of those who's stories have been forgotten. In an age of social media and fake news, people deserve authentic public art that represents and reflects them."
Zines are a regular feature in Lu's work; the artist founded Grrrl Zine Library in 2015, a space for self-publishing and DIY art and culture surrounding feminist publishing. This started as a small personal collection, born out of a desire to capture the authentic voice of a disenfranchised community, and to preserve something that would otherwise be thrown away or forgotten.
The collection was shown for the first time at Metal's Village Green in Southend in 2017 with 100 zines, and has since been exhibited at the BFI and V&A, as well as internationally, with a tour to China. The Library now holds more than 600 zines and is growing. Lu is interested in the physicality of the zine, as something to share and hold and handle, and also something for others to create themselves. Lu runs regular zine making workshops, as well as the Grrrl Zine Fair that celebrates contemporary feminism though the library, live events, music and practical workshops.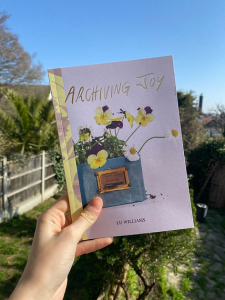 There is an element of storytelling within Lu's work, on both a personal and grand scale through collective projects. This year they published Archiving Joy, the story of their Great Aunt Rosemary Joy Erskine who lived as an openly queer transgender women. The book is an intimate work that pulls together fragments of their Aunt's life through oral history and family memories, alongside photos and video, and stories found in official archives. Funding from Snapping the Stiletto allowed Lu to invite other artists and writers to contribute, bringing in other people's voices, research and reflections about archiving queer history.
As someone who regularly collaborates with creative practitioners and community participants, Lu is a keen advocate of empowering others and giving them a platform. This is evident in some of the art projects they are involved in. Lu worked with Milton Keynes' young communities to capture a snapshot of the town's youth culture in 2022 as part of the Fuelled by Youth project; in 2020 they worked with Essex Book Festival to create the Essex Manifesto, which helped young people articulate their thoughts, fears and ideas about climate change; Lu is one of the artists involved in This Must Be The Place, a three-year placemaking project that enables 16-25 year olds to have a say in the new garden city plans for Ebbsfleet. Lu is also back in Basildon, mentoring a young artist who wants to make her own zines.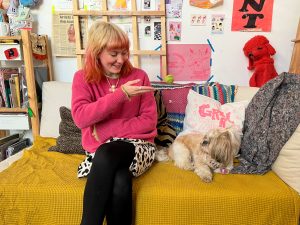 Accessibility, generosity and play are key to Lu's practice. Inspired by their Medical and Mental Health Assistance dog, Poly, Lu recently founded Dog Ear with fellow artist and dog lover Emma Edmondson, which they describe as 'a place for contemporary art publishing and sculptural dog toys'. On the surface this seems like a straightforward commercial enterprise, but on closer inspection it is clear that Dog Ear is a playful arts project, that Lu sees as "100% part of" their art practice; lovingly handmade dog toys are accompanied by an art publication, and the project explores affordability and accessibility, creativity and play, and life-long learning for dogs as well as humans. As the artists state on their website:
"We believe everyone should have the chance to experience, own and enjoy art, whether that's on a bookshelf or in a dog's mouth. Dog Ear products encourage creativity, play, mental well-being and critical thinking. We want to change the way contemporary art is experienced, sidetracking the traditional gallery and bringing art into people's homes."
Lu was interviewed in December 2022 by Jo Nancarrow.
---
Lu Williams' websites:
luwilliams.com | www.grrrlzinefair.com | dogear.uk
Bricks Magazine, Issue #11
Lu Williams On Curiosity, Creativity, and Community
bricksmagazine.co.uk/2022/11/21/lu-williams-on-curiosity-creativity-and-community
---
Written in December 2022
by Jo Nancarrow, ECDP Digital Lead