Back
In the Frame: Sade Fadipe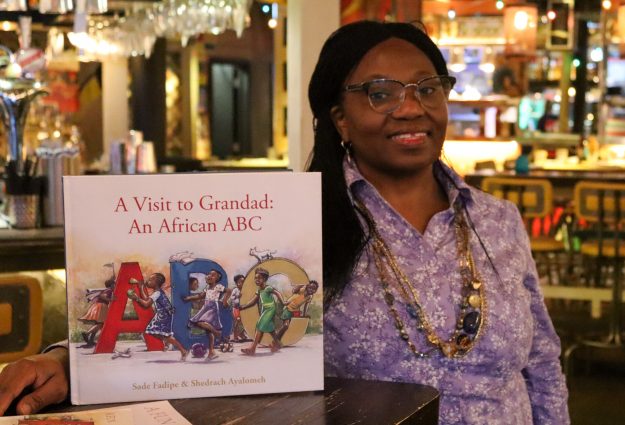 In the Frame: Sade Fadipe, children's author
In this special monthly feature we put a spotlight on Essex-based creative practitioners who are from diverse backgrounds or who are working in diversity. We'll visit them, chat about their work, and share inspirations and themes around their practice.
In the frame this month is Sade Fadipe.
Sade Fadipe is a culturally diverse children's author, whose work is shaped by her dual heritage, as well as her background in teaching. She is a strong new voice in children's literature, with a unique and authentic style that explores cultural identity, integration and migration stories.
During her foundation years, while her Nigerian parents juggled work and studies in London, Sade was privately fostered in Kent by an English family. She has lived between the UK and Nigeria and has settled in Chelmsford, Essex with her family.
Through her writing, she explores the diaspora experience, while creating a legacy for future generations more widely. Her work captures memories of the rural parts of Nigeria she once worked in as a teacher-trainer, and the places she visited as a child, drawing parallels with the more traditional Kent countryside of her childhood.
Sade is driven by the need for more diverse, representational books within schools and libraries; recent research by Sheffield Hallam University found that, despite 1/3 of English primary school pupils being from culturally diverse backgrounds, in 2017 99% of children's main characters in books were white. She is a strong advocate for black writers, currently underrepresented in the literary world. As both an author and advisor to other writers, addressing this imbalance is a crucial part of her work, on and off the page.
In 2018, she set up the Kiddie-Writers Forum to provide peer-to-peer support for upcoming children's authors; she is an advisor to the board at Essex Book Festival; and she recently hosted for the second year running, CALFE (Children's and Authors Literary Fanfare Evening), an annual online event bringing together authors from around the world to celebrate diversity, and entertain children and their families with their stories.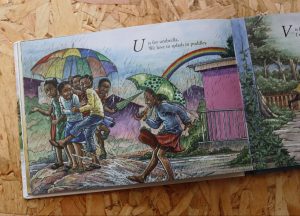 Sade has written three books so far, with plans for more in the pipeline. Her first published work was written as an education specialist, Teaching Young Children to Read, and this was closely followed by A Fun ABC, a picture book for 0-5 year olds that has been published in Nigeria, the UK and USA, retitled as A Visit to Grandad for the American market.
She then went on to publish Snowy Joy in 2019, a Christmas immigration story for 8-12 year olds, which was spurred by her children's reaction to stories in the news about the Syrian war, and their own experience of a bomb explosion close to their school in Abuja, Nigeria. Her motivation was to help her children and other young people talk about trauma, and to nurture hope within new experiences. Snowy Joy has been adapted into a radio drama with the help of Margaret's Music Ltd, a creative outfit in London.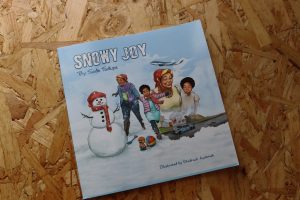 Sade enjoys writing for different ages, with two more picture books in the pipeline for young readers, as well as ideas for an Animal Series.
Sade was recently awarded a DYCP (Developing Your Creative Practice) grant from Arts Council England to develop her storytelling voice, which goes side-by-side with her writing, to incorporate drama, music, props and movement into her artistic expression and storytelling.
She is currently studying for an MA in Creative Writing and Publishing at the University of Bournemouth, using the time to explore a wide range of fiction genres.
Sade was interviewed in November 2022 by Jo Nancarrow.