Back
A Tribute to Jo Melville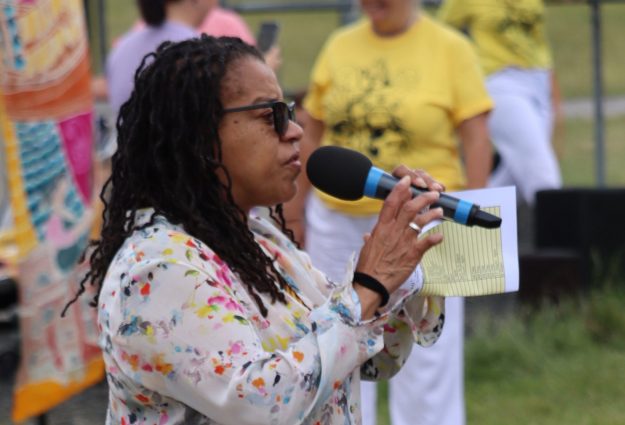 We are deeply saddened by the recent death of our good friend Jo Melville this October, who has been such an inspiration and source of energy over the years, and a driving force in the celebration of diversity in Essex. Jo supported much of our activity over the years, taking part in events, hosting Stand Up For Diversity in Southend earlier this year, and being the MC for our popular Global Village events.
"Jo Melville was a leading figure for the arts sector in Essex and beyond. Her passion, energy, hard work and commitment to delivering outstanding events and festivals including Black History Month and East Beach Festival will be missed. Since its inception in 2008 Jo has been a valuable supporter and advocate for Essex Cultural Diversity Project and we will all deeply miss her" Indi Sandhu, ECDP
In November 2022, Kelly Buckley at the Southend Echo gathered tributes for Jo, in a special article that we've transcribed below (with thanks to Michelle Passfield for helping to collate memories for the article).
---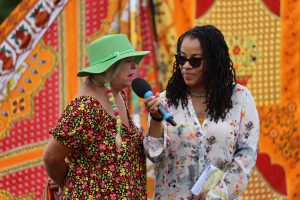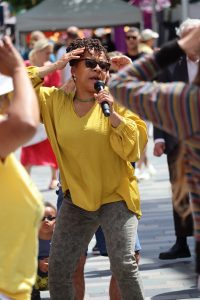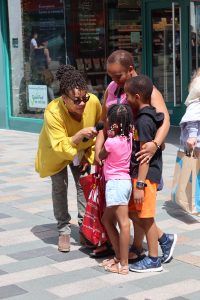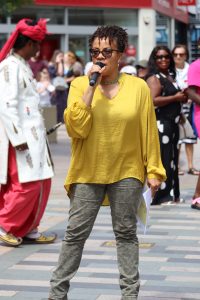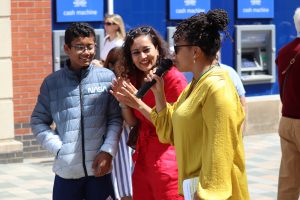 Above: pictures of Jo at Global Village in August 2022
---
Arts Community Pay Tribute to Jo Melville
A woman of many talents and champion of the arts
By Kelly Buckley, Southend Echo
Tuesday 15 November 2022
When I asked people if they would like to contribute some words in tribute to the late Josephine Melville – an extraordinary woman who was a fierce champion of the art scene – I was inundated with messages from so many who worked on the huge amount of projects that the Westcliff lady got involved in.
It is testament to the astonishing amount of work she did, that there isn't nearly enough space to include include them all here.
Jo – originally from Forest Gate but who had lived in Westcliff [Southend] for many years – was a stage, screen and radio actor; as well as a writer; director and producer; to name but a few of her roles.
She was widely known for her role of Tessa Parker in Eastenders and guest appearances on other major TV shows, pantos, films and more, but in Southend she was well known for being involved in a myriad of projects, always leaving people in awe of how much energy she had and how much she got involved in.
As well as being a trustee for Metal Southend, projects close to her heart included the South Essex African Caribbean Association (SEACA) of which she was founder; the Steel Here Southend steel pan band; the Time to Shine project in Southend; the East Beach Festival; The Hamlet Court Road In Harmony Festival; the All Women Festival; the Essex Cultural Diversity Project; and the Know Your Roots – my hair is the reflection of who I am projects in Basildon, Colchester and Southend
With the love of her life Eastenders actor Roger Griffiths, she began Eye 2 Eye productions, staging live drama workshops and producing digitally filmed programs, working with organisations ranging from primary schools to young offenders instituted. Eye 2 Eye also produced the art exhibition Poetry and Prose, a living archive that celebrates 100 years of black artist in Britain, for which she was honoured by the London metropolis Metropolitan archives with the revered Archive Landmark Award 2009.
Jo started her career as a dancer; moving to acting in 1983. Three years later, she debuted in Moon on the Rainbow Shawl at the Theatre Royal, Stratford East, which marked the beginning of a lengthy association with that company.
At the time of her death Jo had completed filming for a starring role in the thriller Slammer.
Josephine Melville passed away backstage at the Nottingham Playhouse after performing in Nine Night, on Thursday, October 20.