Back
ECDP TV: Seema Anand meets Josephine Melville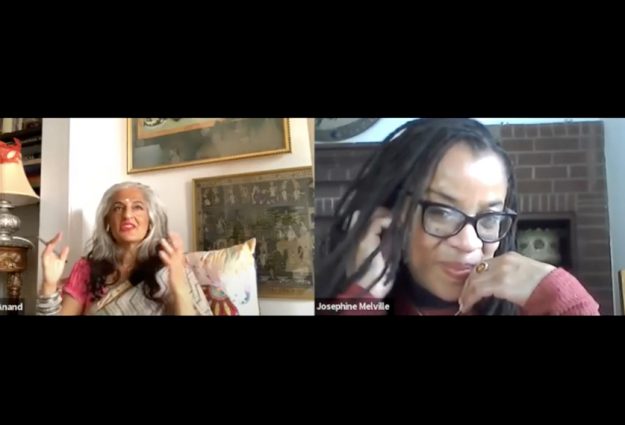 ECDP TV: The Edge
In conversation with Josephine Melville
Recorded in June 2021

November 2022

We are deeply saddened by the recent death of our good friend Jo Melville, who has been such an inspiration and source of energy over the years, and a driving force in the celebration of diversity in Essex. Jo supported much of our activity over the years, taking part in events, hosting Stand Up For Diversity in Southend earlier this year, and being the MC for our popular Global Village events.

"Jo Melville was a leading figure for the arts sector in Essex and beyond. Her passion, energy, hard work and commitment to delivering outstanding events and festivals including Black History Month and East Beach Festival will be missed. Since its inception in 2008 Jo has been a valuable supporter and advocate for Essex Cultural Diversity Project and we will all deeply miss her" Indi Sandhu, ECDP
Seema is back with another exciting episode of The Edge, featuring Jo Melville, chair and founder of the South Essex African Caribbean Association. This interview discusses her role and how she works to bring the community together. The Edge is a series of programmes which seeks to look at new and innovative things happening in the arts and talk to artists from diverse backgrounds who are making them happen.
---
About Seema Anand
Seema is a Storyteller, Artist and Narrative Specialist. She is a Doctor of Narrative Practices, working with the uses and the implications of 'Oralness', specialising in Story telling. Seema specialises in global mythologies – comparing and retelling stories through different cultural nuances to give everyone ownership of the tales. Her ongoing work in researching and collating stories from the ancient Asian texts is an invaluable resource, both in the corporate and the education sectors. Story, according to Seema, is a physical skill and a visual art and her work is developed to include alternative aesthetic and cultural perspectives for all ages and capacities. ECDP has partnered with Seema on many different projects over the years, including the Kavaad Picnic in rural locations of Essex, hosting events as part of a project inspired by 'Princess Sophia: Suffragettes and Women's Votes, exploring diverse women's engagement in the democratic process. Seema has also hosted events as part of our Festival of Norfolk & Punjab.
Seema Anand on Instagram | Facebook group | Facebook page
---
About Josephine Melville
Josephine has had an extremely varied career starting out as a dancer and making her transition to actress writer, director, archivist and producer working in the business for over 40 years. Among her extensive theatre and TV credits she has performed in many British pantomimes, toured and performed in many theatres across the country, and appeared on TV in programmes. Josephine is the founder of South Essex African Caribbean Association (SEACA) based in Southend, which helps to build, promote and share the exciting and colourful African and Caribbean Culture in Essex. Josephine's next project for SEACA will be KNOW YOUR ROOTS, exploring aspects of African Caribbean Culture with a focus on the treatment of hair. Many Black people don't know the history of Black hair and natural hairstyles and the significance it held in Africa. Our culture of passing down the various methods and styles of grooming hair, is a tradition we wish to celebrate. This will be an intergenerational project looking at how young women can take pride in their crown.
southessexafricancaribbeanassociation.com | facebook.com/Hamletcourtroadinharmony | hamletcourtroadshops.co.uk/hcr-in-harmony-2
---