Back
ECDP TV: Seema Anand talks to EVEWRIGHT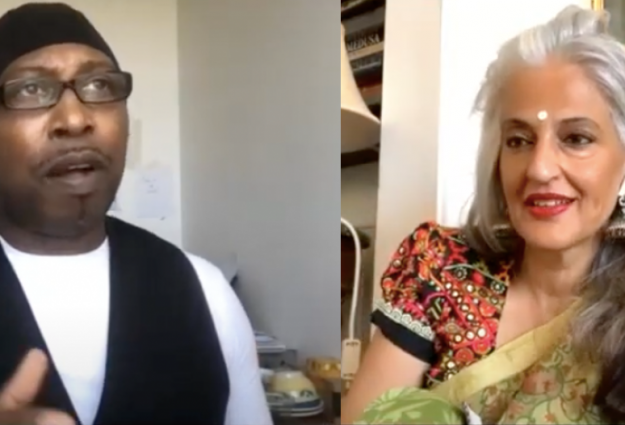 In conversation with EVEWRIGHT
ECDP TV: The Edge
Seema Anand is back with another episode of The Edge. In this episode, Seema talks to EVEWRIGHT, a multi-disciplinary artist, who challenges public environments to make spaces for Black British stories to exist and thrive. He creates mirrors where he can see and recognise himself to instigate conversations about what it means to be Black and British in the UK today.​​​​​​​​​​​​​​
About Seema Anand
Seema is a Storyteller, Artist and Narrative Specialist. She is a Doctor of Narrative Practices, working with the uses and the implications of 'Oralness', specialising in Story telling. Seema specialises in global mythologies – comparing and retelling stories through different cultural nuances to give everyone ownership of the tales. Her ongoing work in researching and collating stories from the ancient Asian texts is an invaluable resource, both in the corporate and the education sectors. Story, according to Seema, is a physical skill and a visual art and her work is developed to include alternative aesthetic and cultural perspectives for all ages and capacities. ECDP has partnered with Seema on many different projects over the years, including the Kavaad Picnic in rural locations of Essex, hosting events as part of a project inspired by 'Princess Sophia: Suffragettes and Women's Votes, exploring diverse women's engagement in the democratic process. Seema has also hosted events as part of our Festival of Norfolk & Punjab.
Seema Anand on Instagram | Facebook group | Facebook page
---
About EVEWRIGHT
Everton Wright (EVEWRIGHT) is a British artist, with parentage from Jamaica. His work is a conscious 'mash up' of drawing, sculpture, combined with digital film and live installations. Evewright's work explores the intricate connections between the body and our experience of the modern environment, and he communicates this through bold interactive art, also using urban and rural landscapes as his canvas.
Evewright studied graphic design at Middlesex University, received a first class degree and continued on to train as an artist in mixed media painting at Central St Martins College of Art, where he did his foundation. He also trained in film and video production at Four Corners London.
With a professional background in commercial graphic design, Evewright is also an award-winning creative director, responsible for creating iconic imagery. However, art has since become his focus and Evewright has participated in several group and solo exhibitions including: Royal Academy of Arts Exhibition, London, Jeanne Kahn Gallery 2012 and Porters Gallery 2014. Trinidad and Tobago Film Festival, Medulla Art Gallery, Port of Spain, Trinidad and Tobago, 2013, Nominated for the Young Masters Art prize 2014. ELECTRONICS ALIVE VIII Biennial, Tampa Florida USA 2015, Ripon Cathedral. Great North Art Show 2015, Guildhall Gallery. No Colour Bar Exhibition 2015. BFI British Film Institute. Firstsite gallery Britishness exhibition 2018, Caribbean Takeaway Takeover 2018. Migration Museum London 2019. V&A Friday Night Late. July2019.