Back
ECDP TV: The Edge with Seema Anand, featuring Lora Aziz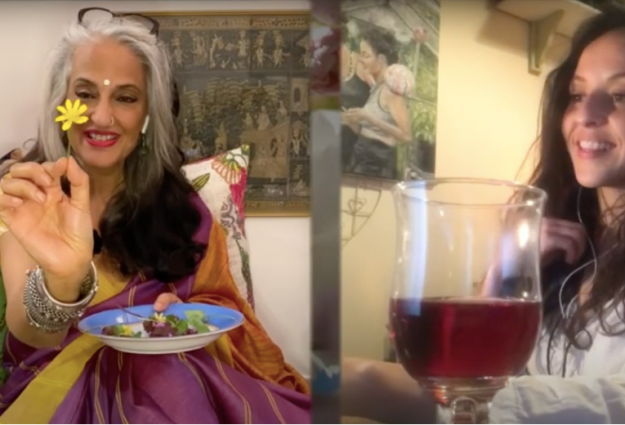 ECDP TV: The Edge with Seema Anand
In conversation with Lora Aziz
Seema Anand brings us another brilliant episode of The Edge – this time she goes foraging with 'wild craft artist' Lora Aziz. The Edge is a brand new series of programmes which seeks to look at new and innovative things happening in the arts and talk to artists from diverse backgrounds who are making them happen.
---
About Seema Anand
Seema is a Storyteller, Artist and Narrative Specialist. She is a Doctor of Narrative Practices, working with the uses and the implications of 'Oralness', specialising in Story telling. Seema specialises in global mythologies – comparing and retelling stories through different cultural nuances to give everyone ownership of the tales. Her ongoing work in researching and collating stories from the ancient Asian texts is an invaluable resource, both in the corporate and the education sectors. Story, according to Seema, is a physical skill and a visual art and her work is developed to include alternative aesthetic and cultural perspectives for all ages and capacities. ECDP has partnered with Seema on many different projects over the years, including the Kavaad Picnic in rural locations of Essex, hosting events as part of a project inspired by 'Princess Sophia: Suffragettes and Women's Votes, exploring BAME women's engagement in the democratic process. Seema has also hosted events as part of our Festival of Norfolk & Punjab.
Seema Anand on Instagram | Facebook group | Facebook page
---
About Lora Aziz
Lora is an interdisciplinary artist – visual anthropologist, herbalist and experimental calligrapher. She learnt to make sense of the worlds around her through the art of languages, the scriptures that engrained them and the vitality of plants that contributed to survival of ancient civilisations. The stories Lora collected with her ancestors connected her as a common stranger to both lands and rivers, and bound her to a way of life which intimately navigates more than one culture. She makes handmade inks from foraged flowers, galls and husks and is currently a student of the UK's Society of Scribes and Illuminators. She has currently been experimenting with these arts digitally working with a Wacom tablet and Studio Paint Pro.
Through her current project Wyrd Flora, she practices connecting through the living natural world with fellow artist and partner Marley. Their practice embraces interests in herbal art, explorative foraging, wild foods and plant medicine. Together they transpose their experiences by re-telling, re-searching and re-viving the wisdoms of the environment. Landscapes and the flora they hold can be hard to navigate, so Lora and Marley's creative practice takes the outside inside, inviting other people to join this journey. They invite and encourage others to join artist-led foraging workshops and by application of foraged materials in traditional and digital practice.
Instagram @wyrd_flora
---