Back
ECDP TV: The Edge with Seema Anand, featuring Lily Hunter Green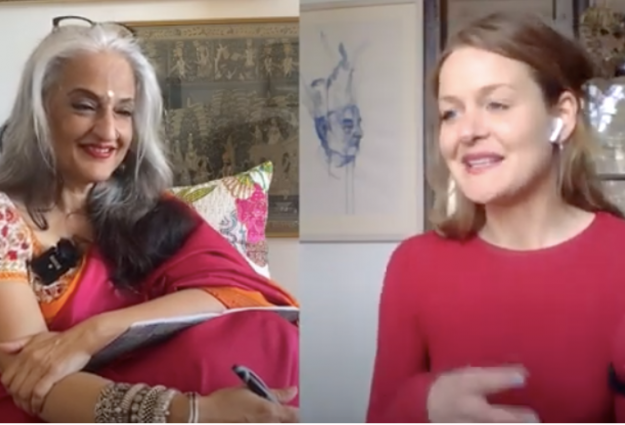 ECDP TV: The Edge with Seema Anand
In conversation with Lily Hunter Green
Seema Anand brings us another fascinating episode of The Edge, interviewing artist Lily Hunter Green about bees, music, the climate and community. The Edge is a brand new series of programmes which seeks to look at new and innovative things happening in the arts and talk to artists from diverse backgrounds who are making them happen.
---
About Seema Anand
Seema is a Storyteller, Artist and Narrative Specialist. She is a Doctor of Narrative Practices, working with the uses and the implications of 'Oralness', specialising in Story telling. Seema specialises in global mythologies – comparing and retelling stories through different cultural nuances to give everyone ownership of the tales. Her ongoing work in researching and collating stories from the ancient Asian texts is an invaluable resource, both in the corporate and the education sectors. Story, according to Seema, is a physical skill and a visual art and her work is developed to include alternative aesthetic and cultural perspectives for all ages and capacities. ECDP has partnered with Seema on many different projects over the years, including the Kavaad Picnic in rural locations of Essex, hosting events as part of a project inspired by 'Princess Sophia: Suffragettes and Women's Votes, exploring BAME women's engagement in the democratic process. Seema has also hosted events as part of our Festival of Norfolk & Punjab.
Seema Anand on Instagram | Facebook group | Facebook page
---
About Lily Hunter Green
Lily Hunter Green is a UK-based contemporary composer and visual artist. Lily has exhibited her work nationally and internationally. Her exhibitions include Bee Composed Live (SNAP EXHIBITION: Aldeburgh); The Wild Card (Sadler's Wells: London); Creative Climate Symposium (Keynes Library: University of London); Tuning In (Shanghai Academy of Fine Arts: China), and Cross-Pollination (516 ARTS: Albuquerque, US). Lily is currently working on a large-scale immersive collaboration with EdenLAB (2019-2021). Building on her artist residency at The Gurdon Institute in 2018, Lily has been invited to be artist-collaborator on a new research project led by leading international scientist Dr Eyal Maori his institute and research laboratory at the University of Cambridge. Lily is an Associate Research Fellow at Birkbeck College, London.
---