Back
Listen Now: Celebrating Vaisakhi on BBC Essex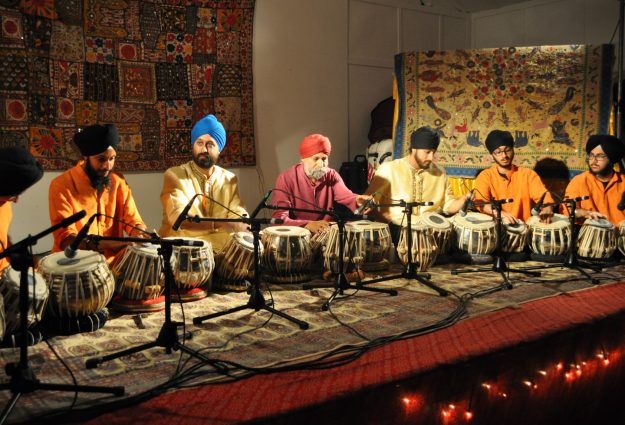 A special Vaisakhi celebration on BBC Essex's Essex Voices, the weekly radio programme focused on community. Presenter Rob Jelly talks to the highly talented and creative Rayatt family about the Vaisakhi Festival and its significance for the Sikh community.
The programme features live music from Harkirat Singh Rayatt, leading Tabla player and founder of Chakardar, a Sikh Shabad (Hymn) by Shaminder Kaur Rayatt accompanied by live Tabla and harmonium, and a conversation with their daughter Rehmat Kaur Rayatt, Essex Born award-winning filmmaker about her new documentary 'Toxification' on Amazon Prime which is tells of the plight of Punjabi farmers in India.
---
About Chakardar
Chakardar is Europe's leading promoter of Indian percussion. It seeks to enhance the understanding of Indian Classical Drumming with its complex rhythmic patterns across all communities in the UK and Europe. Established in 2000, Chakardar began as a small tabla tarang ensemble of students led by Ustad Harkirat Singh Rayatt. Borne out of a deep-grained passion, Chakardar expanded as the UK's leading promoter of Indian percussion, establishing a name for itself as an organisation which values Tabla excellence and promoting it with a passion unrivalled in the UK. A not-for-profit organisation with the aim of representing global tabla artistes and performers, Chakardar showcases talent and sharing knowledge with avid listeners and tabla enthusiasts across the country. It promotes awareness of this extremely versatile instrument through artistic projects to inspire interest. Chakardar's extensive experience and links with great maestros allows for the influx of the highest calibre of expertise into the UK.
---
About Rehmat Rayatt
Award-winning photographer and filmmaker Rehmat Rayatt is a social documentary photographer and filmmaker whose work ultimately draws on her identity as a first generation British-born Indian. Now based in London, Rehmat grew up in rural Essex. She graduated from the Arts University Bournemouth with a BA (Hons) in Photography and works globally as a freelancer. Her work has been exhibited around the UK including The Old Truman Brewery Brick Lane, The New Art Exchange Nottingham, Guildhall Art Gallery London and The Gallery, Bournemouth. She has been shortlisted for a number of awards including the Culture Cloud competition.
Her most well-known film to date is Toxification, a feature film documenting the plight of the Punjabi farmer. The film won Best Documentary at OIFFA in Canada, as well as being selected for three other film festivals globally. The film is critically acclaimed, having been featured in The Guardian and Times of India. Rehmat was recently commissioned to direct Terra Firma, a film about the diaspora experience broadcast on BBC Four as part of the New Creatives initiative co-funded by Arts Council England and BBC Arts. She has also had her photographs exhibited at the Southbank Centre and a number of other galleries, as well as being published in The Guardian and The Telegraph.
www.amazon.co.uk/Toxification-Darshan-Singh-Rudel/dp/B08VW7TWYS