Back
Stand Up For Diversity: Online 2019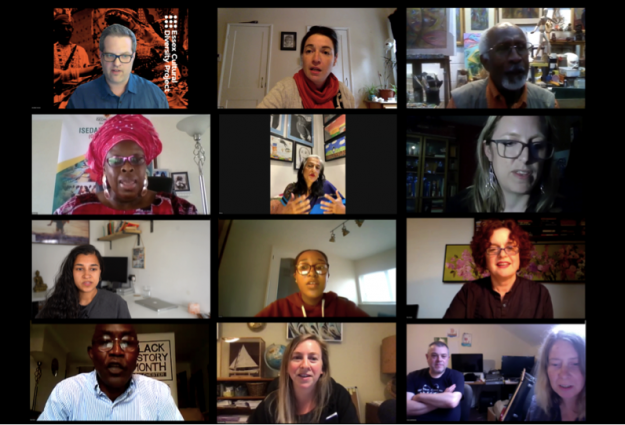 Stand Up For Diversity #6

Watch Online
Recording of Zoom event, 3 June 2019
During the Coronavirus lockdown, we held our first online event via Zoom. Around 50 people attended in our sixth Stand Up For Diversity event, an evening of three-minute mini-talks which put a spotlight on diversity. We invited 10 speakers to participate in the event, with short soap-box shout-outs on why DIVERSITY MATTERS.
Hosted in partnership by Essex Cultural Diversity Project and Essex Book Festival, this event brought together people who wanted to champion and celebrate diversity in the arts and in our communities, share the work they do with others, and collectively celebrate diverse voices involved in the arts today.
---
---
Speakers & Timings
Thanks to all our speakers for an enjoyable and thought provoking evening. Here is a quick list of speakers and when they appear in the recording of the live event (minutes:seconds). More information about each person is below, along with links to websites and social media for further reading. 
---
Speaker bios, links and further information
in order of appearance…
Ros Green
Essex Book Festival (host and compere)
Essex Book Festival is one of the highlights of Essex's cultural calendar. Each March it hosts over 100 events in over 45 venues across the county, including theatres, libraries, schools, universities, cafes and art galleries. Essex Book Festival launched the Stand Up For Diversity events in 2016, in close partnership with Essex Cultural Diversity Project, as part of its Diversity Matters project funded by the Paul Hamlyn Foundation.
Essex Cultural Diversity Project continues to be a strong support of Essex Book Festival's annual events, sponsoring the festival, putting on our own events and supporting diversity within the festival programme.
Lawrence Walker
Black History Month Colchester
"Lawrence Walker is a community activist in Colchester, where I try to focus on the health and well-being of our local community and our young people. I've been privileged to have been the chairperson of Colchester Black History for the past 10 years. A duty that was passed on to me by Daisy Lees, as she prepared for her new adventures and life changing experiences. Each year has been a challenge. We've worked hard at it, with the support of the original committee and new members and participants a like. We have always made a tremendous effort to keep the spirit and integrity of Black History Month as strong as was when we launch the very first BHM Colchester Launch Day at the Colchester Arts Centre all those years ago."
Essex Cultural Diversity Project is a strong supporter of Black History Month and Lawrence's other work, and Lawrence often speaks at our events, such as hosting our recent Windrush Day celebrations in Chelmsford in 2019.
bhmcolchester.co.uk | facebook.com/Colchester-Black-History-Month
Daisy Lees
Arts La'Olam, based in Ipswich, is delivering 8 projects this summer celebrating culture, togetherness and inclusion. This new virtual programme of commissions and online workshops will address social isolation, bringing people of all ages together and creating legacy artworks that commemorate these curious and crucial times. Some activities will move into live performances in the East of England this autumn.
John Lyons
As a Trinidadian born painter and poet, John has practised visual art since 1959 following his studies first
at London's Goldsmiths College, School of Art, and then at the University of Newcastle-upon-Tyne. He has published six poetry collections, an illustrated cookery book with foodie poems, and won several national poetry prizes, including the Peterloo Poetry Competition, been included in the Poetry Archive, and delivers creative writing tutoring and readings in major festivals and events. Taken together, John's paintings and poetry combine his creative skills to make an influential contribution to the cultural artistic paradigm in Britain today. His work mirrors life in our diverse society and may be found in children's and adult's poetry publications, in prestigious A.C.E. sponsored exhibitions, in the Arts Council Collection, the Victoria & Albert Word and Image Print Collection, and as a WindRush Arts Achiever in the No Colour Bar Exhibition at the City of London Guild Hall Gallery.
John recently spoke at Essex Cultural Diversity Project's Windrush Day celebrations, as well as delivering a carnival mask-making family workshop.
Rehmat Rayatt
Rehmat is an award winning photographer and filmmaker. Her work focuses on unpacking social issues and amplifying the voices of the disadvantaged. She is an all rounder in her field; as well as being a self shooting director, she has also edited and produced her own films, giving them a distinct style. Being Punjabi, many of her films focus on the region while others are based on themes such as migration and identity. Her most well known project is the film Toxification, A feature film documenting the plight of the Punjabi farmer. The film won the Best Documentary award at OIFFA in Canada, as well as being selected for three other film festivals globally. The film is critically acclaimed, having been featured in The Guardian and Times of India. Her photography series Don't Fence Me In was exhibited at Women of the World Festival, published in The Telegraph and featured on Reuters TV, and most she recently directed a short film as part of the New Creatives initiative named Terra Firma, based on her connection with her mother land and mother tongue, which was broadcast on BBC Four.
Essex Cultural Diversity Project recently linked Essex Born filmmaker Rehmat Rayatt with the New Creatives programme, funded by Arts Council England and BBC Arts. As part of her New Creatives commission, she created a 5-minute film entitled Terra Firma, which explored her cultural background and identity, aired on BBC 4 in September 2019, as part of their Rhyme and Reason: BBC Introducing Arts programme showcasing a selection of short films by young artists. Watch the film on the BBC iplayer: bbc.co.uk/programmes/p07phq51
www.rehmatrayatt.com | instagram.com/rehmatphotofilm | facebook.com/rehmatphotographerfilmmaker | twitter.com/rehmatrayatt
Yetunde Odebiyi
Isedale Wa (Our Heritage, UK) is an independent, non political and non-profit organisation based in Braintree in Essex, UK and Nigeria, and dedicated to examining the full range of socio-political, historical and technological factors that influence African culture and heritage across the world.
"WE ARE A PROMOTER OF AFRICAN CULTURE: African culture is quickly going into oblivion as a result of imported culture from the western world, from dressing, dancing, language, religious, food etc. the stories are the same – invasion. These must be revitalization and restoration of our dying cultures in the African continents and Diaspora. To root the African people in their cultural heritage through social and economic development, hence they share the rich culture of Africans through beauty of Arts in human nature; and to adhere to our believe that every human being has a precious life of equal value and with self confidence"
Rachel Drury
Collusion is a not-for-profit company that creates ambitious, disruptive, immersive, and interactive public artworks and events that consider the impact of emerging technology on society. Their mission: to build an international profile for the wider Cambridge area as an R&D centre for interdisciplinary arts and technology collaboration, while engaging artists, creatives, academics, and technologists to generate work that could only have been produced here. They are based in Cambridge at Cambridge Junction, but work with artists nationally, and projects extend across surrounding areas. Collusion was founded in 2014 by Simon Poulter and Rachel Drury.
Email: [email protected] | collusion.org.uk
Seema Anand
Storyteller and writer
Seema is a London based mythologist and narrative practitioner with a focus on women's stories. Her work on the revival and reproduction of ancient Indian mythology is associated with the UNESCO initiative for preserving endangered oral traditions. Her work extends to the corporate sector where she is well recognised for her courses on 'storytelling as a leadership tool'.
Seema has been involved with the Essex Cultural Diversity Project – creating documentaries, compering and storytelling for the Festival of Norfolk & Punjab;, chairing Sophia's Assembly as part of the Princess Sophia Project and storytelling for the Kaavad Picnics.
email: [email protected] |   facebook.com/seemaanandstorytelling | youtube.com/channel
Trish Wheatley
Disability Arts Online is an organisation led by disabled people, creating opportunities, commissioning new work and training people to maximise the potential that the digital world has to offer, to boost their practice. We also encompass a thriving online community of disabled creatives.
The DAO website provides a platform for discussion about arts and culture from a disability perspective. This gives disabled artists, performers, film-makers and writers a place to talk about accessing the arts and to critique the development of artistic practice.
The website hosts high-quality editorial about Disability Arts including in-depth interviews, opinion pieces, reviews and news items. DAO is arguably the foremost digital platform in the world dedicated solely to writing about disability arts and culture.
disabilityarts.online | Twitter @disabilityarts | Instagram @disabilityarts | Facebook @disabilityarts.online
Close and Remote
Artists Simon Poulter and Sophie Mellor
Close and Remote are Sophie Mellor and Simon Poulter. We have established a national practice working on commissions with a range of organisations. Recently, we have worked with FACT, Creative Barking & Dagenham, Essex Cultural Diversity Partnership and Home Slough. Some recurring themes in our work are unusual places, unusual suspects, watercolour painting, home-brew VR and what we call 'tiny spectacle'. Our works are observational, not attendant to one method and often based on research. This year we are developing a new project based on S.R. Gladstone's 'Principle of 720'. We are inspired by her ideas to look at both the 'meta' and 'matter' of places at the same time.
Essex Cultural Diversity Project commissioned Close and Remote to create work in Jaywick Sands. Their project, Days Like These was a celebration of everyday beauty, working with local community groups using watercolours and virtual reality to reclaim the beauty of Jaywick Sands.
Simon and Sophie have also been working as part of Mutiny, a new public art organisation inspired by the potential to bring new stories and experiences to audiences across the UK and Europe. Connecting the excitement of a live show, with the wonder of new mobile technologies, Mutiny is playful, diverse and always entertaining. They have been creating a series of new short films called Covid-19 threads. 
mutiny.org.uk/portfolio/covid-19-threads | closeandremote.net
Adonai Chinyama

Adonai is 14 years old and a member of Essexsteamettes, an online meetup for girls aged 11-19yrs who love being creative with science, technology and engineering. The programme of online activities are for girls who want to learn creative coding, engineering, digital art and the application of technology to solve problems such as climate change, pollution.
---
---
Watch Essex Book Festival's video about the Stand Up For Diversity events, filmed at the Colchester event at the Mercury Theatre in 2017.
---