Back
Close and Remote in Jaywick Sands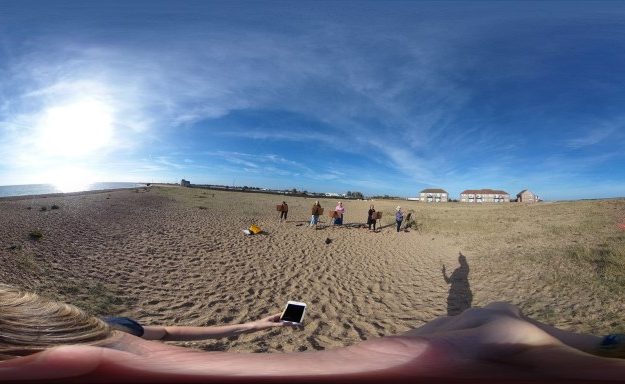 Close and Remote were selected for our first place-based artist commission in Jaywick Sands, delivering a new project Days Like These, starting in September 2018 and running through to March 2019. The project culminated in an exhibition at Jaywick Martello Tower (March – May 2019).
ABOUT THE PROJECT
Days Like These was a celebration of everyday beauty. Artists Close and Remote (Sophie Mellor and Simon Poulter) worked with local community groups using watercolours and virtual reality to reclaim the beauty of Jaywick Sands.
"The media perception of Jaywicks Sands is quite negative, when in actual fact it is surrounded by beautiful countryside and there are many local community groups working together to improve and celebrate their place" says Simon.

"Working with local residents we want to go with this celebratory feeling. We're going to set up our easels and run a series of open air watercolour workshops, to explore their places of beauty. We also want to work with the community to record sounds of the environment to create a soundtrack for Jaywick Sands" explains Sophie.
Close and Remote created a series of 360 degree watercolours of Jaywick Sands, used to create a virtual reality watercolour tour of the area, incorporating the Jaywick Sands soundtrack. The final paintings by the artists and local residents, as well as the VR experience, were exhibition at Jaywick Martello Tower.
"I think the essence of the project was fascinating and opened the participants eyes to the beauty of Jaywick…. of which residents were already aware and non residents were able to discover. The combination of traditional and virtual ways of looking at Jaywick was a brilliant concept, presented in such an enthusiastic way." Participant

"To be able to work in a place like Jaywick is a huge opportunity for any artist. It is a rare and special place that has its own time and energy. To capture the place and work with people there has also been incredibly rewarding. In the sessions we have run there has been a generosity and sense of sharing of being creative together." Close & Remote
For more information about the artists' work visit closeandremote.net or follow them on Twitter @closeandremote
The work can also be viewed as a virtual reality experience on a mobile phone or VR headset. The work combines 360 watercolours, 360 video and atmospheric sound recorded around Jaywick, and can be viewed at www.closeandremote.net/jaywick/journey.html
---
The selection followed a call for proposals in May/June 2018, for artists wishing to explore diversity through their work focussing on the Jaywick Sands area and community. Overall we received very high quality proposals with inspiring ideas from both newly emerging and established artists in Essex and beyond. Essex Cultural Diversity Project would like to thank all those who sent in a proposal for the commission – we will have more calls for proposals in different areas of Essex, so please sign up to our mailing list for news and updates.