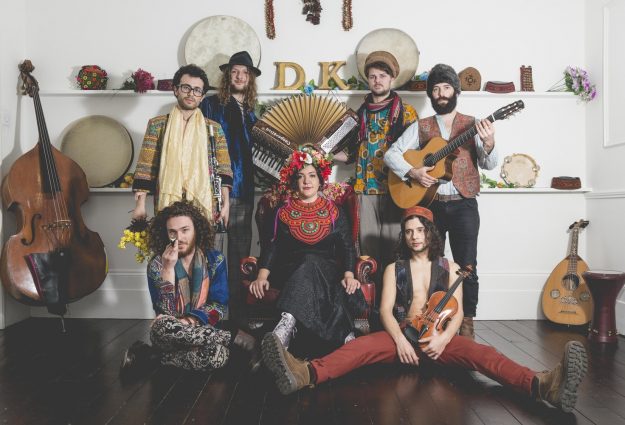 Our commission in Canvey, Canvey Zingt!  took place in October – December 2018, a partnership project between Essex Cultural Diversity Project with Essex Music Education Hub and delivered by Jewish Music Institute.
A number of Haredi (Ultra-Orthodox) Jewish families have recently relocated from Stamford Hill in North-East London to Canvey Island. There has been much press coverage and even a recent BBC documentary on the topic. Together we decided that this would be a great opportunity to celebrate and learn more about Jewish music and culture.
We devised an exciting and engaging project called Canvey Zingt! involving workshops in schools with composer Joseph Finlay and supported by musicians from the London-based band Don Kipper. 240 children from four schools in Canvey Island took part in the Yiddish Song project. Participating schools were St Katherine's Primary, Winter Gardens Primary, Lubbins Park Primary and Northwick Park Primary.
This celebrated Yiddish song ('zingt' meaning 'sings'), giving students and staff the opportunity to experience Jewish music played by world-class professional musicians, hear about the cultural context of the music, and learn and perform a number of songs.
The project culminated in a community concert, with most of the project participants performing alongside Don Kipper (pictured above), the multi award-winning 7-piece ensemble, who play a wide range of traditional musical forms reflecting the cultural diversity of North-East London (from where the Jewish families have relocated), from Turkish and Greek Folk Music, to Romani music and Klezmer.
A large audience of more than 200 parents, family members and friends enjoyed the fantastic concert where each school took turns performing 2 Yiddish songs they had learned over the course of the 5 sessions. The leader of the Chasidic Community on Canvey Island  also attended the concert, commenting how impressed he was with the children's ability to sing in Yiddish.
"Since the project has begun, the children spoke to me about how much they enjoyed hearing about how other people live.  They have spent a lot of time talking about food, feasting and parties!  They have loved picking up new words that they have tried to use outside of their sessions. I think one of the things that struck the children initially was that this was a culture that existed in many countries around the world and was a tradition that travelled with its people.  The idea of Jews being forced to leave where they had grown up really surprised some of them and you could see them trying to process what that would really mean if it ever happened to them. The musical side to the project has been a pure joy." Teacher from Northwick Park Primary

"I've had the pleasure of watching some of the sessions, and the response from the staff and children has been overwhelmingly positive, with enthusiastic singing, inquisitive questions, and even pupils trying Yiddish words in the playground! … The Charedi community have been supportive of the project aims, and we were able to welcome them to Essex by funding additional rehearsals and concerts for Yiddish Boys and Girls choirs delivered by their community." Charly Richardson, Essex Music Services