Back
Stand Up For Diversity: Southend 2019
Tuesday 26 Nov 2019 7:00 PM - 8:30 PM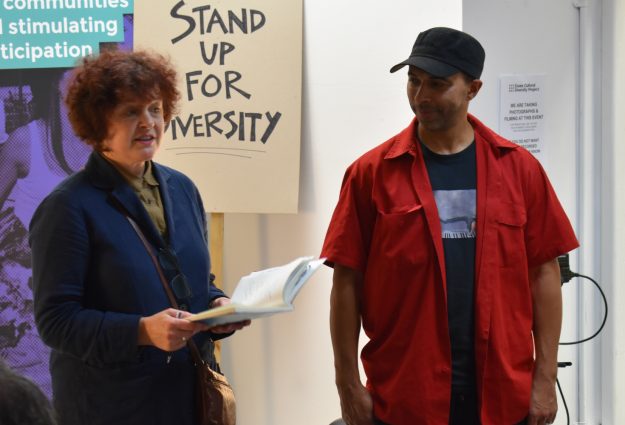 Stand Up For Diversity #5

In November 2019 we organised our fifth Stand Up For Diversity event, in partnership with Essex Book Festival and The Cultural Assembly in Southend-on-Sea.
The evening of mini-talks, food and drink put a spotlight on diversity, with short soap-box shout-outs on why DIVERSITY matters.
Hosted in The Cultural Assembly's Folded Space, the event brought together people who want to champion and celebrate diversity in the arts and in our communities, and share the work they do with others. People came along to make new connections, find out more about what's in their area, promote their own projects, and collectively celebrated diverse voices involved in the arts today.
Speakers
11 speakers gave three-minute mini-talks. Read more about these speakers:
Kwesi Johnson (co-compere) The Cultural Assembly
Ros Green (co-compere) Essex Book Festival
Sara Bedell Aspirational Arts Partnerships
Scotty Brave artist Brave Arts
Emma Gibbs De Oliveir Brazilarte
Mara Chrysti community mosaic artist and warrior against injustice
Sade Fadipe children's author
Sonny Green artist and poet, Trouble Tongues
Natasha Kwakwa Live Globaleigh
Gill West poet
Lu Williams artist, Grrrl Zine Fair
Click here for full speaker biogs
Here are some images from the event (on our Flickr Image Archive)
Folded Space is an independent audience led pop up events space in the centre of Southend on Sea. Drawing people to the town through cultural and creative experiences. It's a space for the culturally curious and those that want to build a community underpinned by arts, culture and innovation. Run by creative agency, The Cultural Assembly who bring together over 40 years of experience in the arts, film, marketing and business development and specialise in cultural and creative content and events that help businesses, creatives and the community explore and reach their full creative potential. theculturalassembly.com
---
Essex Book Festival is one of the highlights of Essex's cultural calendar. Each March it hosts over 100 events in over 45 venues across the county, including theatres, libraries, schools, universities, cafes and art galleries. Essex Book Festival launched the Stand Up For Diversity events in 2016, in partnership with Essex Cultural Diversity Project, as part of its Diversity Matters project funded by the Paul Hamlyn Foundation essexbookfestival.org.uk
Watch Essex Book Festival's video about the Stand Up For Diversity events, filmed at the Colchester event at the Mercury Theatre in 2017.