Back
What is the Truth? Poetry with Daljit Nagra
Saturday 28 Sep 2019 11:45 AM - 1:15 PM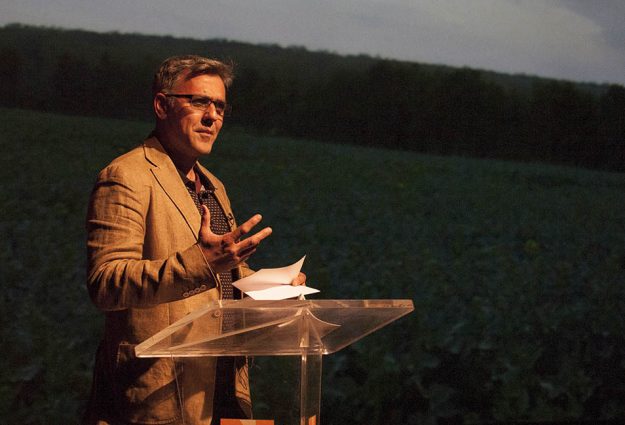 What is the Truth?
Poetry with Daljit Nagra
At Chelmsford Library
In September 2019 we welcomed award-winning poet Daljit Nagra at Chelmsford Library, as he delved into the theme for this year's National Poetry Day: Truth. In this event Daljit read his poetry, talked about his writing and shared his inspirations, and was joined by guest poets: David Canning, Tim Cunningham, Rosie Sandler and Dorothy Turner.
This event was organised in partnership with Essex Libraries, as part of their National Poetry Day celebrations.
Daljit possesses one of the most distinctive voices in contemporary English poetry: through his work, he explores the idealism and reality of multicultural Britain with wit, intelligence and no small sense of mischief. With a political and often challenging edge, and always with a powerful play on language, his poems meditate on a wide range of subjects, from aspiration, assimilation, alienation and love in his first collection Look We Have Coming to Dover!; race relations, family feuds and cultural inheritance in his collection Tippoo Sultan's Incredible White-Man-Eating Tiger Toy-Machine!!!; to heritage, legacy and the institutions that define our national identity in his latest collection British Museum.
Daljit's four poetry collections, all with Faber & Faber, have won the Forward Prize for Best Individual Poem and Best First Book, the South Bank Show Decibel Award and the Cholmondeley Award, and been shortlisted for the Costa Prize and twice for the TS Eliot Prize. Daljit is a PBS New Generation Poet whose poems have appeared in The New Yorker, the LRB and the TLS, and his journalism in the FT and The Guardian. The inaugural Poet-in-Residence for Radio 4 & 4 Extra, he presents the weekly Poetry Extra, and serves on the Council of the Royal Society of Literature, and teaches at Brunel University London.
daljitnagra.com | Daljit Nagra on Facebook
---
Some comments from those who attended the event:
"As soon as he (Daljit) started to speak I knew we were in for something special"
"This was a wonderful event, congratulations. It was amazing to hear Daljit Nagra's poetry along with other poets from Essex. Thank you for arranging this program, I look forward to attending the next event"
---
About Daljit's books
Look We Have Coming to Dover! (2007)
Taking in its sights Matthew Arnold's 'land of dreams', Daljit Nagra's first collection of poetry explores multicultural Britain. Daljit, whose own parents came to England from the Punjab in the 1950s, conjures a jazzed hybrid language to tell stories of aspiration, assimilation, alienation and love, from a stowaway's first footprint on Dover beach to the disenchantment of subsequent generations. By turns realist and romantic, these charged and challenging poems never shy from confrontation, but remain, always, touched by a humorous zeal and an appetite for living.
Tippoo Sultan's Incredible White-Man-Eating Tiger Toy-Machine!!! (2011)
Look We Have Coming to Dover!marked the arrival of a thrilling new voice in poetry and won the Forward Prize for Best First Collectionalong the way. In his second volume, his writing shows every bit the same verve and excitement. Tippoo Sultan's Incredible White-Man-Eating Tiger Toy-Machine!!! takes its cue from the eighteenth-century automaton (a tiger savaging a British soldier) in a series of poems that begin at the throat of the old British Empire. In these vivid, real and sometimes surreal pieces, Daljit creates his own inimitable linguistic bhaji: where Shakespeare meets the Subcontinent in a range of forms from English sonnets to spectacular displays of 'bollyverse' or the tender love songs of the monsoon. The poems take their bearings from cornershops and classrooms, the strange, part-arcadian, part-hellish streets of 'Londonstan' and the places where the north of England collides with the Punjab: from Larkin to the ladoos in Raja t'Wonder Dog. Little escapes Nagra's tigerish gaze: race relations, family feuds, cultural inheritance, religious bigotry, the British honours system, Rudyard Kipling, the blurring of Kevin Keegan with Kabbadi. Comic, hard-hitting, passionate, satirical, Daljit Nagra has written a book that is as powerfully thought-provoking as it is delightful.
Ramayana (2013)
The Ramayana is one of the great epics of the ancient world, with versions spanning the cultures, religions and languages of Asia. Its story of Rama's quest to recover his wife Sita from her abduction by Raavana, the Lord of the Underworld, has enchanted readers and audiences across the world for thousands of years. Daljit was captivated by his grandparents' Punjabi version as a child, and has chosen to rejuvenate the story for a new generation of multicultural, multi-faith readers. By drawing on scenes originating in versions such as those from Cambodia, Laos and Thailand, as well as the better-known Indian Ramayanas, and by incorporating elements of Hindu, Buddhist, Sikh, Jain and secular versions, he creates a consciously multicultural Ramayana. This dazzling version is both accessible and engaging, written in Daljit's typically vibrant and eclectic language, and bursting with energy, pathos and humour.
British Museum (2017)
British Museum is Daljit Nagra's latest collection and marks a significant departure of style to something quieter, more contemplative and inquisitive, at times valedictory. His political edge has been honed in a series of meditations and reflections upon our heritage, our legacy, and the institutions that define them: the BBC, Hadrian's Wall, the Sikh gurdwaras of our towns, the British Museum of the title poem. With compassion and charisma, Nagra explores the impact of the first wave of mass migration to our shores, the Arab Spring, the allure of extremism along with a series of personal poems about the pressures of growing up in a traditional community. British Museum is a book that asks profound questions of our ethics and responsibilities at a time of great challenge to our sense of national identity.
---
Reviews
Jeremy Noel-Tod, The Sunday Times
Hilda Ogden is My Muse, The Guardian