Back
Artist Salons – Southend and Chelmsford
Wednesday 17 Jul 2019 - Tuesday 23 Jul 2019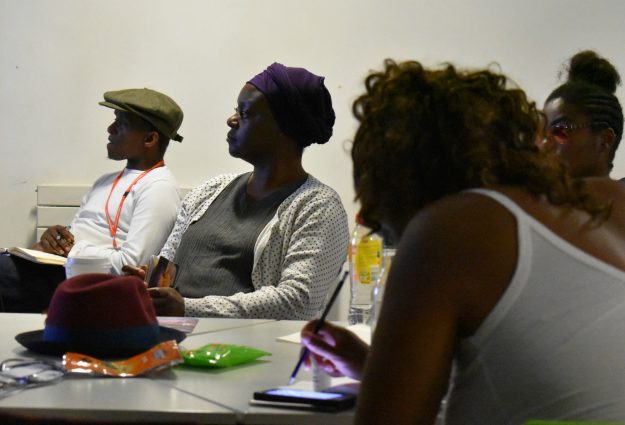 Artist Salon Events
Wednesday 17 July & Tuesday 23 July 2019
Inviting emerging/established BAME and diverse artists to join us in Southend and Chelmsford, to explore the Creative Case for Diversity, commissioning opportunities and how to write a strong funding bid.
17 July 10.30am-3.00pm: Metal Culture, Chalkwell Park, Southend on Sea
23 July 10.30am-3.00pm: Essex Record Office, Wharf Road, Chelmsford, CM2 6YT
Background
Essex Cultural Diversity Project (ECDP) provides sector and infrastructure development for BAME and diverse artists and arts organisations in Essex. Over the years, ECDP has led a creative training and development programme that links mainstream organisations with diverse groups and individuals, to encourage best practice in artistic development, mentoring, and capacity building for diverse artists and arts organisations.
ECDP will lead an informal Salon event aimed to offer tailored advice for emerging diverse artists to enable them to submit strong funding bids, following on from the Creative Diversity Hubs Project commissioned work back in 2015.
Who is it for?
The event will be aimed at emerging/established culturally diverse artists/arts organisations, based in the East region, who have had little or no prior experience of accessing funding support for Culturally Diverse work in the region.
Artist Salon Programme
Facilitator – Giles Tofield
Arts Council England – Dipak Mistry
Host – Indi Sandhu, Essex Cultural Diversity Project
10.15: Arrival, tea, coffee and light refreshments
10.30: Buzz introductions (approx. 2 minutes per person) Artist Salon Model and Programme – Giles Tofield
10.45: About the G4A process: an overview – Dipak Mistry, ACE
12.30: ECDP Commissions Overview
1.00: Lunch
1.30: Round Table Discussion around the Creative Case – Giles Tofield, Dipak Mistry and Indi Sandhu
2.30: Final Sharing
3.00: Finish
Shared Evaluation
At the end of the Salon, we have set aside time for shared review and reflection, where we will be able to capture key outcomes, and areas that that inspired the most conversation.
To book
To book your free place, contact Indi Sandhu, Artistic Director, Essex Cultural Diversity Project [email protected] / 07863203732