Back
Supporting Artists at TestBeds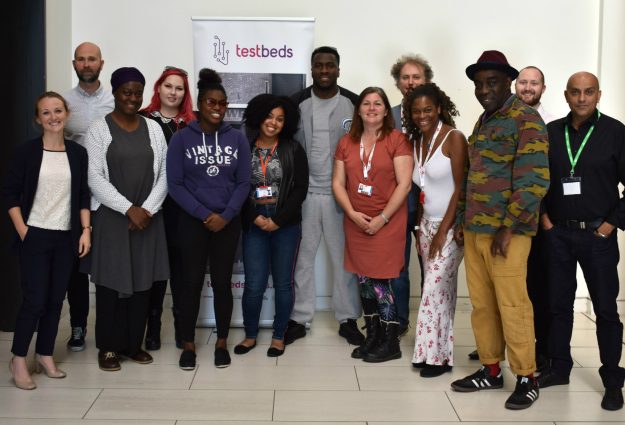 In September and October 2018, Essex Cultural Diversity Project are collaborating with University of Bedfordshire and the Testbeds programme to support the artists and creative practitioners on the new cohort onto Arts Elevator. We are providing support for diverse artists and a wide range of arts, cultural and heritage organisations involved in the programme to increase the diversity of their practice, programmes and audiences.


Here are details of ECDP's Programme of Intensive Support:
Mentoring of Artists for Arts Elevator
Over three days ECDP will be offering six sessions, supporting and mentoring artists and creative practitioners on the Arts Elevator programme. These will be 1-2-1 meetings at University of Bedfordshire Luton, with dedicated slots to discuss their work, promotion and marketing of work, exploring diversity in the arts and making contacts.
Artist Salon Events in Luton
This is an element of support for artists and arts organisations that ECDP has delivered successfully for many years in partnership with strategic organisations including Cultural Engine CIC. Artist Salons provide a unique opportunity to bring artists and arts organisations together with funders and other strategic partners – supporting the development of strong sector networks and sharing information and knowledge. In Essex Salon events are proven to support increased Arts Council applications for small arts organisations. Also, opportunity to talk about the Creative Case for Diversity.
Essex and Luton Exchange – Support for Diverse Arts Talent 
ECDP will organise and facilitate an exchange and sharing programme between Essex based diverse artists and artists on one or more of the Testbeds programmes in Luton. ECDP believes that there is much to be gained from supporting such collaborations and that Essex artists who have successfully engaged with diverse audiences and delivered diverse work would be keen to meet and share knowledge with others. This includes one day of Luton-based artists travelling to Essex visiting an arts space and attending a sharing event with Essex based artists. There would then be a return visit to Luton by Essex based artists.
Uplift Programme 
Uplift is a joint project between Essex Cultural Diversity Project and Take the Space, supported by Arts Council England's Elevate fund. Already at the forefront of diversity work in the East and South East regions, both organisations have utilised the ACE Elevate to develop this important piece of digital infrastructure that will enable diverse artists to share good practice, platform their work to audiences and other organisations and make strong connections. Uplift is a digital platform that is ready to be utilised, and ECDP can support the Luton Testbeds programme to use it. Uplift has been developed in partnership with Brighton Dome, Talawa Theatre, The Bush and Metal (Southend).
Global Essex 
A platform that provides emerging artists opportunities to work with established regional, national and international cultural organisations and individual artists who have international links. We will support Luton based artists with sessions with guest artists and arts organisations to facilitate 1-2-1 sessions and open room events. Also funding opportunities with British Council, Visiting Arts, Daiwa Foundation.
Artist  Diversity Event & Essex Artists to share good practices
Wednesday 10 October 2018

Each artist will pitch their work, idea or share their experience with others through allocated time of 5 minutes. After each session a sharing event for people to seek opportunities to work or collaborate or support and advise each other. Essex Artists will attend to share good practices as part of the Essex and Luton Exchange.
RoundTable Events
Thursday 11 October

To be hosted at various venues across Luton themed around the Creative Case for Diversity for artist practitioners, arts organisation, local NPO organisations, libraries, museums, creative industries to come together and have a critical debate around the cultural sector regarding issues related to diversity, Funding, opportunities, commissions, audiences, partnerships, collaborations. Elevator Artists will take the lead per Roundtable event to be the key host supported by ECDP.
Final Sharing event – All Artists
Friday 12 October 2018 – 1pm -4pm

Lessons learnt, Way forward, share experiences, collaborations, partnerships, ideas, development can all be discussed at the final event.
For more information about any of the events above, and how you can get involved please contact [email protected] or visit testbeds.beds.ac.uk