Back
Stand Up For Diversity re:Defining Legacies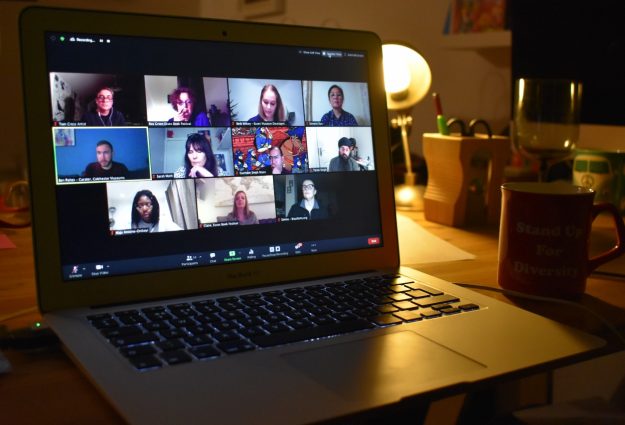 Watch Stand Up For Diversity re:Defining Legacies, an evening of three-minute mini-talks bringing together those championing and celebrating diversity in museums and libraries.
---
Stand Up For Diversity #7 re:Defining Legacies
Online event 2020
Stand Up For Diversity re:Defining Legacies was an evening of three-minute mini-talks, as part of our series of events that puts a spotlight on diversity. This online event focused on diversity within museums, libraries, collections and archives. Hosted in partnership by Essex Cultural Diversity Project and Essex Book Festival, we brought together people who champion and celebrate diversity in the arts and in our communities, and shared the work they do with others. Stand Up For Diversity: Defining Legacies took place via Zoom on 28 October 2020. Speakers who gave the three-minute mini-talks were:
---
Part One: Intro and all three-minute mini-talks (31 minutes)
With an introduction by Ros Green, Director of Essex Book Festival, and "performative timekeeping" by Emma Gibbs de Oliveira from BrazilArte.
Part Two: Audience Q&A (21 minutes)
Discussion topics include intersectionality and community representation within museum displays; acceptance/resistance to technology and making audiences more comfortable with digital; the pros and cons of decolonisation and repatriation; and the importance of good interpretation to reflect and change our understanding of the past. There are also some calls to action from Essex Cultural Diversity's regarding our Windrush Panels, Alzheimer's Society, and Snapping the Stiletto.
---
3-minute mini-talk: Maja Antoine-Onikoyi
Director of Maja's Education Project CIC
Youth & Diversity Adviser at Essex Book Festival
Maja Antoine-Onikoyi is company director of Maja's Education Project CIC: a non-profit organisation that donates books on topics that cover Black history, injustice, microaggression and fiction written by black authors. After being seen on BBC, ITV, Dazed magazine and more, Maja now works with businesses as a diversity consultant to improve the quality of content that accurately represents and reaches people of colour.
majaseducationproject.com | Get in touch at [email protected]
---
3-minute mini-talk: Tom Cross
Artist & Creative Catalyst for libraries
Tom Cross was Essex Cultural Diversity Project's commissioned artist in Aylesbury Library, in partnership with Farnham Maltings. He uses animation and drawing to explore 'story', work that is informed by being a dyslexic, neurodiverse artist. He has worked with many organisations including schools, theatres, museums and librarie, including the Bodleian libraries, Royal Shakespeare Company, the London Philharmonic Orchestra, the Natural History Museum, National Maritime Museum, the Foundling Museum and the Centre for Literacy in Primary Education. He recently worked as a Creative Catalyst for Create Gloucestershire, helping libraries in the Cotswolds develop their cultural offer.
Soap and Porridge commission | tomxarts.wordpress.com
---
3-minute mini-talk: Gurinder Singh Mann
Historian and Director of the Sikh Museum Initiative
In his three-minute mini-talk Gurinder Singh Mann gives a background to new his book British and the Sikhs: Discovery, Warfare and Friendship. Gurinder is a Sikh Scholar and historian with an MA in South Asian Religions from De Montfort University, Leicester. He has researched and discovered many Sikh artefacts and relics, and set up the Sikh Museum Initiative, using new technologies to showcase and preserve Sikh heritage. He curated the exhibition Anglo Sikh Wars: Battles, Treaties and Relics (2017) Contemporary Sikh Art Exhibition (2018) and is the Digital Curator of Anglo Sikh Virtual Museum the world's first 3D Sikh museum.
www.sikhmuseum.org.uk | www.anglosikhmuseum.com | British and the Sikhs: Discovery, Warfare and Friendship | Get in touch at [email protected]
---
3-minute mini-talk: Taran Singh
3D artist, Director at Taran3D
For the past 15 years Taran has researched and developed immersive applications with 3D and game technologies for a range of industries, including the museum sector, whose work has been instrumental in creating the world's first 3D museum: the Anglo Sikh Museum. He is an expert in all forms of 3D technology, leading a team through an impressive range of projects instrumental to the growth of Taran3D as well as inspiring new talent into the industry. Taran is also a talented and experienced digital and clay sculptor with a special interest in the human form.
www.anglosikhmuseum.com | www.taran3d.com
---
3-minute mini-talk: Ben Paites
Collections and Learning Curator – Community, Colchester Museums
Ben Paites is part of the team responsible for creating content for exhibitions and events across all three museums within Colchester. He is also the lead on community engagement, establishing partnerships and working with groups across the town. He will be talking about some of the ways in which the museums have been working with the community in recent years to improve representation within the displays. In particular, how events such as LGBT History Month and Black History Month have led to more permanent features within the museums' programme.
colchester.cimuseums.org.uk | Get in touch at [email protected]
---
3-minute mini-talk: Beth Wilkey
Essex's Museum Development Officer, Colchester Museums
Beth is the Museum Development Officer for Essex, working across the county providing museums and heritage sites with information, support and advice on any area of museum work. Museum Development is a national programme funded by Arts Council England to deliver a vision of thriving museums, by being challenging, approachable, ambitious agents of change. Museum Development professionals work in partnership with others to raise standards, drive excellence and help museums to diversify their governance, workforce, users, income, collections and public programming. Beth works to support museums and heritage sites in Essex to achieve this, in collaboration with many exceptional individuals and organisations.
colchester.cimuseums.org.uk | Get in touch at [email protected]
---
3-minute mini-talk: Simone Xue
Colchester Chinese Culture Society
Simone Xue is chair of Colchester Chinese Culture Society, and has worked on many cultural events and projects within schools, museums and libraries, as well as within the wider Chinese community. She is currently developing links with cultural and heritage organisations in Jiangsu Province, China, in particular the Changzhou Museum, Arts and Cultural Centre. This work will support collaborative ways of working, potential cultural exchanges, and a forthcoming Festival of China and Essex. The work is funded by the British Council's UK-China Connections through Culture Grants.
Colchester Chinese Culture Society website | youtube.com/channel/UCfdN2h01pFvcng71jkR2h8g | Get in touch at [email protected]
---
3-minute mini-talk: Sarah Moth
Customer, Partner & Outreach Engagement Lead
Essex Libraries
Sarah is the Reader Development and Access lead for adults for Essex Libraries. Working across the county, responsible for reader development activities and working towards making Essex Libraries accessible, welcoming and safe spaces to all customers and potential customers. She's an advisor to the Essex Book Festival, a lifelong reader and a passionate advocate for the importance of public libraries.
https://libraries.essex.gov.uk/ | Get in touch at [email protected]
---
About Essex Cultural Diversity Project
Our vision is to energise cultural diversity in arts and heritage, in Essex and beyond. We aim to stimulate participation and provide a focal point for the development, celebration and co-ordination of cultural diversity through arts and heritage activity.
About Essex Book Festival
Essex Book Festival is one of the highlights of Essex's cultural calendar. Each March it hosts over 100 events in over 45 venues across the county, including theatres, libraries, schools, universities, cafes and art galleries. essexbookfestival.org.uk
About Stand Up For Diversity
Essex Book Festival launched the Stand Up For Diversity events in 2016, in partnership with Essex Cultural Diversity Project, as part of its Diversity Matters project funded by the Paul Hamlyn Foundation. This is the seventh event in the series, which have all been in different areas of the county, including Chelmsford, Southend, Colchester and Harlow, and the most recent being online.
---