Back
Stand Up For Diversity: Chelmsford 2018
Wednesday 5 Sep 2018 7:00 PM - 9:30 PM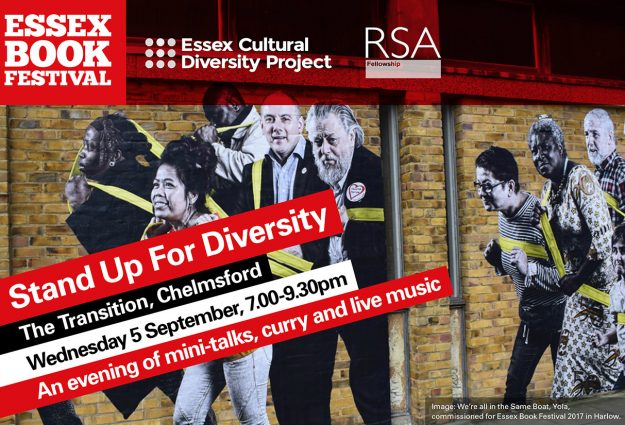 Stand Up For Diversity #4
September 2018
The Transition, Chelmsford City Centre
This evening of mini-talks, delicious curry and live music was part of a series of events that puts a spotlight on diversity, with short soap-box shout-outs on why DIVERSITY MATTERS.
Hosted by Essex Book Festival in partnership with Essex Cultural Diversity Project and the RSA (Royal Society for the encouragement of Arts, Manufactures and Commerce), this event brought together people who wanted to champion and celebrate diversity in the arts and in our communities, and share the work they do with others. A wide range of attendees came along to make new connections, find out more about what's in their area, promote their own projects, and collectively celebrated diverse voices involved in the arts today.
Speakers lined up for three-minute mini-talks:
Ros Green, Essex Book Festival (our compere for the evening)
Andy Drake, YMCA Essex
Aytac Uzman, artist
Charly Richardson, Essex Music Services
Dilek Latif, Mercury Theatre
Gil Karpas, Jewish Music Institute
Kwesi Johnson, The Cultural Assembly
Lawrence Walker, Black History Month Colchester
Nikki Wilson & Andy Pinkney, the RSA (Royal Society for the encouragement of Arts, Manufactures and Commerce)
Simone Xue, Colchester Chinese Culture Society
Victoria Button & Adrian Deakes, Ideas Festival
As part of the event, food was prepared by the Essex Multicultural Actvities Network, a Community Interest Company created to support and empower BAME women in Essex with a special interest in the Muslim South Asian communities. Their activities include skills development, promoting healthy living and celebrating cultural diversity.
We also had live music from two members of Don Kipper – The Tsvey Kipperim – who took part in our commission Canvey Zing! Don Kipper is a multi award-winning 7-piece ensemble playing and transforming a wide range of traditional musical forms. Separated from the shoal, two breakaway Kippers, The Tsvey Kipperim, Daniel Gouly and Josh Middleton, delve deeply in the neshama (spirit) of Jewish music. With wit, joy, and sadness in equal measure, they take an audience on an odyssey through the Dobridens, Terkishers, Freylekhs, and Zhoks at the very core of the Klezmer repertoire. Through the intimate interplay between accordion and the clarinet, these two musicians explore the potentials that a deep working relationship, a shared love for the tradition, and a profound friendship can create.
Image: We're All in the Same Boat, a community mural by Polish Street Artist Yola, commissioned by Essex Book Festival for their Meet the Neighbours Day in Harlow, March 2017