Back
Tom Cross at Aylesbury Library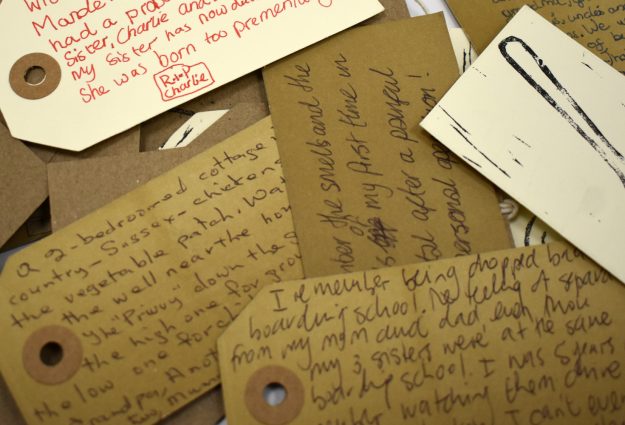 Aylesbury Library Commission
Soap and Porridge: Tom Cross
Artist Tom Cross was appointed for a commission in Aylesbury Library, the first in a series of commissions in Buckinghamshire over the next three years, working in partnership with Farnham Maltings,  funded by the Rothschild Foundation.
From October 2019 until April 2020, Tom worked in collaboration with writer Aoife Mannix, creating work inspired by the community in response to two questions: 'What are your first and what might be your most lasting memories?' Tom invited library users, staff and community groups in and around Aylesbury to participate in a series of workshops and an installation in Aylesbury Library. The library became a creative hub, with a small makerspace created and run by the artist. The final installation appeared and evolved throughout the library from January 2020, comprising pictures and poems inspired by participant stories.
The exhibition also toured other Buckinghamshire libraries in 2021.
---
Quotes on appointment:
"I am excited about working in collaboration with Aoife Mannix in Aylsebury library on Soap and Porridge, building on the library's central place in the community and making the library an even more vibrant place to be part of.  I am looking forward to talking to communities in this cross-generational project, drawing on my own family history in the area, and sharing each other's stories." Tom Cross, artist

"We're thrilled to be working with Tom, Aoife and the Aylesbury Library team to be creating extraordinary and unexpected experiences for everyone." Katy Snelling, Farnham Maltings
---
About the Artists
Tom Cross is a visual artist who uses animation and drawing to tell his and other people's stories. Much of his work is informed by being a dyslexic neurodiverse artist. He graduated from Wolverhampton Polytechnic with BA (hons) in fine art and a Postgraduate Diploma in animation from St Martin's School of Art. Tom's previous commissions include animations by the London Philharmonic Orchestra, the Royal Shakespeare Company and the Bodleian library, and an installation for the foyer of Birmingham Repertory Theatre. Currently Tom is working as a Creative Catalyst for Create Gloucestershire, helping two libraries in the Cotswolds develop their cultural offer. He is based just outside Banbury where he is also running creative wellbeing projects for vulnerable people of all ages. tomxarts.wordpress.com
Aoife Mannix is a poet and writer with extensive experience of working in community settings and libraries.  She has published four collections of poetry and a novel. She has previously been poet in residence for the Royal Shakespeare Company and BBC Radio 4's Saturday Live. She has a PhD in creative writing from Goldsmiths, University of London. She has been writer in residence for Beckenham Library, Portsmouth Museum, and the Bronte Parsonage as well as Gosport Gallery's Artists Rifles Exhibition. Aoife also lives in Oxfordshire.
---
About the Project
This commission is part of a three-year project, funded by the Rothschild Foundation, to create the confidence, experience and networks for the communities of Buckinghamshire to present and commission live performance. The overall project is managed by Farnham Maltings who are working with Essex Cultural Diversity Project on this commission, in partnership with Buckinghamshire County Council.