Back
Searching for our Jazzy Souls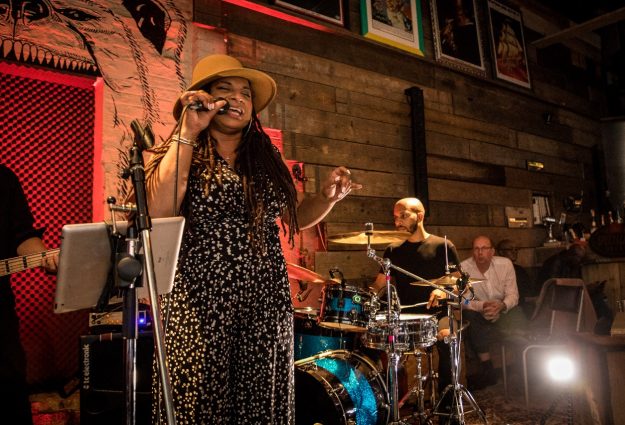 Searching for our Jazzy Souls
Supported by Testbeds & Essex Cultural Diversity Project
Searching for our Jazzy Souls is an initiative put together by Perry Louis with support from TestBeds (University of Bedfordshire), Arts Council England, Focus on Jazz, Luton Bids, Essex Cultural Diversity Project and Luton Music Service. The project brings together top quality artists and bands to the Bear Club Luton.
The initiative is being used as a research and development project to gauge interest from audiences and encourage more artists to perform in Luton, supporting Luton as a centre for live music whilst showcasing local talent and creating a hub for excellence, with a view to create a sustainable annual festival in Luton.
---
---
Images: Searching For Our Jazzy Souls Project (Photographer Jacqueline Mellor)
---
About JazzCotech
JazzCotech are a specialised organisation of dancers, DJs, promoters, and friends who promote and keep alive the UK Underground Jazz Dance and Music scene. The music we love is JazzFunk, Latin, Boogie, Funk and Jazz Fusion, and we carry the torch for an original form of Dance that grew out of the UK Rare Groove, Funk, JazzFunk and Jazz Club scene which started in the mid-70s: Street-Fusion-Jazz-Dance. Heavily linked to the music and its varying rhythm patterns, Street-Fusion-Jazz-Dance is a totally 'street' and purely 'untrained' style, which is also less rigid than other, better known forms of dance, making it ideal for novices and professionals alike. It's far removed from the theatre style Jazz Dance commonly known and taught at stage schools across the world and, like many of the originators of this style, JazzCotech are dancers with no formal training but lots of love and appreciation for the music, as well as a rare gift of feeling and dancing to its varied speeds and multi-faceted rhythm patterns.
Artistic Director Perry Louis sees it as JazzCotech's mission to keep the art of Oldskool Jazz Dance and Music alive and is proud to work with all his associates who have the same ambition and passion: to spread this unique phenomenon throughout the world, preserve it and pass it on to future generations.
JazzCotech are the only organisation who specialise in this area through club promotions, collaborations, performances and educational projects, and the dancers have amassed a large following of enthusiastic students – young and mature. They are widely recognised wherever they go and are approached for lessons wherever they perform or even just let loose in a club. The group dances to anything from melodious Soul, Horn and Bassline driven JazzFunk, James Brown style Funk to 100mph Afro-Cuban, Be-Bop, Brazilian, Latin, and high-octane Jazz Fusion. Audiences worldwide are often left agape in awe at the energy and complex movements of the Dancers who have joined JazzCotech from all over the UK and beyond. Amongst teaching and performing. JazzCotech run various club nights around the UK, where they regularly go back to their roots – the club dance floor.
---