Back
Global Village at Village Green 2019
Saturday 13 Jul 2019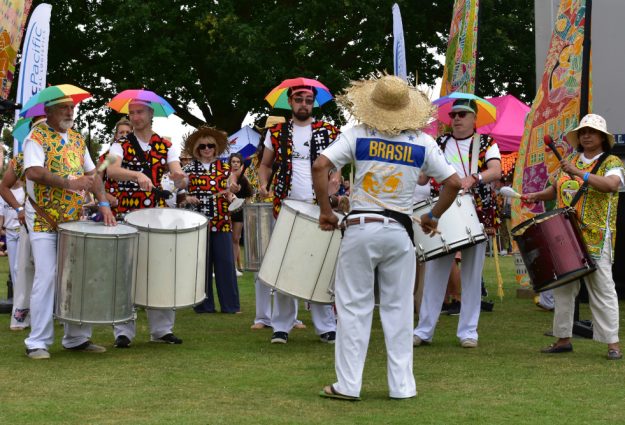 Global Village
Village Green 2019

As part of the 10th Village Green Festival, Essex Cultural Diversity Project hosted the Global Village world music and dance stage, showcasing the best of local diverse talent alongside national and international artists.
The focus of this year's Global Village was the Caravanserai, featuring circus, dance, music, folklore and storytelling. Caravanserai is a stopping place; an inn defined by a central courtyard for travellers in the desert regions of Asia. They existed along the Silk Road and became cultural hubs through which stories and various art forms travelled and transformed between cultures from village to village. Similarly, another form of travelling culture existed: From the 1600's until the mid-nineteenth century, groups of actors and acrobats known as Troubadours toured the region bringing theatre and arts to the people.
Another highlight was the internationally renowned Circus Raj from Rajasthan, India. A rural touring village circus with music and dance that thrilled audiences with their tight rope walks, acrobats and stunts. The circus was joined by Colchester Chinese Culture Society who performed dance routines from China, and Southend based arts organisations Brazilarte (pictured above) and Dance Afrik.
2019 saw the Global Village stage expanding into a Global Arena with additional activities including Global Village Plus, food and henna stalls along with a number of workshops, from Chinese calligraphy to flower making, culinary arts to djembe drumming.
The ever-popular Bollywood Bling also returned to Global Village, a regular feature that has engaged with all ages from young to old.
Global Village Plus featured the Arts in Transit van by artist Lata Upadhyaya, a mobile performing arts space that will host culinary arts with guest chef Paul Singh Babra from Canterbury Curry Club and Vibha Osbon from Madras Café.  Harlow based Ghanaian artist Efua Sey also joined the van, providing African Djembe and dance workshops.
25 flag bearers from Kinetika joined the activity in the arena through a Global Procession from Chalkwell House to Global Village with a combined troupe of artists representing Brazil, Ghana, China, India, Congo for a grand finale along with drums, silk flags and puppets.
Here are photo highlights of the day (from our Flickr image archive)
ECDP Creative Director, Indi Sandhu said "This year's Global Village is the largest gathering of different nationalities all coming together to perform and showcase their talent and be part of the 10th anniversary of Village Green. It is a great privilege for me to be programming and producing the Global Village Arena through which we can engage with the local diverse communities in Southend."
Over the last 8 years ECDP has been working with Metal on developing the Global Village stage with local business sponsorship from Atlantic Pacific Logistics. Global Village has also been supported through funding from Arts Council England, Southend Council.
Caravanserai and Circus Raj are supported by funding from Arts Council England in close partnership with Cultural Engine CIC, as part of a larger project bringing the Indian artists to the UK to take part in the Fling Festival in Chelmsford, Village Green in Southend, and the Festival of Norfolk & Punjab in Thetford.
Tickets for Village Green are on sale now at villagegreenfestival.com/tickets