Back
Global Village and Festival Work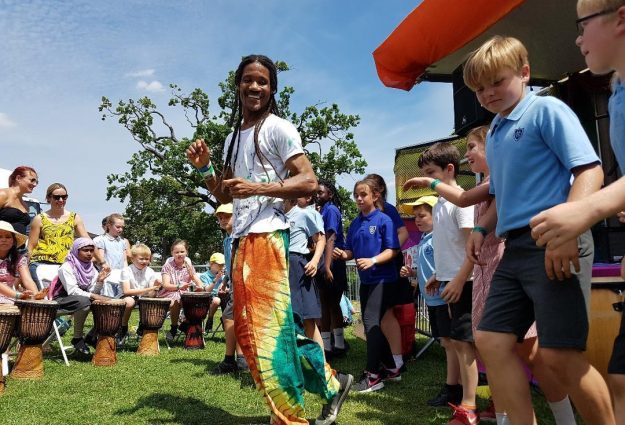 Essex Cultural Diversity Project works with various festivals in Essex to help diversify programming and attract new audiences, providing new and exciting platforms for artists from various backgrounds to present their work.
One highlight in our Summer calendar is our Global Village stage in July as part of Metal's Village Green Festival. Village Green is a multi-art form and music festival, produced by Metal in the picturesque grounds of a Victorian park in Chalkwell, Southend-on-Sea, which attracts over 20,000 festival goers.
Essex Cultural Diversity Project's Global Village stage brings together outstanding acts from Essex and all over the world to create a truly unique festival spectacular, celebrating music, dance, storytelling, art and performances from BAME artists in the UK and all corners of the globe.
In 2017 we worked with a range of partners including local authorities, Metal Culture (Southend), WOMAD festival and Essex promoters at five existing festivals: 3foot People Festival, an event in Chelmsford for children under the age of 5 years; The Fling Festival, an innovative cultural event for adults also in Chelmsford; Big Sunday in Colchester, a family orientated arts festival; and Village Green, Next Generation targeted at schools in Southend.
The work followed on from our involvement in the Global Music and Dance Weekend (GMAD) in 2016, an intensive talent development programme for emerging musicians and dancers who wanted to develop their practice and move on in their careers, through learning and performing alongside experienced artists. We further developed from GMAD and provided a collaborative showcase of performances and workshops through our Global Village stage with an opportunity for Essex based emerging artists who showcased their talent at WOMAD 2017.
All five festivals are keen to work with us again in a long-term capacity, and from 2018 will be developing an audience development strategy with our partners to ensure that the outcomes from Global Village will continue through these existing festivals in the future.