Back
Listen Now: Celebrating Diwali in Essex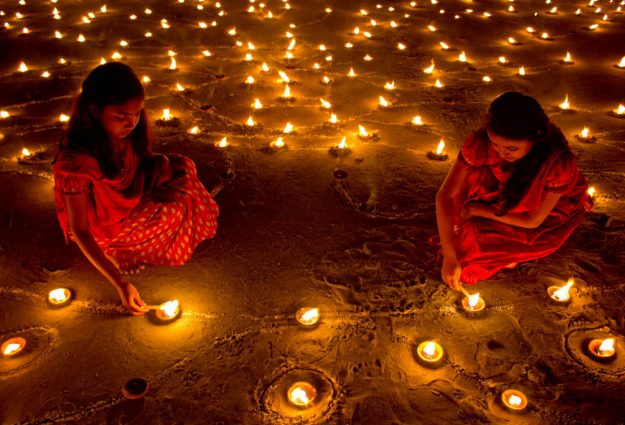 We were invited by BBC Essex to come and talk about Diwali on their weekly Essex Voices programme that focuses on community. This specially extended programme explains and explores Diwali, the festival of lights and one of the major festivals celebrated by Hindus, Jains and Sikhs.
In Part 1: guests include Dr Seema Anand who introduces Diwali and narrates the Diwali Story later in the programme; artist Lata Upadhyaya shares how Diwali is celebrated in Assam, India, sharing her memories of Diwali with family and friends; Dr Atul Shah talks about the significance of the festival and its importance for all communities; Indi Sandhu talks about his Sikh heritage; Renu Arora presents a piece of music and drama; and Dhiraji Kaaria from Clacton Hindu Temple shares a 'Prayer for the Universe'.
In Part 2: we talk more about Diwali and listen to Bollywood songs with Bollywood Dancer Sarika Golchha from ABCD Bollywood; hear live sitar music with musician Jonathan Mayer; Inderpal Singh Panesar from Grays Gurdwara (Sikh Temple) talks about how the Sikhs celebrate Diwali; and Nita Jhummu talks about how the Mauritius community celebrate Diwali.
---
About our guests:
Dr Seema Anand is a doctor of Narrative Practices and trained in the Greek, Indian and the Persian styles of storytelling. Her research work is associated to the UNESCO project for Endangered Oral Traditions, specifically the revival and reproduction of oral literature for multi-cultural audiences. Her particularly academic background and specific skill set enables Seema to serve as a 'bridge' between narrative traditions of the East and the West. Seema has performed both nationally and internationally, and worked extensively with the British Museum, V&A, National Portrait Gallery, Museum of London, British Library and Theatre Museum amongst others on creating narrative around existing and visiting exhibits.
Lata Upadhyaya was born and raised in India, Lata now living and works in Essex. Lata is a visual artist who specialises in contemporary sculpture and has completed master's in fine art in both India and the Slade School of Art, London. Her work is held in private collections throughout Europe, India, Middle East and the far East. Lata's work reflects upon her own life, the experience of migrating from the East to the West. The work offers the sense of re-familiarisation with Lata's origins in India. Through Lata's extensive travels, she has participated in International Artists Residencies that have allowed her to further explore different mediums and practices. In addition, Lata has also been a key activist in establishing an artists' community in South Essex and now has established her studio at Acme, High House Production Park in Purfleet. Lata worked on a new arts project related to an Indian rickshaw which she obtained from The Hindu Clacton temple, she transformed and gave the rickshaw a new lease of life through her creative arts practise.
Dhiraj Kaaria, Hindu Clacton Temple – Dihrajlal came to Clacton-on-Sea 30-years-ago and found there was no official place for Hindu's to worship in Essex. They decided to make their spare room into a temple. The temple was started in May 1979 and has become a focus for local Hindu festivals as well as welcoming visitors. Although there is no official record, they say it has attracted over 50,000 people from all over the world. His dedication to their faith fulfils an old family prophecy. Dhirajlal's great, great grandfather dreamt of Hindu god Shiva who said he would be back in the family in five generations.
Indi Sandhu, Creative Director of Essex Cultural Diversity Project – Indi has been part of Essex Cultural Diversity Project since its inception in 2008. He began his career at Kent County Council Arts & Libraries as Arts Officer, and over the last ten years has initiated county-wide projects, developing and advocating for cultural diversity programming and diverse artist development in Essex and the surrounding region. Essex Cultural Diversity Project has been working with BBC Radio Essex over the last few months highlighting the work of diverse communities in Essex on the 'Essex Voices' programme . Indi is a regular on the programme and supported the series of Black History Month broadcasts in October on BBC Radio Essex.
Dr Atul Shah, Diverse Ethics – Dr. Atul  Shah is a creative social entrepreneur with distinguished skills in business and media. He graduated from the London School of Economics, obtain a bachelor's degree (First Class), a Masters, and a PhD. Atul is founder of the internet portal diverseethics.com. He is Indian by culture, African by birth and British by citizenship – a diverse personality. Diverse Ethics Ltd. was founded by Dr. Atul K. Shah, Lecturer, Editor and Broadcaster with a wealth of experience and contacts in Business, Media and Indian Culture, Community and Heritage. Atul has a PhD from London School of Economics and has lectured at the Universities of Bristol, Essex, and Maryland (USA) and was founding editor of Jain Spirit international magazine. He was an adviser to the BBC and has done broadcasts on BBC World Service, BBC Radio 4 and BBC Asian Network. He is a member of the Board of the National Council for Museums, Libraries and Archives and the National Council of Faith & Belief. The company provides a broad range of research, consulting, and training services in the areas of diversity, workplace ethics, and communication targeted at businesses and public organisations. It has demonstrated success and experience in these areas, and the skills to match. The core services include planning, strategy, training and communication.
Jonathan Mayer, Sitar Player – Son of the late composer and co-founder of Indo-Jazz Fusions John Mayer, Jonathan began his musical training at an early age and by the age of 16 Jonathan found the instrument that would be his life, the sitar. Jonathan has performed all over the world including, France, Germany, Russia, United Arab Emirates, Australia, America, Bangladesh, Sri Lanka, and two very successful tours in India as well as a number of performances for the BBC in the UK. Jonathan can also perform a set of Western popular songs on sitar with backing tracks (Beatles, Donovan) mixed with traditional Indian music.
Sarika Golchha, ABCD Bollywood Dance Company
ABCD Bollywood Dance Academy is a leading Bollywood dance training centre in Chelmsford Essex UK. Our school of Bollywood dance makes all age group people learn the best Bollywood dance moves pioneering various dance skills like Hip-Hop, Contemporary, Street, Bhangra and much more. Almost at any age, you can pursue dancing, which is believed to be a perfect activity for promoting coordination and balance. A workout dance is unique and peerless as compared to any other aerobic exercise. It's actually cardio exercise. An expert Bollywood dance instructor, Sarika Golchha with 20 years of experience teaches dance to the people of all age group. At three, she placed her dancing toes into this field and after becoming proficient in the same continued her talent as a dance instructor at the age of nine only. On the long runway of her career, she has appended many things to her intelligence. In India, she put the foundation of her profession where she got the training of Classical Dance forms like Katthak and many other regional forms of dance.
Inderpal Singh Panesar – Sikh Gurdwara, Grays, Thurrock
The Grays Gurdwara (Temple) is the only place of worship in Essex. The Gurdwara is in the heart of Grays and is open seven days a week. They also hold children's Punjabi language school on the weekends. The Gurdwara is a key focal point for the Sikh community a place of worship, resource centre and a communal kitchen. The committee is led by volunteers such as Inderpal Singh Panesar who supports the Gurdwara with IT requirements.
Nita Jhummu is a broadcaster working not only at Chelmsford Community Radio, but at Hospital Radio Chelmsford too. She has a real passion for radio and presents in a variety of styles – be that talk shows, or feel-good music. Nita is from the Mauritius community living in Essex with a wealth of experience in radio broadcast.
---
Thanks to Rob Jelly and all at BBC Essex