Back
ECDP TV: Seema Anand chats to Sade Fadipe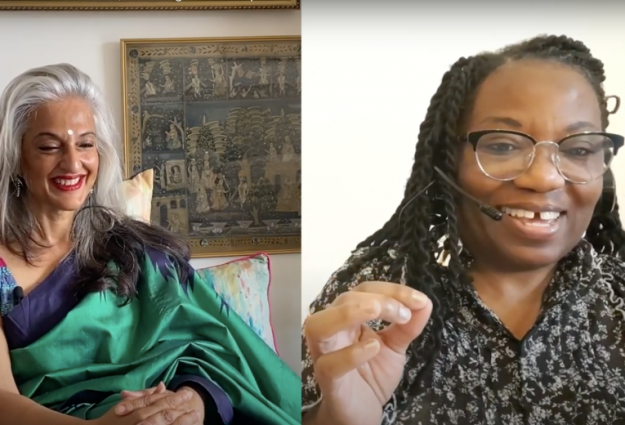 In conversation with Sade Fadipe
ECDP TV: The Edge
In this episode, Seema talks to children's author Sade Fadipe about her work and background, about her books and the inspiration behind them, the importance of writing stories for children from diverse backgrounds and getting published.
---
About Sade Fadipe
Sade started out her career as a linguist and later followed her passion by taking on a post-graduate in Education. After teaching in London for close to two decades, she spent time out in Nigeria where she initiated a training program for teachers on the skill of reading. This involved the use of fiction books in enhancing reading and the creation of reading-corners, where libraries were non-existent. While training she penned an indigenous alphabet script for her trainees. Little did she know that her ABC rhyme would one day, evolve into 'A Fun ABC' – published and distributed across the globe!
---
About Seema Anand
Seema is a Storyteller, Artist and Narrative Specialist. She is a Doctor of Narrative Practices, working with the uses and the implications of 'Oralness', specialising in Story telling. Seema specialises in global mythologies – comparing and retelling stories through different cultural nuances to give everyone ownership of the tales. Her ongoing work in researching and collating stories from the ancient Asian texts is an invaluable resource, both in the corporate and the education sectors. Story, according to Seema, is a physical skill and a visual art and her work is developed to include alternative aesthetic and cultural perspectives for all ages and capacities. ECDP has partnered with Seema on many different projects over the years, including the Kavaad Picnic in rural locations of Essex, hosting events as part of a project inspired by 'Princess Sophia: Suffragettes and Women's Votes, exploring diverse women's engagement in the democratic process. Seema has also hosted events as part of our Festival of Norfolk & Punjab.
Seema Anand on Instagram | Facebook group | Facebook page