Back
In the Frame: Dan Deller-Thompson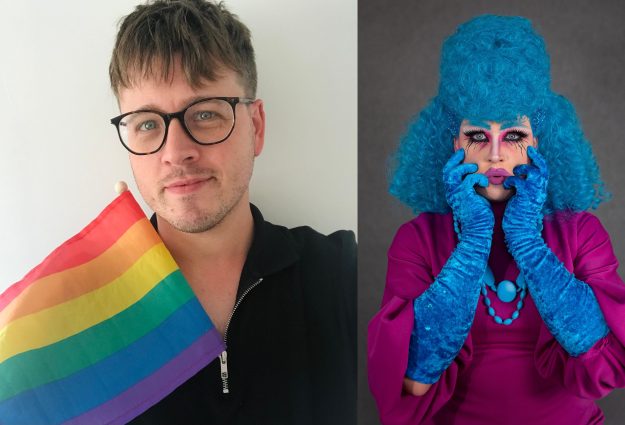 In the Frame: Dan Deller-Thompson
Cartoons, Pride and Drag Queens
In this monthly feature, we put a spotlight on an Essex-based creative practitioner working in diversity, to explore the inspirations and themes behind their work.
This month we spent some quality time with Dan Deller-Thompson, a creative based in Colchester with a studio at 37 Queen Street.
Like many creatives, Dan has numerous feathers in his cap: he is an illustrator; LGBTQ+ charity volunteer; Pride events organiser and activist; and a Drag Artist. He also has a background in dance, and worked for a while as a dance and performing arts teacher in further education.
What unifies the many facets of Dan's creative career is a desire to have fun and bring people together, and provide playful and safe spaces for creative expression, meaningful connections and self-exploration.
As a freelance illustrator in the animation industry, Dan creates cartoons for children, and spends his day drawing for programmes such as Horrible Histories and The Day Henry Met. While his day job is to create characters on the page, by night Dan breathes life into his drag persona Tracey Paper, alongside other characters he performs on stage.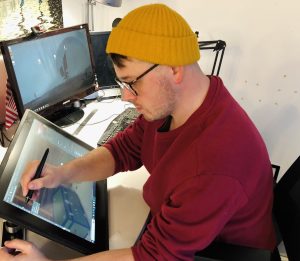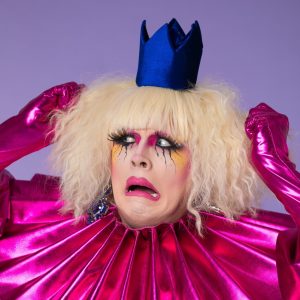 Tracey Paper came into the world in 2018, when Dan co-ran Flux Dance Collective with his friend and creative partner Lisa Warnock (aka Sugar Paper) and staged Tracey's very first appearance at an event called Viva La Camp at Colchester Arts Centre. Dan is originally from Leeds in Yorkshire, so naturally Tracey has a fierce northern persona and embodies the values of his working class roots. Like many of the strong women he grew up with and around, she is loving, kind and generous, 'allowed to be emotional', but also a bit sassy. Tracey Paper is carefully crafted, with Dan designing and making all his own costumes.
Drag is an artform that is often misunderstood as simply a male parody of women, of men mocking female identity, but Dan believes it can be more expansive, and like any artform, is complicated. He is mindful of the sensitivities and always reflective in his practice, often questioning what drag means for him as well as society, as it moves from a subversive artform within Queer spaces to more mainstream platforms.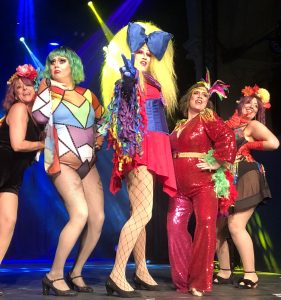 As Dan says, "Drag is and has always been performed by folk of all genders… we just don't get told about them! Many modern platforms and TV shows do not reflect the rich history of drag, which for centuries is an artform that has had contributors of all gender identities, gender expressions and sexual/romantic attractions".
Dan believes that Drag can be empowering in the journey to self-discovery and for self-expression, with the potential to allow everyone, of any gender and background, to break down societal pressures and expectations, often due to biological sex. Participants of the Drag Workshops he runs with Lisa at the Mercury Theatre – men and women – are certainly encouraged to leave their 'stuff at the door' and express themselves, and will often leave feeling much more confident. For Dan it is about embracing possibility, "silliness", and having the freedom to play.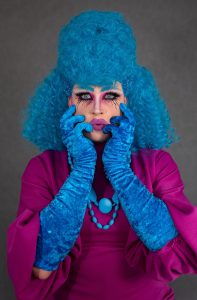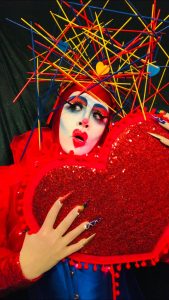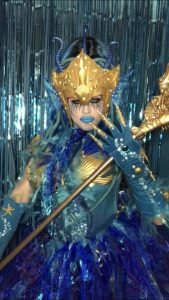 Since arriving in Colchester in 2015, Dan has played a key role in strengthening the Queer community in the town. He is a Trustee and volunteer for The Outhouse, which offers support and information to the lesbian, gay, bisexual, non-binary and trans people of Essex. The charity runs events, weekly socials, youth groups, awareness sessions and offers counselling. Dan is also part of the small team who runs Colchester Pride, bringing the first Pride march to the town in August 2022 which attracted over 700 people, ahead of the festival at Firstsite that attracted close to 2000. The team also organise other events under the Pride banner, such as charity balls, regular socials, family picnics, cabarets, workshops and will soon launch a new night for queer women, trans and non-binary people. Colchester Pride has recently been granted CIO status (Charitable Incorporated Organisation) and Dan et al are excited about the future. Together they look forward to creating more opportunities to celebrate and empower Colchester's wonderful LGBTQ+ community.
Interviewed in January 2023 by Jo Nancarrow
---
Links
Dan on Instagram | Tracey Paper on Instagram | Tracey Paper on FB
Cocktail Cabaret at Mercury Theatre
Drag Workshops at Mercury Theatre