Back
In the Frame: Anna Soko Mudeka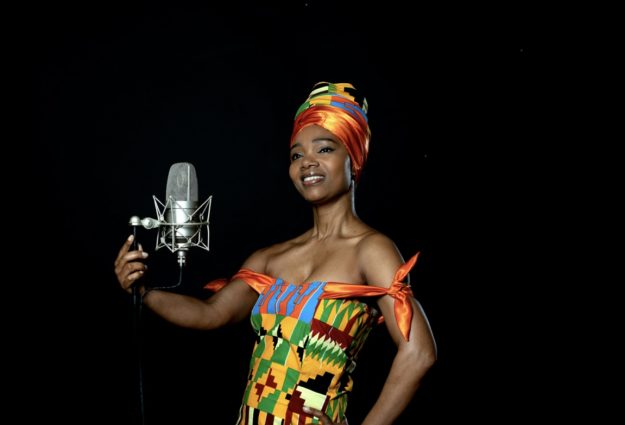 In the Frame: Anna Soko Mudeka
The Power and Joy of Storytelling
In this special monthly feature we put a spotlight on creative practitioners working in diversity, to explore the inspirations and themes behind their practice.
This month we caught up with our friend Anna Mudeka in Norfolk.
Anna's work is multi-faceted – she is a musician, singer and dancer; businesswoman and entrepreneur; community catalyst and collaborator; and founder of The Mudeka Foundation that raises money for orphans in Zimbabwe.
Anna's creative practice is focused on storytelling, singing, music and dance, and is driven by a passion to celebrate and share the traditions of Sub-Saharan African cultures. Born and raised in Zimbabwe, Anna draws from a wealth of African dance and music traditions, but is particularly inspired by her Shona roots, which has a rich cultural history and identity and is part of the Bantu ethnic group that forms the majority of the population in Sub-Sahara.
Anna talks animatedly about Shona music and dance, as a form of expression and a rhythm that is embedded within everyday life. Her one-woman show Kure Kure, which means 'Far Away', explores these cultural roots and pays homage to her "brave descendants", matching folklore and tradition with science and fact. The piece starts with stories of her ancestors, and ends with the breakdown of her own DNA, which perfectly reflects the movement and migration of the world even to this day. The show toured 45 dates across the UK in 2019 alongside community workshops and open discussions on identity and migration.
Anna is not only interested in sharing her own heritage and journey, but also keen to help others find their voice, using stories to help us question who we are and understand the world around us. Anna explains that there are two kinds of storytelling in Zimbabwe; Ngano derives from folk stories, fairytales and myth, whereas Nyaya is based on reality, drawn from our own life experiences.
Storytelling was certainly central in Anna's approach to the Braintree Music and Cultural Diversity Project, when we invited her to be one of seven artists to help young people understand different cultures and traditions through music, stories and maps from around the world. As well as studying the history of Zimbabwe through dance, drumming and playing the Mbira (thumb piano), Anna encouraged the children to "create their own Nyaya", empowering the students to be spontaneous, and be active participants in shaping their own life stories.
Anna's outlook and approach to work and life is consciously (and infectiously) optimistic, and she actively practices positivity in all she does. As a strong advocate in celebrating "incredible women", she is currently developing her second one-woman show called Mama Afrika: Hope, Determination and Song, to celebrate the life and legacy of iconic South African singer, songwriter and civil rights activist Miriam Makeba. Due to tour in 2024, the show explores Miriam's love of Africa and her courageous stand against apartheid.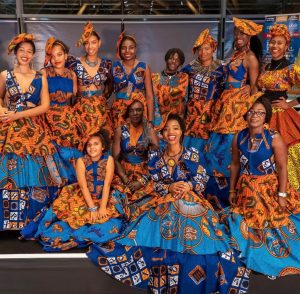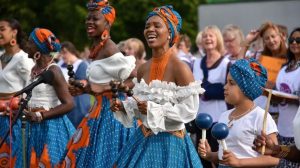 Fans of the Anna Mudeka Band used to describe her music as "Sunshine Music", and she is always keen to share this love and joy with others. Commissioned by the Hostry Festival (now The Autumn Festival of Norfolk) in Norwich in 2019, she was invited to set up The African Choir of Norfolk, to bring together a diverse group of individuals of African, Caribbean and Black British heritage to create a unique choir in the county. Those attracted to the choir are mainly women of all ages, looking for something that resembles "home", belonging and "family", who want to celebrate African heritage. The choir has grown organically, with a loose ambition to curate 54 songs from each African nation within five years. The focus at the moment is performing and being together, to create a sense of belonging and show positive role models for younger members.
Anna also shares her passion and joy for music by staging the a World Music Festival, hosted on a "special strip of land on the coast, with amazing sunrises and sunsets" which is part of her family farm in Waxham, North Norfolk.
She wanted to create opportunities for everyone to enjoy performances from all over the world, bringing cultures together through music. The festival was previously known as Norfolk World Music Festival which she ran for 12 years and moved to the coast last year, which used to raise money for the Mudeka Foundation.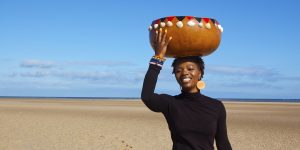 ---
annamudeka.co.uk | africanchoirofnorfolk.org | mudekafoundation.org
---
Essex Cultural Diversity Project is proud to support the work of Anna Mudeka, including the World Music Festival in 2022 when we brought Circus Raj and the Heritage Brass Band of Rajasthan to Norfolk last year. Anna also worked with schools in Tendring through The Tendring Junior Ambassador Project run by Tendring District Council (TDC), which saw Year 5 & 6 pupils from a number of  schools take part in various workshops exploring cultural awareness throughout the Summer and Autumn terms. It encouraged young people to learn more about the communities around them, and championed inclusiveness and diversity. The celebration event, funded by TDC and Essex Cultural Diversity Project, saw ambassadors demonstrate activities from Bollywood dancing to African singing, with members of the invited audience of dignitaries and parents joining in.
We are looking forward to working with Anna again later in 2023, as part of an artist commission and salons in North Norfolk that will link to the festival.
---
Written in February 2023
by Jo Nancarrow, ECDP Digital Lead