Back
One-to-One with Shephali Frost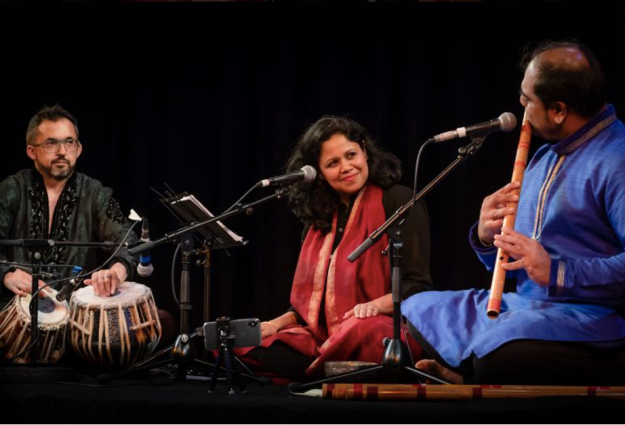 One-to-One with Shephali Frost
Synergy, Fusion and the Avant-Garde
In this monthly feature, we meet with an Essex-based creative practitioner working in diversity, to explore the inspirations and themes behind their work.
This month we went spent some quality time with musician, poet and soundscape artist Shephali Frost.
Shephali draws much of her energy from collaboration, and synergy is often central in her artistic approach and creative partnerships. Her practice is purposely fluid and expansive, and at the heart is a desire to push boundaries, bring people together, and blend genres, languages and cultures.
This is particularly evident in her Indo-British fusion band The Shephali Frost Ensemble, whose repertoire is a fusion of western and Indian classical music with modern jazz, mixed with Sufi poetry and ghazals from ancient India, Pakistan, Persia, Iraq and Afghanistan. The ensemble was formed after the Coronavirus lockdown, in the spirit of wanting to try new things, learn from other creatives, and to collaborate with multiple genres and artistic disciplines.
The band recently performed a fusion concert with Chelmsford Cathedral Choral singers to celebrate Luke Jerram's artwork Gaia shown at the Cathedral last year, and is currently on tour throughout Summer and Autumn 2023, where you can catch performances in Southend, Colchester, London, Norwich, Coventry and Dartmoor.
Through her work Shephali is always cultivating opportunities and spaces in which she can collaborate and learn alongside others, with freedom to explore and follow her many influences and inspirations. There is also an openness to be led by those with whom she collaborates, often taking her down unexpected paths.
To explore the more esoteric side to her work, Shephali has recently put together another collective, Imposter Syndrome with Shephali Frost, which embraces the avant-garde with more experimental music and soundscapes. She has just recorded two avant-garde albums New Delhi Nocturne and Turmoil of Onions,  currently in the process of post production. She also worked with digital artist Sian Fan (one of ECDP's recent commissioned artists), creating music for Sian's Forecast22, an archive-based soundscape commemorating 100 years of the BBC at Chelmsford Museum.
As a writer and poet, Shephali is the author of two books of poetry in Hindi, and has just finished writing a book of poetry in English called Hardy Foreign Tree. She is also internationally renowned for her performances of traditional Urdu poetry.
Shephali's work often addresses big issues such as world peace, human rights, climate change and equality, and she is excited about her new project Hello World supported by Essex County Council. This is a one-year project that focuses on music with refugees who have settled in Essex from various countries, including Iraq, Afghanistan, Syria, Senegal and the Ukraine. Through the project she hopes to use music as a universal language to help participants connect and explore commonalities, while at the same time celebrate their differences, fusing past and tradition with contemporary influences.
She sees her practice as a search for clarity and an exploration of narrative, and it is clear that she is driven by an inquiring mind, a joyous sense of curiosity and a passion for sharing. Throughout our discussion, she cites many references, with recommendations of books on history, politics, religion and more, and I leave with an extensive list of writers, musicians, artists and poets to research and enjoy.
Read more at www.shephalifrost.com
---
Article written by Jo Nancarrow in April 2023