Back
Sian Fan's Current: Digitising Chelmsford's Waterways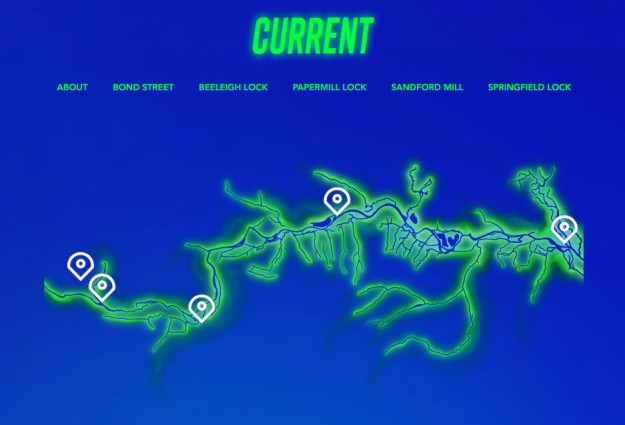 Current
A new digital artwork by Sian Fan
Sian Fan was appointed for the Chelmsford & Essex2020 Artist Commission, a partnership between Chelmsford City Council and Essex Cultural Diversity Project.
Sian's project Current creatively responds to the rich story of Chelmsford and its waterways, celebrating diversity and harnessing digital innovation as part of Essex2020 – Year of Science and Creativity. Current is an interactive website that digitises key sites along the rivers' path, creating an immersive and creative digital archive. Sian worked with local communities to collect stories, footage, memories, sound recordings and scans to feed into the website. Sian was particularly interested in collaborating with individuals and groups new to working with technology.
The final artwork, Current can be viewed at currentdigitalwaterways.com
Within each page is a selection of digital artefacts captured from physical sites along Chelmsford's two rivers, the Can and the Chelmer. These include Lidar scans, 3D photogrammetric scans of objects and plants, sound recordings of the river's ambience and underwater footage of the riverbed. The viewer is able to virtually walk through the environment, creating a sense of space and physicality, revealing layers and perspectives previously unseen.
Below is a slideshow of photos (houses at ECDP's image archive on Flickr) taken at the community workshops, when participants explored and scanned five key sites along the river: Bond Street, Beeleigh Lock, Papermill Lock, Sandford Mill and Springfield Lock.
As a digital artist from Chelmsford this commission was highly relevant to Sian's practice and experience. Her work explores the space between the digital and the physical, focusing on the experience of engaging with technology. She is interested in what it means to be human in our increasingly digitised and hyperconnected world, and seeks to discover new ways for us to coexist with technology that can enhance our everyday experience.
---
In this video, filmed for the Essex2020 Finale event in March 2021, Sian talks about her work and introduces her project:
Responses to Sian's Appointment
"I'm so excited to create this digital commission responding to the beautiful waterways in my home town. I'm looking forward to working with Essex Cultural Diversity Project and with local people to explore and digitise the unseen details of our surroundings. It's going to be a really interesting project that will use digital technologies to capture and preserve different facets of the environment, whilst connecting people and place together." Sian Fan

"We are excited by Sian's proposal and the way she speaks so thoughtfully and imaginatively about using digital technologies to make Chelmsford's waterways accessible in new ways. As well as being beautiful and innovative, her project has real legacy potential and we love the way that people will be able to develop a personal journey with the finished piece. It was Sian's own experience of walking by the waterways that led to her idea and we were stuck by her enthusiasm to collaborate with local community groups and share skills and stories. Sian's work fits perfectly with the ambitions of Essex2020 and we are delighted to be supporting a local inter-disciplinary artist doing such exciting contemporary work." Katie Deverell, Cultural Partnerships Manager, Chelmsford City Council

"This an excellent opportunity for Essex Cultural Diversity Project to work in partnership with Chelmsford City Council with the appointment of artist Sian Fan for the Chelmsford & Essex2020 commission. We are committed to supporting digital innovation and Essex-based diverse artists, so are looking forward to working with Sian over the next few months" Indi Sandhu, Creative Director, Essex Cultural Diversity Project
---
About the Artist
Sian Fan is a mixed-race interdisciplinary artist based in Chelmsford. Her diverse practice explores the threshold between the virtual and the physical, through digital, performance, sculpture, video and installation.
In 2020 she graduated with a Fine Art Masters, grade Distinction from Central Saint Martins, where she had been awarded the prestigious Mona Hatoum Scholarship and was nominated for the Nova Award. Prior to Central Saint Martins she studied Performance and Visual Art Dance at the University of Brighton where she graduated top of her class and was awarded the Outstanding Creative Achievement Award from Seoul National University.
She has exhibited internationally with venues including Tate Modern, British Council, and the ICA, as well as producing work with Channel 4, the BBC and Google.
She has been featured in both print and digital articles by The Guardian, The Art Gorgeous, Art Connect, Contemporary Lynx and Vogue. She has had work broadcast on live TV BBC 4 as part of Get Animated, hosted by Ali Plumb and on Channel 4 as part of Grayson Perry's Art Club. She has been described by gallerist Cassandra Bowes as 'one of the most exciting emerging artists right now'.
essex2020.com | Essex2020 on twitter
---