Back
Lasana Shabazz: I am Wycombe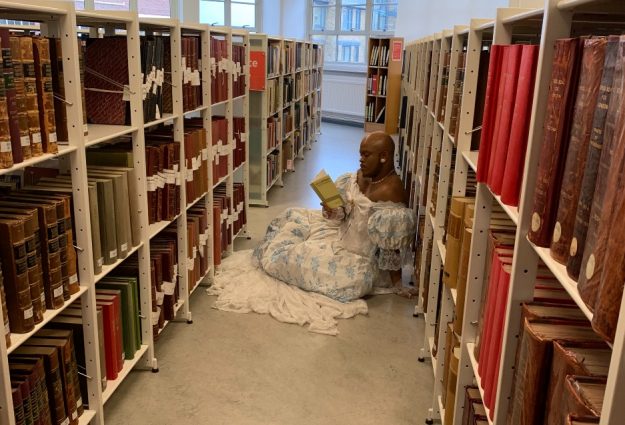 Lasana Shabazz was appointed for the second Buckinghamshire Artist Commission, as part of a three-year partnership between Essex Cultural Diversity Project and Farnham Maltings, funded by the Rothschild Foundation.
As a black British queer artist from Caribbean migrant descent, diversity is very important to Lasana and is laced throughout their work. They believe in our differences being celebrated rather than tolerated. This enriches their work and allows them to develop their own practice, being able to explore new, authentic, fresh narratives and concepts. 
From October 2020 to May 2021, Lasana worked closely with staff, volunteers and communities across High Wycombe Library and Micklefield Library. 
Lasana's project I am Wycombe put people and community firmly at the centre of the artistic process. The project and final piece will evolve and be shaped by its participants, through a series of exciting workshops, activities and a final performance tour. Members of the community and visitors to the library will be invited to create, write, perform and archive their own stories, whilst physically exploring how their bodies fit and belong in the space. 
Lasana's family settled in High Wycombe after arriving in the UK from St Vincent in the Caribbean, and the artist frequently visited as a child. Lasana is looking forward to connecting with this community again as an adult, developing their connection to the community as part of their own family history and story.
"I'm really excited to be part of the Bucks Library commission and bring my interdisciplinary practice to the local community. Having family connections in High Wycombe, I'm looking forward to exploring the many enriching and diverse stories the community have to share. It's going to be a great project connecting the libraries and the multicultural and cross-generational community of the area." Lasana Shabazz

"We were blown away by Lasana's approach to working with communities, and excited that the process and final work will be wholly responsive to people and place. We are looking forward to working together with the teams High Wycombe, Castlefield and Micklefield libraries." Katy Snelling, Farnham Maltings. 
---
About the Artist
Lasana Shabazz is an interdisciplinary performance artist, writer and director whose work delves deep into identity politics, deconstructing ideas of race, sexuality, class and gender, queering the norm of what is considered acceptable by mainstream and popular culture. 
Their work incorporates theatre, dance, spoken word, visual art, music production, make up, costume design and construction. They work in art galleries, theatres, arts festivals, museums, educational institutions, black, queer and QTIPOC (queer trans intersex people of colour) art spaces nationally and internationally. The artist feels it is key to connect with an audience and take them on a challenging journey, making them feel vulnerable and uncomfortable, whilst also exploring the narratives, experiences and emotional footprint of marginalised groups. 
They originally trained as an actor at Queen Margaret University in Edinburgh, which culminated with their first artist residencies with theatre company MC Theater and Imagine IC in Amsterdam, Holland. Since then they have delivered arts residencies and commissions with many organisations including Tate Britain, Victoria and Albert Museum, Manchester Art Gallery, Cripping the Stage (Toronto) and Bushwig (New York).
Lasana has over 10 years' experience delivering arts, educational and community projects, working with a range of participants including NEET young people (Not in Education, Employment or Training), and children, young people and adults aged 4 to 75.
---
About the Project
This commission is part of a three-year project, funded by the Rothschild Foundation, to create the confidence, experience and networks for the communities of Buckinghamshire to present and commission live performance. The overall project is managed by Farnham Maltings who are working with Essex Cultural Diversity Project on this commission, in partnership with Buckinghamshire Council
---