Back
Belongings: Windrush 75 Weekender
Saturday 24 Jun 2023 - Sunday 25 Jun 2023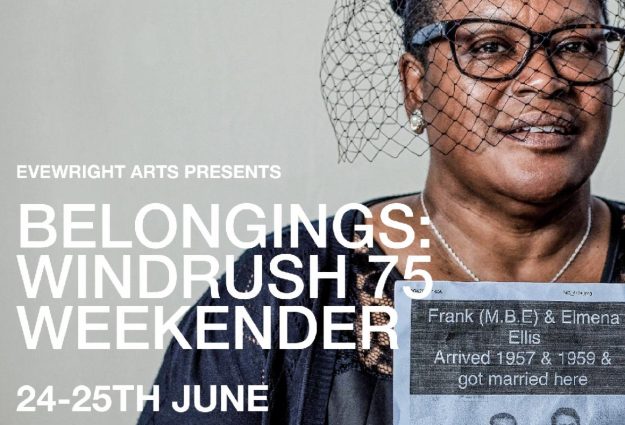 Belongings: Windrush 75 Weekender
Saturday 24 June – Sunday 25 June

All are invited to a weekend of Windrush heritage, films, art installations, music, performances and food at Tilbury Docks, celebrating the peoples and descendants of the Windrush Generation.
---
Essex Cultural Diversity Project is pleased to be supporting a brilliant new project by Evewright Arts Foundation.
Evewright Arts Foundation invites you to Belongings: Windrush 75 Weekender as part of Windrush 75th anniversary celebrations, made possible thanks to National Lottery players through a National Lottery Heritage Fund Grant.
The art and film installation runs over a 30-hour continuous period from Saturday through to Sunday to mark the period the passengers on the Empire Windrush had to wait before disembarking at Tilbury in 1948. They will present a curated programme of art films screened in the original Grade II listed ticket hall. The programme will include two new film works directed by artist EVEWRIGHT including Motherless Child and Here I Stand, both exploring the resilience, identity, and determination of a generation, along with The Movement of the People a Dance film by Phoenix Dance Theatre; selected films from locally based artists; as well as a new film created by young people from Gateway Learning Community schools in Tilbury and a live performance.
The presentation of film works will also include photographs, sound and words, along with images of the Empire Windrush original passenger list for an immersive experience with headphones throughout the weekend. A DJ set featuring the influence of music over the 75 years will be played during the Saturday evening segment. This curated programme eill take place at London International Cruise Terminal in Tilbury from Saturday 24 June 12 pm through to Sunday 25th June 6pm and is free and open to all to attend. The public are invited to attend in (optional) period costume. Food stalls will be available.
Belongings: Windrush 75 commemorates and celebrate the peoples of the Windrush Generation and the talents of descendants who have contributed to British society over the past 75 years. It is a sound and vision experience that offers a unique opportunity to deepen the specific discussion on how the presence of the Windrush generation and their descendants has shaped the recent history of Britain. It's an art installation based on the themes of migration, identity and settlement conveyed through interviews with elders, descendants, reflections, sound, song, and visual projections. The project takes place at London International Cruise Terminal in Tilbury Port in Essex as part of Windrush 75 Anniversary commemorations.
Tilbury Port is an iconic location which has an historic significance to the black community in Britain. This artwork is a unique statement memorialising the lives of those people who came from the Caribbean who carried their British passports proudly as British citizens with hope and expectation. They passed through this location as one of the original walkways where SS Empire Windrush passengers arrived in 1948 . Although many arrived before 1948, those that arrived here were the first large post war wave of British colonial citizens to disembark from the passenger ship at Tilbury Cruise Terminal.
"We are delighted to be hosting this important event during Windrush 75th anniversary year as we value the importance of our community telling their stories in their own voices." Artist and Curator EVEWRIGHT
Public Opening Times: 24- 25th June 12 pm Saturday – Sunday 6pm
Admission is free. To book visit www.evewrightarts.org
Location: Tilbury International Cruise Terminal Essex RM18 7NJ
The site is accessible by Car, Bus, Ferry and train. The nearest train station: Tilbury Town. A special shuttle bus will operate over the weekend from Tilbury Town train station to the Terminal.