Back
Windrush Project 2019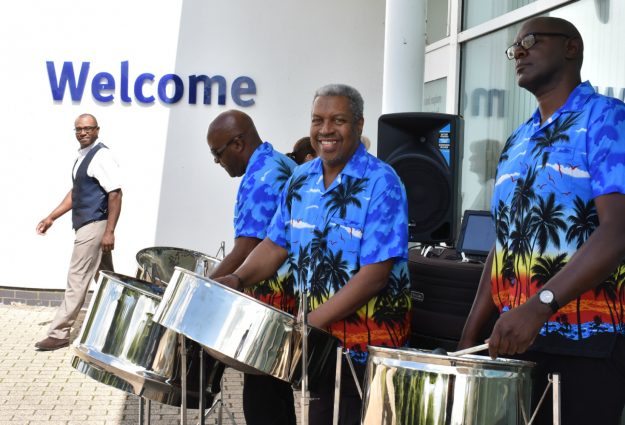 In 2019 we led a project focussed on the Empire Windrush and the Windrush Generation, with a special event to mark Windrush Day 2019 in Chelmsford on 22 June, a pop-up exhibition that toured to different venues, and a short legacy film to tell the story of the Windrush and its passengers.
The project was funded through the Government's Windrush Day Grant Scheme to support communities to commemorate and celebrate the outstanding contribution of the Windrush Generation and their descendants. 50 community groups, arts organisations and local authorities across the country used the funding to lead school projects, street parties, exhibitions, talks and workshops to recognise and honour the immense legacy of those who stepped ashore at Tilbury Docks over 70 years ago.
---
Windrush Legacy Film
As part of the project we have created a legacy film, telling the story of the Windrush, featuring historical images and photographs, shots of Tilbury Docks and Windrush events across Essex, and specially invited speakers. This includes artist Evewright, talking about his recent project Caribbean Takeaway Takeover which recorded the stories of Caribbean elders and part of the Windrush Generation, using art installation, photography and sound. evewright.com
Windrush Legacy Film from Essex Cultural Diversity Project on Vimeo.
---
Windrush Day Event 2019
Essex is the Place for Me!
Essex Cultural Diversity Project organised a special Windrush Day Event, which took place at the Essex Record Office in Chelmsford. The day talked about issues surrounding the Windrush, as well as celebrating Afro-Caribbean culture, with food, music, dance, art and literature.
The day was hosted by our compere, Lawrence Walker, Chair of Black History Month (Colchester). There was live music with Phase 5 Steelpan Band and Gary ST Cordicie, Afro-Caribbean food from Jerk Station, a family drop-in workshop with award winning British/Trinidadian artist John Lyons, and a pop-up exhibition that will tour throughout Essex.
We also had talks by guest speakers – Anthony Joseph, poet, novelist, and musician, who joined us to talk about his latest novel Kitch: A Fictional Biography of a Calypson Icon, inspired by Lord Kitchener.  Sharon Watson, Choreographer and Director of Phoenix Dance's Windrush: Movement of the People, was also in conversation with a dancer in this wonderful show.
Our Windrush project also consists of a pop-up exhibition and a legacy film, so get in touch if you'd like to know more!
---