Back
Kavaad Tradition Showcase, Surajkund Mela 2020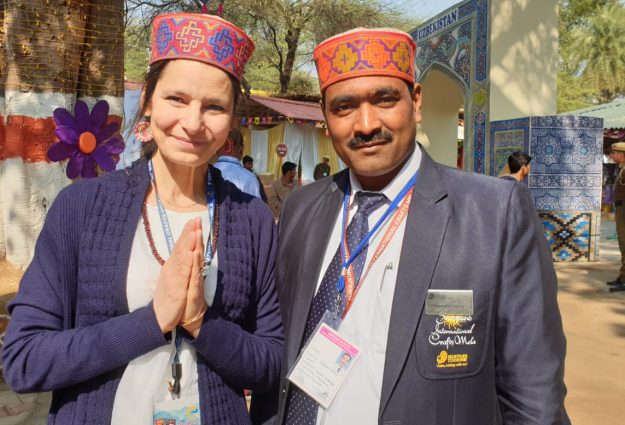 Boxed Stories: Kavaad Tradition Showcase
Surajkund International Crafts Mela 2020
A partnership between Essex Cultural Diversity Project (UK) & Rupayan Sansthan (India), supported by the British Council
Featured artists and storytellers: Lata Upadhyaya (UK), Xanthe Gresham Knight (UK), Satya Narayan Suthar (India) and Koja Ram (India)
Our Kaavad Tradition Showcase at Surajkund Mela 2020 at the British Council stall, displayed work with Kaavad handcraft makers and storytellers of Rajasthan, India to share their traditions and customs with wider communities. The project also linked with Essex based storytellers and craft makers in the UK.
The Kaavads of Rajasthan hold a wealth of stories within their doors. As Kaavad artisan Satya Narayan Suthar states on his website:
"This 500-year old art tradition can be found in several parts of India, including Rajasthan. Traditional storytellers or Kaavadia carried 'god boxes' or foldable shrines, holding Hindu epics within their bellies. The richly decorated Kaavad or cupboard held two dimensional painted narratives from the Ramayana and other mythological tales in panels within them. The Kaavads offered a kind of informal education to villages that were devoid of schools. The narratives were painted almost like comic strips, with vividly coloured characters and several unfolding hinged panels.

Entire families of artisans came together to create these story boxes. These families would travel with the main narrator or sutradhar bringing stories to remote hamlets. The storyteller would face the audience standing by his Kaavad for a colourful rendition of Hindu myths. The stories unfolded in delectable stages with all the fanfare of a show. The outer panels would be opened, and the key highlights of the story told, but all was not revealed. After this teaser trailer, the Kaavadia would open a drawer for donations and when he had earned enough coins, he would begin his telling, revealing the many narratives within. These performances could last several days with the host village providing boarding and lodging to the visiting artisans."
It is believed that Kaavads facilitate access to the divine. The term 'kaavad' is derived from the word 'kivaad' meaning door, a reference to its form.
In 2018 we worked with Xanthe Gresham Knight and Dr Seema Anand to deliver a Kaavad Picnic outdoor performance in Essex. Dr Seema Anand visited Rupayan Sansthan's Thar Desert Arna Jharna Museum in Rajasthan to carry out research into the traditions of the Kaavad community. The visit was supported and brokered by Essex Cultural Diversity Project through funding from Arts Council England and the British Council International Development Fund in 2017. The visit identified that there were commonalities between both traditions of Kaavad makers and storytellers in India and Essex based storytellers/craft makers. Seema also highlighted that the Kaavad tradition was very male-dominated and in demise, due to the lack of younger generations taking interest in the craft and storytelling traditions.
Essex Cultural Diversity Project wants to explore expandable benefits to other artforms the Kaavad craft can provide. We are aware that the craft is in decline and gradually ceasing to exist, and are keen to revive the Kaavad tradition through new innovative and creative approaches.
---
About Rupayan Sansthan
arnajharna.org
Since its inception in 1960, Rupayan Sansthan has expanded its scope from research and archiving, to educating Rajasthanis on traditional livelihoods and cultures, working with traditional performing arts, crafts and cultural communities. The institute's archival and research covers many fields such as folk musical instruments, forms of folk ballads, folk gods and goddesses, rural food, nomads, pastoral ways of life, and ethnographic research, exploring the traditional ways in which one generation passes its knowledge and skills to the next.
"Arna-Jharna" The Desert Museum of Rajasthan is an attempt to re-imagine what a museum could be. Instead of being enclosed, it celebrates the open spaces of the desert, including its flora and fauna, as part of a larger holistic exploration of the museum as a place of learning. Envisioned by the late Komal Kothari, leading folklorists and oral historians, the Arna-Jharna Museum can be described as a process of interactive learning experiences linked to traditional knowledge systems. The museum promotes indigenous knowledge in Rajasthan and combines research on material culture and alternative curatorial models for grassroots cultural practices. The museum celebrates the fact that "folk" and "crafts" are contemporary. The so-called 'traditional communities' holding on to skills and modes of knowledge from earlier times are also part of a dynamic, changing present.
---
Lata Upadhyaya
www.lataupadhyaya.com

Born and raised in India, Lata currently lives and works in the UK. Lata is a visual artist who specialises in contemporary sculpture and has completed masters in fine art in both India and the Slade School of Art, London. Her work is held in private collections throughout Europe, India, Middle East and the far East. Lata's work reflects upon her own life, the experience of migrating from the East to the West. The work offers the sense of re-familiarisation with Lata's origins in India. Through Lata's extensive travels, she has participated in International Artists Residencies that have allowed her to further explore different mediums and practices. In addition, Lata has also been a key activist in establishing an artists' community in South Essex and now has established her studio at Acme, High House Production Park in Purfleet.
---
Xanthe Gresham Knight
xanthegresham.co.uk | children.xanthegresham.co.uk
Xanthe Gresham Knight has been a performance storyteller for 25 years. She has had residencies at Harvard University, the Chelsea Physic Garden and Psychologies Magazine. She is a regular performer at the British Museum and the Smithsonian and was lecturer at The University of East London for 15 years.
---
Satya Narayan Suthar
ifaaonline.com/kavaad-art/
Satya Narayan Suthar is National Award Winner in Kaavad Art. Born in 1972 in Bassi, Rajasthan, he attended the village school and learned the art of Kaavad making from his father. He worked as a craftsman for a commercial enterprise involved in exporting crafts. The experience honed his craft, giving his work a distinctive quality. He has won several awards for his unique work in the art of Kaavad making. In 2004 he was given the District award, followed by a State award in 2009 and recently the National award.
---
Koja Ram
Koja Ram is a kaavadiya bhat (storyteller) from the Marwar region of Rajasthan. A select audience watches him with rapt attention as he squats on the ground holding a Kaavad, a portable shrine with multiple painted doors that fold into themselves, in his lap, points to the images with a peacock feather, and then begins stories in a definite rhythm. They are stories from the Ramayana or Mahabharata, or folk tales of his patrons' – called jajmans – genealogy.
---