Back
Creative Diversity Hubs: Lata Upadhyaya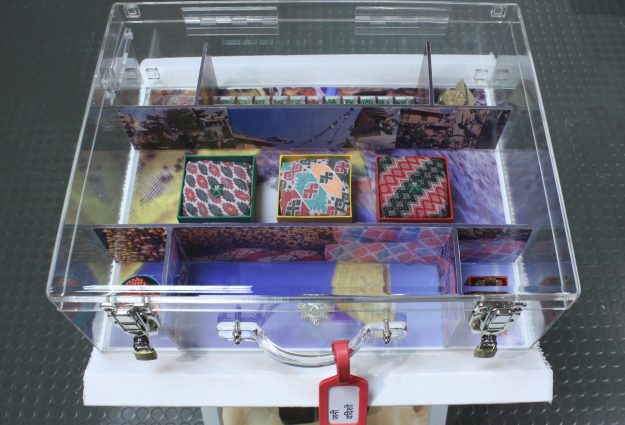 Between 2013 and 2015 Essex Cultural Diversity Project commissioned 7 artists or arts organisations to create new artwork, as part of our Creative Diversity Hubs project, which connected with and celebrated Essex communities.
Born and raised in India, Lata Upadhyaya currently lives and works in the UK. She is a visual artist specialising in sculpture and has completed masters in fine art in both India and London. Her work is held in private collections throughout Europe, India and Korea.
Lata travels extensively and participates in international artist residencies throughout the world. Her work reflects upon her own life, through a journey of exploration of materials, texture, colour, pattern, shape and form. Her current work is a return to her roots, the sense of re-familiarisation, which she feels the experience of migrating to the west necessitates.
Using her own personal experience and recollection of coming to the UK as a starting point for her commission, Lata created a flexible sculptural installation intended for gallery spaces.
She developed an artist conversation programme, and over a series of 3 months, conducted 1-2-1 conversations with different communities that had adopted Grays as their home, including African, Hindu and Muslim groups. Through this process, Lata built up a collection of objects, photos, textiles and drawings that individuals brought with them to this country from their homeland. Each object was re-cast, re-drawn and painted to represent the real object, and then placed in clear suitcases to represent each individual and presented alongside part of their original migration story.
"I was interviewed by the artists about my experience coming to this country and the final suitcase relating to me and my community reflected really strongly and was a masterpiece." Individual from Thai Community in Thurrock
The installation was a flexible piece that could be added to or changed to suit a range of gallery spaces, and as result, Lata's exhibition toured to museums, libraries and art galleries reaching a wide and very diverse audience base.
Read more about her Jonny Foreigner on Lata's website: lataupadhyaya.com/johnny-foreigner
Here's Lata talking about her Creative Diversity Hubs commission: