Back
Creative Diversity Hubs: Zarah Hussain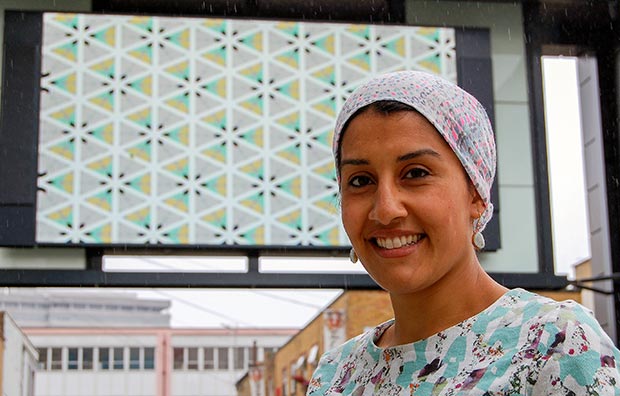 Between 2013 and 2015 Essex Cultural Diversity Project commissioned seven artists/arts organisations to create new artwork, as part of our Creative Diversity Hubs project, which connected with and celebrated Essex communities.
Zarah Hussain is an MA graduate of the Visual Islamic and Traditional Art programme at the Prince's School For Traditional Arts in London. She has spent many years perfecting the traditional techniques used to create mathematical geometric Art, and adapting them to create work with a contemporary resonance. She has had several solo exhibitions across the UK, and her work is held in many national collections.
Zarah's work is influenced by Islamic geometric pattern. Using this as a starting point for her Essex Cultural Diversity Project commission, Zarah worked closely with the Muslim community in Southend to explore colour and pattern, and what it means for this community to live in Southend. Zarah spent time within the local community, particularly working within the Mosque, and with their support delivered workshops in the Mosque engaging 200 children. Zarah also delivered workshops in local Southend libraries to reach the wider community, and therefore gain an all-round perspective on the local communities in the area.
These workshops directly informed Zarah's final piece Southend Colour a digital artwork installed on the big screen at Focal Point Gallery, which was positively received by the participants. The project was technologically complex and Zarah achieved an extraordinary digital project that placed the local community at the heart of the artistic process, involving an interactive animation where colours were changed by people inputting data into their phones, computers or handheld tablets.
"We thoroughly enjoyed the arts and craft workshops by Zara Hussain at the Southend Mosque and to see the final work on the big screen outside in the Library Square in Southend was really appreciated by everyone." Individual from the Muslim Community in Southend.
As a result of the commission, Zarah was commissioned by the Barbican to create a similar interactive animation for the Walthamstow Garden Party where the piece was then projected onto the William Morris Gallery.
Here's Zarah talking about her Creative Diversity Hubs commission: